YACHT's Claire L. Evans Pens Book
BROAD BAND
The Untold Story of the Women Who Made the Internet
Out March 6 via Portfolio/Penguin Random House, Pre-Order Here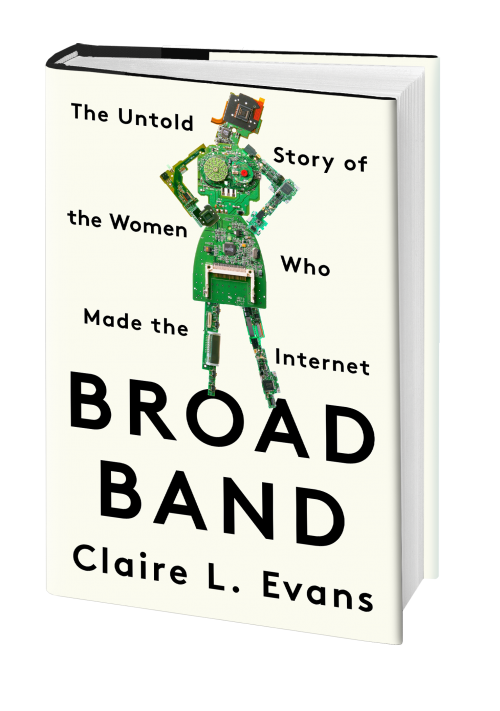 "Broad Band is the Our Bodies, Ourselves for all computer users—this knowledge belongs to us. And Claire Evans tells the story like a friend who knows you get bored easily; a generous sort of brilliance that pulled me right in. This is a radically important, timely work."
—Miranda July
The history of technology that you probably know is one of men and machines, garages and riches, alpha nerds and brogrammers. But from the very first computer programmer in 1842 through the cyberpunk era of the 90s, female visionaries have been instrumental to every major computing wave leading to the Web we use today.
In BROAD BAND: The Untold Story of the Women Who Made the Internet(Portfolio/Penguin Random House; March 6, 2018), YACHT lead singer Claire L. Evans, a longtime technology journalist—writing for Motherboard, The Guardian, Aeon, and VICE for as long as she has been playing music—finally gives these unsung female pioneers their due with her insightful social history. You'll meet:
Ada Lovelace, the tortured, imaginative daughter of Lord Byron, who wove numbers into the first program for a mechanical computer in 1842.
Grace Hopper, the tenacious mathematician who democratized computing by leading the charge for machine-independent programming languages after World War II.
Elizabeth "Jake" Feinler, the librarian from West Virginia who became the earliest internet administrator, a one-woman Google who kept the network online.
Stacy Horn, who ran one of the first-ever social networks on a shoestring out her New York City apartment in the 1980s.
Jaime Levy, the self-proclaimed "biggest bitch in Silicon Alley", creator of the popular electronic magazines Cyber Rag and Electronic Hollywood, loaded on floppy disks.
BROAD BAND shines a light on the bright minds whom history forgot, and shows us how they will continue to shape our world in ways we can no longer ignore.
About the Author
Claire Evans is a writer and musician. She is the singer and coauthor of the pop group YACHT, and the founding editor of Terraform, VICE's science-fiction vertical. She is the former futures editor of Motherboard, and a contributor to VICE, the Guardian, WIRED, and Aeon; previously, she was a contributor to Grantland and wrote National Geographic's popular culture and science blog, Universe. She is an advisor to design students at Art Center College of Design and a member of the cyberfeminist collective Deep Lab. She lives in Los Angeles.
Advance Praise for BROAD BAND
"Broad Band is such an interesting secret history, written with great panache." 
—Jon Ronson, author of The Psychopath Test and So You've Been Publicly Shamed
"A necessary addition to the story of women in computing, about known heroes and the fearless women and punks the world needs to know more about."
—ELLEN ULLMAN, author of Life in Code, Close to the Machine, and The Bug
"An edifying and entertaining history of the rise of the computer age and the women who made it possible. A good choice for fans of Hidden Figures."
—Kirkus Reviews
"Journalist Evans's first book is an invigorating history of female coders, engineers, entrepreneurs, and visionaries who helped create and shape the internet, and whose contributions, she argues, are too often overlooked."
—Publishers Weekly
(Visited 7 times, 1 visits today)