Well, this sounds naughty…a choose your own erotic fantasy novel.
It's from Cleis Press which is a queer publishing house so it MUST be "family" friendly…right?
I'm guessing this is something of more appeal to our lady loving friends which is fine because I don't post enough stuff for the women readers out there (sorry for my male centric vision…hangs head in shame).
I should get them to send me a review copy…I can try and persuade a lady loving lady to review it for me!
And, it has a GREAT cover!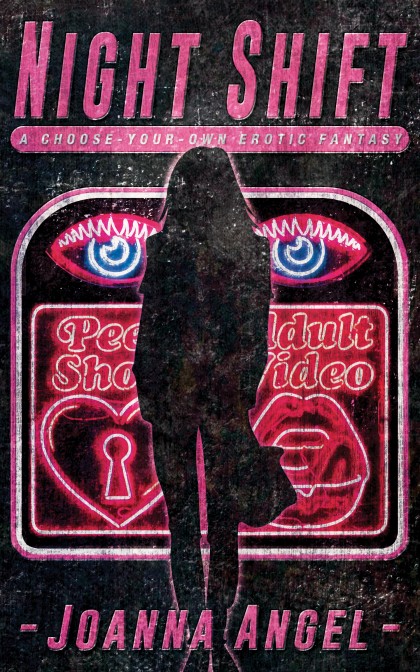 Cleis Press is beyond pround to announce the formal publication of NIGHT SHIFT: A CHOOSE-YOUR-OWN EROTIC FANTASY by JOANNA ANGEL!
Already having received rave reviews from major media outlets like PUBLISHERS WEEKLY and FOREWORD REVIEWS as well as industry and non-industry creatives, this book is sure to make for an interesting story for your readers/listeners/followers.
Once you start reading, it's no wonder that this insanely cool, down-to-earth renaissance woman wanted to adventure into writing erotic literature. And let me tell you, I am sure glad she did! If a feel-good comedy on FOX could have TONS of explicit scenes, there is no doubt in my mind that NIGHT SHIFT, would be the font of information and sex through which the first season flowed. Funny, arousing, and oddly reminiscent of one's youth, it's the adult adventure we have all been waiting for!
PRAISE FOR NIGHT SHIFT:
"Night Shift takes a "come one, come all" approach to erotica. It includes diverse body types, couplings, fetishes, and toys: nothing is off limits. Angel…takes a wonderfully open-minded approach to her material. Drawing from a broad palette of preferences, she has created a book that is truly special and unusual. Night Shift is candy sweet and easy to enjoy erotica in a lively, explorable format. [Five Stars]" — Foreword Reviews
"In this engaging book, the reader helps Taryn along on her kinky journey. What will happen next? Who will she meet? Where will she go? Through interactive "choose your own adventure" style scenarios, you're able to create your very own erotica book." — Stylecaster 
"It shouldn't come as a surprise that an innovator like Joanna Angel has excelled at a chose-your-own erotic fantasy novel.  Whether you read her book with one hand or two, you're going to learn something about yourself." — Spencer Ackerman, senior national security correspondent, The Daily Beast 
"Angel brings her adult film star cred to print with a set of giddily gleeful, empowerment-oriented, and mostly female-centered vignettes about the blossoming of a lonely novelty store employee, all strung together in a story-game format. This interactive story is a fun way to enjoy a smorgasbord of sex scenes." — Publishers Weekly 
"If Daniel Clowes wrote a sex novel, it might turn out something like Night Shift. A delightfully quirky and very hot read rife with Joanna Angel's signature, sweetly crackling wit." — Peter Warren, Adult Video News
"This is the funniest porn-adjacent thing I've ever read. Subtly informative and highly comedic." — Stoya, pornographer
"Joanna Angel keeps reinventing herself. She's now added 'writer of interactive fiction' to her already impressive bag of tricks. Always sex-positive, always fun, always righteous—Joanna is a fearless woman who always chooses her own adventure." — Gustavo Turner, Los Angeles artist and writer
"Like Joanna herself, Night Shift is fun, sexy, and full of surprises! No matter which adventure you choose, Joanna Angel is guaranteed to take you on an amazing—and sexy—ride!" — Mike Tully, co-host, The Jason Ellis Show
"Night Shift does more than simply facilitate erotic escapism. Joanna Angel is a brilliant writer who explores deep subject matter such as gender and sexual identity, acceptance and rejection, while remaining funny, optimistic and sex-positive. This book will touch you while you touch yourself." — Angela White, award-winning adult performer and director 
"Joanna Angel pulls the curtain back on what happens in those peep show booths and he fantasy is even naughtier and salacious than anyone could have ever imagined. I found myself eating morning-after pills like popcorn as the carnality intensified with each chapter choice. After giving an entire generation calluses with her films she has mastered sensual paper cuts of pleasure like a true sadist."— Chris Neiratko, author of Vice's Skinema
___________________
MORE ABOUT THE BOOK
From the sinfully delicious mind of Joanna Angel, founder of adult company BurningAngel and award-winning adult actress and director, comes Night Shift: A Choose-Your-Own Erotic Fantasy!
After graduating college, Taryn finds herself lost and uncertain of what to do next. With a self-imposed friendless and sexless life, Taryn unexpectedly winds up working the graveyard shift at Dreamz, a sex shop in Pasco County, Florida. Tucked into a seedy strip mall on the side of a highway, hilarious and erotic surprises lurk around every neon-lit corner.
Your mission: In a sketchy and sexy world filled with tissues, gallons of lube, sex toys, tiger print, and swinger parties, help Taryn choose her way as she learns what happens in this small, unexpectedly kinky town. From butt plugs to cross-dressing truckers to being held-up at gunpoint over dildos, experience this fun and sexy journey along with Taryn, as she goes from shy and sweet to skilled and empowered—but how she gets there is up to you!
___________________
ABOUT THE AUTHOR
JOANNA ANGEL is an adult film star, director, producer, author, and owner of the BurningAngel Empire, the company known for the emergence and prevalence of tattooed women in the adult film industry. Angel started her business in a college dorm room at Rutger's University in 2002, and today the company has a network of websites, hundreds of DVDs to its credit, and over 50 adult industry awards including Best Pornstar Website, Best Comedy, and many more. In 2016 Angel was the host of the Adult Video News (AVN) Awards show, and was also inducted into AVN and the American X-Rated Critics Organization's (XRCO) hall of fame. Angel has appeared in every major adult magazine (Adult Video News, Club, Hustler, Picture Magazine, and Penthouse to name a few), and was the first tattooed centerfold in Hustler. She has stormed mainstream TV and radio outlets, been featured on CNBC, Vice TV, G4TV, KROQ Radio, SIRIUS Radio, TLC's LA Ink, and had a speaking role on Adult Swim's Children's Hospital. Angel has appeared in the New York Times, Newsweek, The Village Voice, Forbes Magazine, New York Press, Esquire UK, Details, and is a regular columnist for AskMen.com. Heeb Magazine featured Joanna as their cover girl, naming her one of the "Top 100 Up-and-Coming Jews." The New York Post featured her as one of the "Top 25 Sexiest New Yorkers," and she has made CNBC's yearly "dirty dozen" (a list of the twelve biggest adult film stars) several times.
(Visited 10 times, 1 visits today)