OK, I did a female-centric zexy post, now for a man-centric one featuring a big 35% off sale!
We love a bargain that large!
It's Titan Men's huge Valentine's Day DVD Blowout Sale….get 35% off on in-stock DVDs (yes, those old fashioned shiny disc things you put into a Dee Vee Dee player which you'll cherish when the 'cloud' inevitably collapses and you're desperately horny for erotic entertainment after the Utter Collapse of Civilization in a year or two…)
Use code " Cupid35 " at checkout to get your savings!
AND, obviously this LINK to snag these bargains is so totally NOT SAFE FOR MOST WORK PLACES OR IF YOU'RE ON THE BUS WITH AN iPHONE X AND YOU'RE SITTING NEXT TO SOME OLD LADY AND HER GRANDKIDS!!!
YOU'VE BEEN WARNED ABOUT CLICKING THIS FILTHY LINK!!!!
If I actually made money off this website and didn't live in an elderqueer shelter in Bremerton, I would TOTALLY be buying every Joe Gage DVD I don't already own.
Of the nasty videos in the image I'm using here, I own NONE of them but I've seen all of them….for research purposes for my doctoral dissertation I've been working on since puberty.
Crossing the Line: Cop Shack 2 has a NASTY bisexual scene involving a police detective and a very naughty male/female couple who like to lounge around in dampy towels and trampy mini-dresses while being interrogated by a greasy cop.
There's also a delicious Diesel Washington three way in a tailor shop fitting room…which seems unlikely.
Tailor shops are few and far between nowadays.
Campus Pizza has a scene with a (fake) paraplegic character which is either very very hot or very very wrong depending on how you want to look at it. And, by fake, I mean the actor isn't actually handicapped…HE'S FAKING!!!!
Well, faking being a paraplegic…the orgasm seems mostly real.
Campus Pizza also has a scene involving an all male strip poker game, a pizza delivery boy and some very cold limp pizza.
Gunnery Sgt. McCool's chief attribute is a hyper nasty orgy that takes place in the waiting room of a some sort of weird military sperm clinic. The fake paraplegic dude from Campus Pizza pops up here as a sperm happy lab assistant. Apparently, ingesting excessive amounts of sperm will cure paralyzed limbs.
Fun Fact: Battle Creek Breakdown has a Seattle resident in it.
No, it's not Robbie Turner or BenDeLaCreme or Jinkx Monsoon.
Think outside the drag box for once…
I like Mojave Run a lot because it's about sex addicts and has Sean Stavos and Adam Russo in it which satisfies my cravings for tossed salads of the Mediterranean persuasion.
I'm meh on Coyote Point, The Road to Redneck Hollow and Slow Heat in a Texas Town, even though they all have great titles. Joe Gage is VERY good at titles. And, expository sex scenes, which you either hate or love.
I like a NICE STORY with cutting edge dialogue!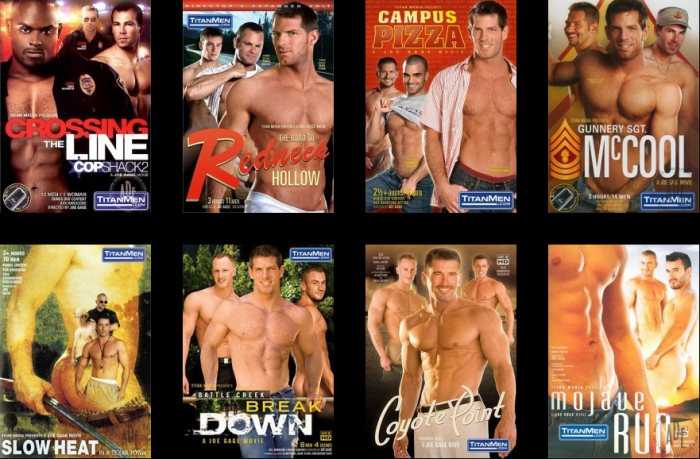 (Visited 16 times, 1 visits today)