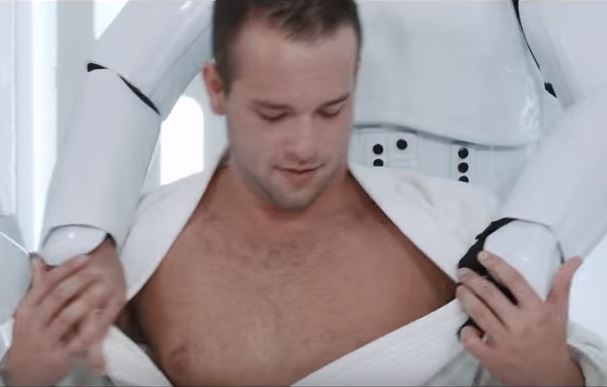 You have to hand it to gay porn company men.com for being resourceful and on the ball. Some dirty gay nerd over there had the bright idea a few months back that it just might be a smart marketing move to make a gay porn parody of "Star Wars" and time it to be released around the time the eagerly anticipated NEW "SW" movie debuts in legit theaters.
So while every nerd in the cosmos, gay and straight, is standing in long lines to go see "The Force Awakens" and deal with the death of a major character (bye bye Jar Jar!) (I keed!), the rest of us will wait a bit for the furor to die down and satisfy our insatiable Star Wars desires by watching nasty, nasty gay porn involving wooden gay porn "actors" pretend to be Obi Wan (the big dicked young version not the old Alec Guiness version), Han, Luke and even Vader and do foul things to various orifices in these filthy new videos, the first of which will debut on Xmas Day at men.com and the rest to follow in the days ahead.
Y0u can watch the BORING SFW trailer here (it's on YouTube for chrissake, so it's obviously not very dirty…) or click over to the actual men.com site to watch the DIRTY trailers for all three videos.
And, yeah, that site is VERY much NOT SAFE for work so resist the urge to watch at your cubicle. Click HERE for the full frontal fuckery.
Having watched the trailers, I approve of Jessy Ayres being cast as hot Obi Wan (just because I generally approve of Jessy Ayres doing any fucking filthy thing he wants to do with his big, hairy beefy body…) but I have to say that Dennis West (who?) is too reedy and bland to be Han Solo, who should be a hot stud. And, while I approve of Luke Adams and his spectacular rack of juicy chest nipples, he's a bit too old and balding to be Luke.
And, it's amusing that the mystery porn actor playing Vader apparently is really into manscaping the pubies. Does Vader use "The Force" to mangroom the meat bush?
Also, where's the Yoda sex scene?  I mean, it's an opportunity for puppet sex porn…why the fuck not?
Or, Admiral Akbar screaming "It's a Trap!" while getting cornholed by Lando, the biggest traitor in cinema history?
I should write porn.
#ThoseWhoCantDo…WriteAboutIt
(Visited 41 times, 1 visits today)