GUYZ. *hyperventilates* OMG SO MUCH NERD NEWS THIS WEEK. And believe it or not, some it didn't have to do with Star Wars!
But first up, regardless—Star Wars: The Force Awakens. Don't worry, no spoilers here. This week we've seen everything from the "please protect mine eyes from the glory of spoilers" Chrome extension to opening day opinions and shenanigans. If you've already seen it seventeen times (like the folks over at Super Side Up), good for you! (Also, hope you're hydrating and still eating/being hygienic.) Basically this is what's happened to everyone ever (ignore the heteronormativity):
[youtube https://www.youtube.com/watch?v=W0PLfE1c94s]
Then, the Bad Lip-Reading people did this awesome job with Star Wars: A New Hope. It's super funny, so go watch it! And on the same day, The Mary Sue published a little blurb with a video of famous folks doing impressions of their favorite characters. It's pretty rad to know that celebrities are just as excited as we are. Likewise, Viralscape released a gallery of vintage pics of fans lining up to see the original trilogy. By the time Return of the Jedi was released in 1983, cosplayers were in full gear. But THEN, the crowning moment of sheer joy happened, thanks to Jimmy Fallon:
[youtube https://www.youtube.com/watch?v=ZTLAx3VDX7g]
And that's not all! Today, on the opening day, even the PRESIDENT had to call in sick Star Wars during his last press conference of the year. Plus, J.J. Abrams, officially the first director to mind-fuck us all with crossing hotly debated fandoms, did a little interview in which he compared his Star Wars experience to ice cream. In the same interview he discussed the previous and upcoming Star Trek…
[youtube https://www.youtube.com/watch?v=XRVD32rnzOw]
Admittedly, I'm pretty skeptical. It's nice to see the action, but it looks like this will be one of the more "party" ST films. Remember those few we really couldn't take seriously, and it just looked like the cast was having a good time with a script a fan wrote? (I'm looking at you, Insurrection.) Yeah. Although if a little Fast and Furious brings more young fans into the mix prior to the new series coming in 2017, so be it. Even Justin Lin, the director, sees where the fans are coming from. Apparently, however, ST followers should hold their breath, because this trailer is not indicative of the film's alleged substance. George Takei and Simon Pegg indicated as much, along with the Into Darkness complaints, so let's just wait to see the next trailer, eh? Meanwhile, Creation Entertainment is doing their usual bang-up job of promoting the Star Trek 50th Anniversary convention in Las Vegas next year (*ahem* those are crickets you're hearing). Really? Las Vegas in August? I'm willing to bet the cruise would be a better choice, if it ends up happening.
Just for fun, check out Bill Nye's response to the ubiquitous ST v. SW debate. 
In other news, Geek & Sundry released another image from the upcoming Ghostbusters sequel: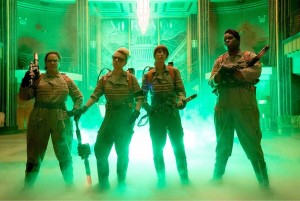 This is actually one of the few sequels from recycled '80s stuff I'm looking forward to. Mostly because it's a cast of really funny women, and we could honestly use more female-fronted films. Let's see if it passes the Bechdel Test!
On that note, what I'm not looking forward to is the Independence Day sequel:
[youtube https://www.youtube.com/watch?v=LbduDRH2m2M]
Don't get me wrong. I'll watch almost anything with Jeff Goldblum in it. But this…*sigh* Bah! Humbug! Who am I kidding, I'll still go see it. It's going to be a summer blockbuster, just like the first one. Still a hardcore case of "shit that really didn't need a sequel."
Also in the world of trailers, we were treated to a more complete snapshot of Fantastic Beasts and Where to Find Them! Squee! Lovers of males, this is the part where you get excited over Eddie Redmayne:
[youtube https://www.youtube.com/watch?v=Wj1devH5JP4]
What say you? STOKED over here! It's truly a pleasure to see something in the Harry Potter world not having to do with the core characters, and set in a fabulous time period. Can't wait!
In the interest of refraining from inundating this article with incessant trailers, I'll leave it to you to check out the new Sherlock trailer for The Abominable Bride. Get your tickets NOW for its theatrical release in January!
Revealed earlier this week was the news that Kurt Russell, Mr. Snake Plissken himself, is in negotiations to play the Star Lord's father in Guardians of the Galaxy Vol. 2. Opposite Seattle's favorite poster boy, Chris Pratt, of course. We all know he can do action and over-the-top lines a la Bruce Campbell, so let's hope for a great outcome.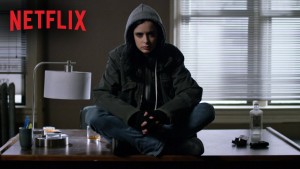 Have you seen Jessica Jones yet? What the hell are you waiting for?? Besides the fact that every Whovian will see anything with David Tennant, Krysten Ritter is absolutely amazing in it. She acts with integrity, and seems fearless in performing a character clearly traumatized, confused, and unaware of her inner strength. As luck would have it, she's been nominated for the Critic's Choice Award for Best Actress in a Drama Series. Hooray! Comic Book Resources has the full list of nominations for your viewing pleasure.
As long as we're back with the world of comics, I humbly submit the new X-Men: Apocalypse trailer:
[youtube https://www.youtube.com/watch?v=COvnHv42T-A]
HOLY SHIT CAN YOU JUST NOT EVEN?? So far I've loved First Class and Days of Future Past, so there's undeniable hope that this will be just as good. So good, in fact, that a fan out there (YouTube user "Philysteak") made a shot-by-shot remake of this using '90s X-Men cartoon clips. IT IS EVERYTHING. Not as everything, though, as say…the same thing done with the Batman vs. Superman: Dawn of Justice trailer!
Speaking of which, let's head over to DC Comics' world and check out the fresh line of posters featuring what will become the Justice League Trinity.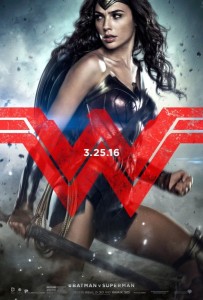 Folks, no matter whom you might be attracted to out of Batman, Superman, or Wonder Woman, this action shot is the best of the three new character posters. In a recent interview, Snyder mentioned that he's keen on having Themyscira's princess featured in the film's marketing just as much as the other two. Three cheers! As The Mary Sue mentioned, Marvel could take a cue. And about that Batman vs. Superman trailer itself? Ugh. I'm looking forward to this movie much more than I ever would to Star Wars, and I'm hoping Snyder doesn't fuck it up. The intro to Wonder Woman was the best part of the trailer; though, truth be told, mecha-Batman has never been a favorite. Seeing him (especially as played by Ben Affleck) only made me wonder if Warner Bros. didn't just say, "have a few scenes we could make action figures out of." Don't even get me started on the younger, Joker-fied Lex.
Also, Neil Gaiman remains, and shall always be, THE SHIT. Or did you miss the part where Joseph Gordon-Levitt is currently working on a Sandman adaptation? To get into the spirit of your holiday season, feel free to hear him read A Christmas Carol while you sip your hot cocoa, next to Nick Offerman staring at you condescendingly by a fireplace.
AND!! Emerald City Comic Con has announced more guests for 2016! Go check it out! You'd better have bought your passes already! Who are you most excited to see?
There's undoubtedly much more nerd news out there I'm not recapping, so for now I'll just leave you with this moment of zen:
[youtube https://www.youtube.com/watch?v=SfPv57KBpJI]
(Visited 1 times, 1 visits today)