Ya know, the holidays are NICE but aren't you in the mood for some SPICE?
All these glad tidings just give us…URGES!
AND, WE ALL NEED OUT STOCKINGS STUFFED FOR THE HOLIDAYS!
Here's a couple options to stuff Loved One's stockings…
(OK: if you use rush delivery….or, go digital!)
Presenting Today's PRESS RELEASE OF THE DAY THAT ENDED UP IN MY SPAM FILE BUT IT'S TOTALLY LEGIT: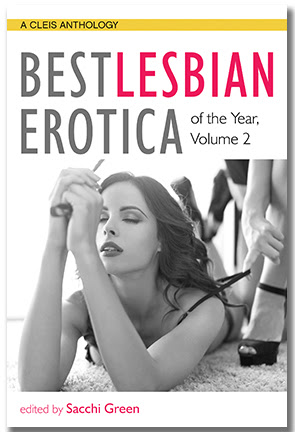 Cleis Press is proud to announce the official publication of BEST LESBIAN EROTICA OF THE YEAR, VOLUME 2 edited by the prolific Sacchi Green and BEST GAY EROTICA OF THE YEAR, VOLUME 3 edited by the illustrious Rob Rosen. I was hoping you would be interested in covering this book in some capacity, either as a mention, feature, interview with the editor, etc.
These books will be of interest to:
Anyone who appreciates great writing, amazing storytelling, and impressive editing skills.
Readers and audiences who are in desperate need for some "me" time
People who need a break from the monotony of the holiday madness
And… most importantly…members of the lgbt community with a passion and love for the steamiest and hottest erotica around!
Both Sacchi (Massachusetts) and Rob (San Francisco) are available for interview and comment.
___________________
PRAISE FOR BEST LESBIAN EROTICA OF THE YEAR, VOLUME 2:
"…[A] sinful joy to read. Whether they are quick or magical, they take you on a ride to enjoyment." ―San Francisco Book Review
"There is one creative hit after another. Familiar themes arise… but each tale is rendered so skillfully as to make any repetition unique. Highly recommended." ―Library Journal 
PRAISE FOR THE BEST GAY EROTICA OF THE YEAR SERIES:
"Consistently outstanding." —Lambda Literary Review
"Glorious approaches to gay male sexual writing." —Harvard Gay and Lesbian Review
___________________
More about the books and authors
Looking for the steamiest stories of female-on-female passion? You've found them! Best Lesbian Erotica of the Year, Volume 2 showcases only the most lustful and orgasmic F/F stories, from one-night stands with two beautiful women, to a group of ladies who yearn to explore each other's bodies, to intense sexual trysts stemmed from overwhelming love. This collection is guaranteed to have your heart racing and your love-muscles pounding.
Stories and authors include:
"Six Dates" by A.D. Song
"Arm's Length" by Theda Hudson (author of Dirty Little Book series)
"Mojave" by Dena Hankins (author of Blue Water Dreams)
"Super" by Heather Day
Sacchi Green has co-edited the anthologies Rode Hard, Put Away Wet Hard Road, Easy Riding, and Lipstick on Her Collar. Her stories have appeared in an array of erotica publications, including Best Lesbian Erotica, Best Women's Erotica, The Mammoth Book of Best New Erotica and Best Lesbian Romance.
BEST LESBIAN EROTICA OF THE YEAR, VOLUME 2
edited by Sacchi Green
Fiction / Erotica / Collection & Anthology / LGBTw
Trade Paperback Original | 216 pp.
Cleis Press | December 2017
Paperback: $16.95 | 9781627782548
ebook: $10.95 | 9781627782555
___________________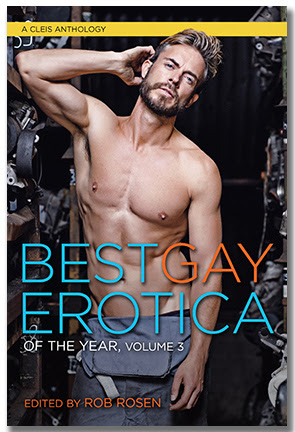 In the world of man-on-man erotica, the best just keeps getting better! Best Gay Erotica of the Year, Volume 3 features the absolute hottest M/M stories around. From stories of dominant men going after the lovers they lust for, to suave men charming their sweethearts into the bedroom, to sweat-inducing masculine quickies, this collection will leave you in a state of orgasmic bliss!
Rob Rosen is the author of the critically acclaimed novels, Sparkle: The Queerest Book You'll Ever Love, the Lambda Literary Award Nominated Divas Las Vegas, which was the winner of the 2010 TLA Gaybies for Best Gay Fiction, Hot Lava, Southern Fried, the Lambda Literary Award Nominated Queerwolf, Vamp, and Queens of the Apocalypse. His short stories have appeared in more than 200 anthologies. You can find 20 of them in his erotic romance anthology, Good & Hot. He is also the editor of Lust in Time: Erotic Romance Through the Ages, Men of the Manor: Erotic Encounters between Upstairs Lords and Downstairs Lads, and Best Gay Erotica 2015. He lives in San Francisco.
BEST GAY EROTICA OF THE YEAR, VOLUME 3
edited by Rob Rosen
Fiction / Erotica / Collection & Anthology / LGBTw
Trade Paperback Original | 216 pp.
Cleis Press | December 2017
Paperback: $16.95 | 9781627782203
ebook: $10.99 |  9781627782210
(Visited 9 times, 1 visits today)