Terry Miller, Seattle based co-founder of the "It Gets Better Project", spokesmodel for all sorts of sexy stuff including the Tom of Finland Foundation, and incidentally, husband of sex columnist/former editor of The Stranger Dan Savage has somethin' to say.
He's hella pissed at the Metaverse…Mark Zuckerberg's empire of social media outlets including Facebook and Instagram. And, he's not the only one. Miller and many others are claiming that both Facebook and Instagram "overpolice" the LGBTQ community…while a sexy straight female influencer can post provocative sexual imagery on Instagram, if a gay male posts a relatively tame image of sexuality, those images get yanked and the gay male poster penalized.
Miller took to The Advocate last month to state his case:
He's also stating his case via a new art exhibit on view in Los Angeles AND online. It's "BOAT DADDY" a photographic print version of a sexy short film Terry Miller and Adam Porter made in 2016 that was only shown at HUMP, the famed amateur sex film festival created by Miller's husband, Dan Savage. The film is set on a boat on Lake Chelan where Miller and his then boyfriend Porter have a lot of hot, funky sex. (For those unaware, Miller and Savage have a non-monogamous relationship/marriage.)
The film is definitely XXX and NSFW and was made and presented to only be seen within the confines of the Hump Festival. But Miller decided to show images from the film, to raise awareness about the homophobic censorship issues happening on Meta platforms. Via the artistic statement:
BOAT DADDY IS AN ANACHRONISM AND ALSO A MARKER OF QUEER LOVE. THE FILM IS PRESENTED AS AN EXTENSIVE PHOTO SERIES, RECAST IN A NEW LIGHT BY INTERIM YEARS AND A RADICALLY DIFFERENT WORLD IN TERMS OF OUR DIGITAL LANDSCAPE AND HOW MEDIA IS SHARED AND CENSORED.
NOW 2022, THE TIMING OF THIS EXHIBITION COMES AT A MOMENT WHEN ANYTHING VISUALLY HOMOEROTIC IS BEING CENSORED ACROSS PLATFORMS GOVERNED BY CORPORATIONS, MOST NOTABLY ONES RUN BY MARK ZUCKERBERG. THE EXHIBITION IS IN DIRECT RESPONSE TO THE UNFOUNDED DELETION OF TERRY MILLER'S 11 YEAR OLD INSTAGRAM ACCOUNT, AND A CALLING FOR OUR COMMUNITY TO CREATE OUR OWN ONLINE ECOSYSTEMS, AND TAKE BACK OUR SEXUAL POWER THAT THE COPORATE WEB INITIALLY EXPLOITED OUT OF GREED.
NOTHING LIVES IN IT'S OWN SPHERE, IT'S OWN SPACE AND TIME. WHEN THE PLAT- FORMS WE ALL FIND OURSELVES ON DAILY DEEM SOMETHING CENSORABLE, THOSE "SOMETHINGS" THAT ONCE LIVED IN PUBLIC ARE EASILY DISAPPEARED.


-Terry Miller
If you live in or plan to visit Southern California, you can see the exhibit in-person at The CultureEdit Gallery at 1105 North El Centro Avenue in Los Angeles just off of Santa Monica Blvd. It's on view through April 29, 2022. Go here for more info.
AND, you an actually check out many of the images online…they are mostly NSFW so unless you work someplace super liberal, go look at the images at home. Or, sneak off to the restroom and look at them on your phone.
WARNING: THERE WILL BE BONERS!!!
You can also buy prints of the still images. And, calendars and other merch.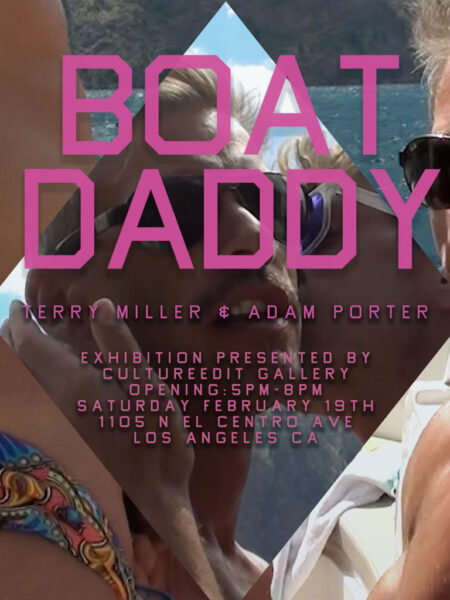 (Visited 278 times, 1 visits today)