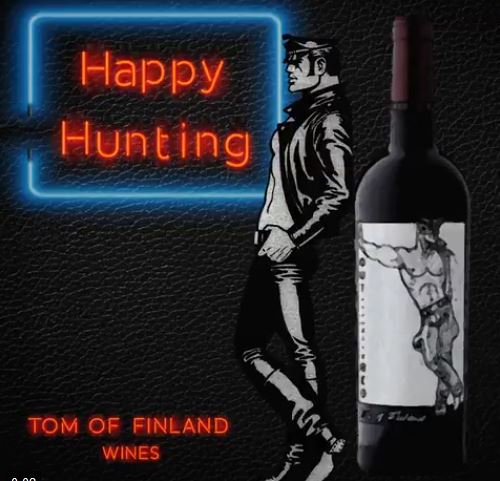 Who knew Tom of Finland, the beloved (and deceased) gay Finnish erotic artist had a wine label?
Well, he does now! Tom's heirs have made some interesting marketing decisions in creating a "Tom of Finland" brand.

They're kicking off with their first release, OUTstanding RED with a big par-tay in San Francisco on December 14th at Heklina's nightclub The Oasis. Tom of Finland spokesmodel and Dan Savage's blonder half, TERRY MILLER will be on hand to help launch the new vino.
Vinoholics and fans of classic erotica (that's a fun Venn diagram!) take note and mark your wine stained calendars!
MORE on Tom of Finland Wines:
Tom of Finland Wines (tomoffinlandwines.com), a new label created in tribute to the legacy and artwork of Tom of Finland (Touko Laaksonen, Finnish, 1920-1991), popularly known as Tom of Finland, is pleased to announce its inaugural release – the 2015 OUTstanding RED. Following a successful launch in Finland in 2016, Tom of Finland Wines is making its US debut, with the wine available exclusively direct-to-consumer on the website for $24 per bottle.

Tom of Finland Wines is made in partnership with the Tom of Finland Foundation, a non-profit started in 1984 by TOM and Durk Dehner. Though the Foundation's original purpose was to preserve TOM's vast catalog of work, today the Foundation has greatly expanded its efforts and exists to educate the public as to the cultural merits of erotic art and the promotion of healthier, more tolerant attitudes towards sexuality through experiential workshops, residencies and exhibitions.

Terry Miller, Official Tom of Finland "TOM's Man" and spokesman for Tom of Finland Wines comments on the project: "Tom is about pleasure and enjoying life. A part of enjoying life involves indulging your sensual side and appreciating the finer things… self-expression, openness and freedom – that's why wine is the perfect manifestation in honor of the legendary artist. As for the wine, OUTstanding RED is remarkably smooth, delicious and sexy. Tom of Finland's work is the most recognizable and important gay iconography in the world, and it both warms and excites me to see it presented front and center on the bottle of OUTstanding RED."

Tom of Finland Wines will host an official launch party for media, trade, and consumers on December 14th in at The Oasis in San Francisco. Guests can expect a meet-and-greet and photo opportunity with Terry Miller, and of course, plenty of OUTstanding RED. Additional details to be published at a later date. Learn more about Tom of Finland wines on the new website www.tomoffinlandwines.com, on Facebook at 'Tom of Finland Wines', on Instagram at @tomoffinlandwines, and on Twitter at @tofwines.

About Tom of Finland Wines:

Tom of Finland Wines is the first time Tom of Finland enters into the world of wine. Tom of Finland Wines first introduced the OUTstanding RED California red-blend in the artist's native home of Finland in 2016. Now available in the U.S. market, Tom of Finland Wines offers a high-quality wine crafted with detail, passion and a desire to satisfy even the most discerning wine drinker – a true tribute to TOM and his significant contribution to contemporary art and popular culture. Learn more and purchase the wine at www.tomoffinlandwines.com
(Visited 4 times, 1 visits today)