Apparently, David Sedaris RAAAAAAAAALY loves the hell out of Seattle because he's returning this year to workshop his next series of readings for his next collection of essays, CALYPSO due out June of 2018. Sedaris, the beloved gay humorist/essayist did much the same a year ago by performing new material in front of captive audiences at Broadway Performance Hall on the campus of Seattle Central College on Capitol Hill. He's returning to the same venue for the week of January 5 – 11, 2018 for 8 performances and it's a smaller venue  (295 seats) so don't dawdle to get tickets. General Admission seats are $50. Tickets at sedaris.strangertickets.com
Sedaris had a big hit this year with the release of a collection of his diaries entitled Theft By Finding: Diaries (1977-2002) (May 2017). A second volume of diaries is expected in 2019.
David's ridiculously talented actress/comedian sister AMY SEDARIS is also having a big year with the success of her new spoofy home/lifestyle show AT HOME WITH AMY SEDARIS on TruTV.
We wish she'd come here, too, and do HER show…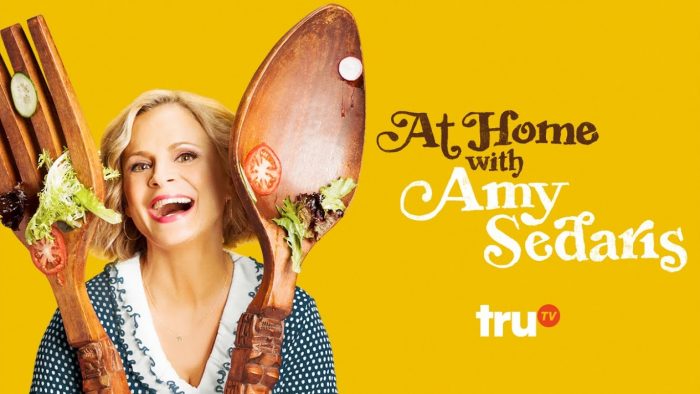 More on David's gig:
David Sedaris Returns for 8 Shows

at Seattle's Intimate Broadway Performance Hall

Hear Sedaris Read from Newest Essay Collection Calypso – To Be Released June 2018

 

Seattle, WA –David Sedaris returns to one of his favorite cities, Seattle, from January 5-11, 2018. For 7 consecutive evenings, Sedaris will delight Seattle audiences with workshop readings at the Broadway Performance Hall from his soon-to-be-published essay collection Calypso. The intimate 295-seat setting allows audience members to be up-close-and-personal with Sedaris as he polishes the final draft and answers questions from the audience. All workshop readings begin at 7pm with one 2pm matinee on Sunday, January 7, 2018.

Northwest Associated Arts (NWAA), KNKX 88.5fm and The Stranger present David Sedaris. General Admission seats are $50. Tickets at sedaris.strangertickets.com

 

About David Sedaris

With sardonic wit and incisive social critiques, David Sedaris has become one of America's pre-eminent humor writers. He is the master of satire and one of today's most observant writers addressing the human condition, especially apparent in his latest book, a collection of his diaries entitled Theft By Finding: Diaries (1977-2002) (May 2017).

Beloved for his personal essays and short stories, David Sedaris is the author of Barrel Fever, Holidays on Ice, Naked, Me Talk Pretty One Day, Dress Your Family in Corduroy and Denim, When You Are Engulfed in Flames, Let's Explore Diabetes with Owls, and Theft By Finding: Diaries (1977-2002). He is the author of Squirrel Seeks Chipmunk: A Modest Bestiary, a collection of fables with illustrations by Ian Falconer. Each of these books was an immediate bestseller. He was also the editor of Children Playing Before a Statue of Hercules: An Anthology of Outstanding Stories. His pieces regularly appear in The New Yorker and have twice been included in "The Best American Essays." There are over ten million copies of his books in print and they have been translated into 25 languages.

He and his sister, Amy Sedaris, have collaborated under the name "The Talent Family" and have written half-a-dozen plays which have been produced at La Mama, Lincoln Center, and The Drama Department in New York City. These plays include Stump the Host, Stitches, One Woman Shoe, which received an Obie Award, Incident at Cobbler's Knob, and The Book of Liz, which was published in book form by Dramatists Play Service.

Sedaris's original audio pieces can often be heard on the public radio show This American Life. He has been nominated for three Grammy Awards for Best Spoken Word and Best Comedy Album. His latest audio recording of new stories (recorded live) is "David Sedaris: Live for Your Listening Pleasure" (November 2009). A feature film adaptation of his story C.O.G. was released after a premiere at the Sundance Film Festival (2013). Since 2011, he can be heard annually on a series of live recordings on BBC Radio 4 entitled "Meet David Sedaris."

As a companion piece to Theft By Finding, Jeffrey Jenkins published and edited an art book of Sedaris's diary covers, entitled David Sedaris Diaries: A Visual Compendium (October 2017). A forthcoming book of essays entitled Calypso is set to be published June 2018, and a second volume of his diaries is expected for summer 2019.
(Visited 1 times, 1 visits today)