Occasionally, companies ask us to review their latest products.  It's usually cheap crap that were not terribly interested in.  But, every now and then, we get an offer to test something cooler, like cars!  Being a self-professed car nut, I'm always happy to drive a new car and check out all the goodies they have to offer.
So, when Chevrolet emailed me a couple weeks ago and asked if I wanted to take the all-new Trax for a week long test drive, I jumped at the opportunity.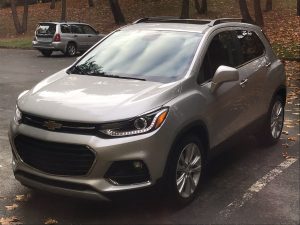 At first glance, the Trax has a sporty appearance with some nice refinements on the exterior.  Sleek halogen projector headlamps give the front end a modern,  elegant look. The front grill looms a bit large and heavy compared to the tighter lines on the rear hatch, but reflects Chevrolet's new proportioned dual port grille.
Inside, the Premier model I tested was outfitted with soft black and white leather seating with chrome accents throughout the interior.  My favorite feature of the interior was the 7 inch color display that is Apple CarPlay and Android Auto compatible.  Chevrolet has given up on a proprietary navigation system in favor of utilizing Apple and Android's built in maps which is a smart move, as most auto makers fail miserably at designing their own navigation systems.
Driving the Trax around town, I found the turbocharged 1.4L Korean built motor to be zippy and responsive, although the engine revs a little noisy.  On the highway, acceleration wasn't as quick, but I cruised down the road at 75MPH with no problem.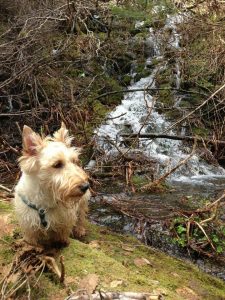 I took my Scottish Terrier, Berkley, with me on a weekend trip to the Cascades for some hiking and play time.  While the model I tested was front-wheel drive, it handled the dirt roads reasonably well. Although, I would definitely recommend the all-wheel drive option if your inclined to take the road less traveled.  Berkley loved having the entire rear cargo area to himself, and the rear hatch was low enough, that he could jump right in, even with his short little legs.  The remote engine start allowed me to start the car and get it warmed up as we came back towards the car after our hike.  We both appreciated jumping into a warm car after a chilly, damp afternoon outside.
Here's my breakdown of what I loved, and what I wish could have been better.
I Love:
The refined interior with leather seating and chrome accents gave the Trax a modern, sleek appearance.
Apple CarPlay and Android Auto compatible all-new 7 inch color display was easy to use and worked seamlessly with my iPhone.
Keyless car starting from the remote was a fun feature that is very useful for those cold Seattle mornings.
The Trax is quick and zippy to drive around town with a 6 speed automatic transmission that shifted quickly and smoothly, giving me all the power I needed to handle Seattle traffic.
The clear, full-color backup camera and shorter wheelbase made parking a breeze on Capitol Hill's notoriously tight parking spots.
60/40 split fold rear seats and fold-down front passenger seat made it possible to transport items up to 8 feet long. The Trax can handle all those weekend trips to Homo Depot.
Safety options including side blind zone alert in the mirrors, rear cross traffic alert, forward collision alert and lane departure warning keep even the most distracted driver safe.
I didn't love:
The driver's seat was power adjustable, but the passenger side isn't. While the driver's seat was easy to make comfortable, the front passenger seat's odd positioning felt like riding in a cargo van.
The driver's multifunction display which displays fuel economy and trip information is on a black and white display, why no color here, Chevrolet?
Hard pebble-grain black plastic dash and surface coverings felt cheap.
The front doors bang shut a bit too noisily but the rear doors and hatch felt a bit more refined.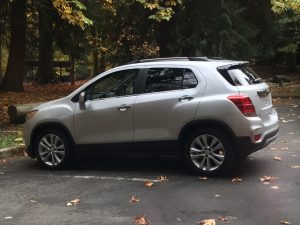 Who's the Trax for?
I envision the Trax being perfect for the urban gay/lesbian that appreciates a nimble, quick city driving experience, with the flexibility to head to the ski resort or home improvement warehouse on the weekends. With the rear seats folded down, there is ample room to bring along the dogs on weekend adventures.
The Premier model I tested was priced at $28,000, which seemed a little steep when compared to similar models from other automakers.  I'm guessing there will be some great dealer incentives and discounts available to bring the price down to a more reasonable level.  If you can get yourself into a Trax for $18-23,000, it's a great buy.
(Visited 1 times, 1 visits today)