This Friday, West of Lenin opens Lonely Planet, a 25-year-old play set during the AIDS Crisis.  The play is written and directed by Steven Dietz, an acclaimed nationally known playwright, known particularly well in Seattle from his many produced plays at ACT and others — Misha Berson called him "ACT's unofficial writer-in-residence" in her review 25 years ago, when Lonely Planet had its Seattle premiere at ACT in its old Queen Anne location (now On the Boards).  
Dietz is one of the relatively few playwrights with demonstrated staying power — the Seattle Rep opens his Last of the Boys (on a Vietnam War vet) in January; his Bloomsday was a hit at ACT a few years ago; and an array of his plays (e.g., Becky's New Car) are practically staples of theatres around town.  And the plays keep coming: next spring, Dietz will premiere two new plays commissioned in Charlotte — The Ghost of Splinter Cove (Children's Theatre of Charlotte) and The Great Beyond (Actors Theatre of Charlotte) — a pair of stand-alone plays about one night in a family, told from the children's perspective and the grown-ups' point of view, respectively.  
With Lonely Planet, Dietz focuses on two friends, both gay men, in a somewhat absurd situation of a room filling up with chairs (borrowing from Eugene Ionesco's absurdist classic, The Chairs) — as they grapple with the fear and grief inherent in being part of a community surrounded by the immediacy of death.  Though it never uses the word "AIDS," the play is understood to be anchored in the epidemic.
SGS talked with the playwright-director about why Lonely Planet is now having something of an anniversary revival nationwide, the motivation behind the play and its importance now, and what prompted him to revisit as director 25 years later.
Interview content is condensed and edited for clarity.
SGS: Where did the idea come from for Lonely Planet?
Steven Dietz: I was, not an expert, but just an intense hobbyist and lover of maps.  The more my little apartment in Wallingford started the fill with maps, I began to imagine a man who would surround himself with the world because he did not want to go out into it.  
That was before I knew what the outside fear was.  I wasn't naming to myself what the chairs represented.  And finally I had to have the character say — and then it dawned on me what's what these are.  I had kept it at bay for a while, just like the character of Jody wants to do.
SGS: What inspired the characters in this play?
Steven Dietz: On a practical level, I was terrified to write a two-character play, but figured if I wrote it for two specific people that would give me a leg up.  And it's not their story, but it was them I wrote it for — two of my absolute favorite actors when I moved to Seattle, Michael Winters, who's coming back to reprise the role of Jody 25 years later, and Laurence Ballard.  
The emotional side, is I was losing friends in our field, and a good college friend.  My experience was really in the theatre community. I'm a straight man, I'm not a gay man, but I had teachers who would be sick, and colleagues.  It seemed like no one could just be sick anymore — it meant something significantly more tragic. Within our field of the theatre, there was great loss.  And that loss is contained in the play, but the bigger thing contained in Lonely Planet is fear: this fear of, What has my lifestyle been?  Am I safe? Are my friends taken care of?
SGS: How did this year's Seattle production come to be, and what's different from the first time?
Steven Dietz: There were a handful of productions around the 25th anniversary, in different parts of the country.  AJ Epstein [of West of Lenin] approached me and said he'd love to do one, and asked me to direct it again.  I jumped at the chance to come full circle again, for a new generation of theatre-goers, and a new generation of people who don't know the play, to be introduced to it.  
Michael Winters is reprising his role of Jody, and Reggie Jackson [Reginald André Jackson] is new to the role, as Carl.  Reggie is an actor I've admired. We hadn't worked together before, but I admired his work, and he was available and he was interested.  His not having the same institutional memory of the play has been a healthy thing — it's kept me honest. He's brought to it a completely different role of Carl than previously envisioned, which is thrilling.  
It's a new production of Lonely Planet, not a revival or like a museum piece.  It is a different but hopefully just as powerful experience to those who saw it 25 years ago.  
[Worth noting: shortly after this interview, Reginald André Jackson — who stars as Carl in this production — received the 2018 Gregory Award for Supporting Actor (Play), for his role in August Wilson's Two Trains Running (Seattle Repertory Theatre).  View more Gregory Awards coverage here.]    
SGS: Why did you decide to direct your own play?
Steven Dietz: I started as a director, and I'd say I'm really more of a director who writes plays.  While I'm writing the play, I'm directing play in my head, and that sort of completes the experiment of how the story is told.  Some say directors should be objective — but the job of the director is not to be objective.  It's to come in with subjectivity.
When I do direct them, I don't see it as the "definitive" production — I want there to be lots of different productions.  Sometimes I'll direct the premiere, sometimes a later production, and there's plenty of my plays I haven't directed. And sometimes it's nice to just work as the playwright and focus on making revisions, rather than on directing.  
SGS: Why has Lonely Planet maintained its relevance to audiences, 25 years later?
Steven Dietz: The play is about friendship in the time of fear and trial.  Medical advances have changed and improved things, though it's a disease and fear still in the world and in the culture.  Even without the specifics of that particular fear, the politics of fear — and of a person feeling like they were losing their community (as Carl was), or holed up and pretending it's not happening (as Jody was) — those things seem as present now as ever.  
---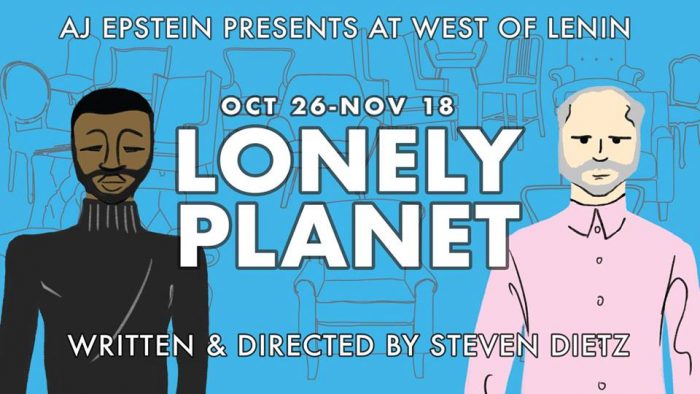 Lonely Planet opens 10/26 and runs through 11/18 at West of Lenin, in Fremont (8 pm Thursday-Saturday, 2 pm Sunday, one industry night Monday 11/12 at 8 pm).  Tickets $35, available here.  (Financial accessibility note: TPS and other discounts available; West of Lenin also sent $10-off discount code to its email list; bus service and free parking is available in the area.  Gender-neutral bathroom policy: restrooms are gender-neutral, single-stall. Physical accessibility: West of Lenin's main level is wheelchair accessible.)
Also:
Join the Lonely Planet production team after the Sunday, November 4th performance for a (free) Talkback discussion looking at themes of the play, the importance of sharing the history of AIDS/HIV, and where we are 25 years after the premiere of Lonely Planet.
Featured speakers include actor Michael Winters, and members of The AMP: AIDS Memorial Pathway: Rosette Royale (Story & Engagement Consultant), Dennis Torres (Community Action Group member), Paul Feldman (Project Manager). Moderated by Jason Plourde, Co-Chair of AMP Content & Experience and former Executive Director of Three Dollar Bill Cinema.
and
As the AIDS Crisis becomes further removed in years, it can help to remind people of the scope of its toll.  This timeline from Seattle & King County Public Health provides a chronology of facts in King County and nationally.  
(Visited 1 times, 1 visits today)