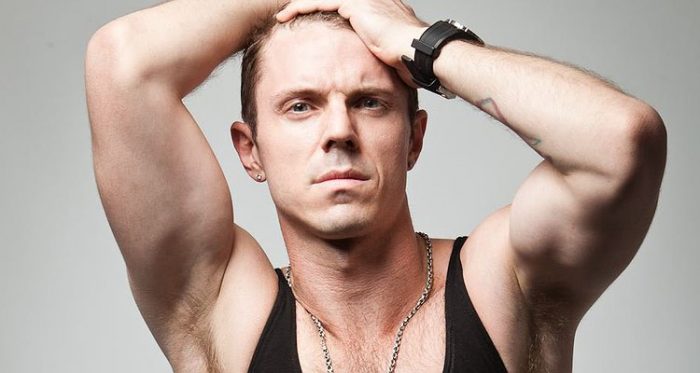 If you've ever seen Jake Shears hijack a stage – his falsetto hitting skyscraping notes, sweat dripping from his brow, his pelvic thrusts locked in synch with the beat – this will come as a surprise. After more than a decade as one of pop music's most cocksure and buoyant frontmen, Shears suddenly found himself alone and adrift a few years ago, nursing a broken heart and staring down an uncertain future.
Since the early 2000s, Shears had anchored Scissor Sisters, the glam-rock stars whose mash-up of synth-pop, disco and '70s rock swagger catapulted them well beyond their home base of New York City to multi-platinum sales and sold-out arenas across the globe. After the group released its fourth album, Magic Hour, in 2012, it went on an indefinite hiatus. "Without the band, I had a hard time figuring out what it was I was going to do," says Shears. "I was at a crossroads in my life and got a one-way ticket to New Orleans." Not unlike David Bowie uprooting to Berlin in the late 1970s in search of fresh ideas, Shears' artistic vision blossomed in New Orleans, the epicenter of Southern decadence he had dreamed of moving to since his early touring days. He arrived a stranger, not knowing anyone or what he would do there.
Out of that vulnerability rose Jake Shears, his new solo album that has the odd distinction of announcing the arrival of an artist who's already an established star. Released on August 10th, it's the rare album that ricochets in new directions while showcasing the essence of what Shears does best. Its 12 songs brim with anthemic choruses, Shears' wry sense of humor, lyrics about the joys and vagaries of love and sex – all of it underpinned by a swampy soul influence imparted from his newly adopted hometown.
In celebration of the release, Jake has embarked on a fall North American tour (also featuring SSION and DJ Sammy Jo). The tour kicked off on October 30th at Boston's Brighton Music Hall and wraps up at Los Angeles' El Rey on November 15th.   We in the Seattle area are lucky enough to be graced with the tour Sunday, November 11, at The Neptune Theater, and I CAN'T WAIT! I was lucky enough to engage in a little Q & A, on behalf of Seattle Gay Scene, with the man, the myth, the LEGEND himself….read on readers!
---
LA Kendall: Wow – let's talk about this new album.  I have to be honest. I went and watched the video for 'Big Bushy Mustache' and immediately went to your site and purchased the vinyl before finishing my prep for this interview.  Both the video and the track are H.O.T. How long have you been working on this album?
Jake Shears: Between the time I started writing and when the album came out was a solid three years, but the creation of it took about two years to write and record.
LAK: The whole album is FILLED to the brim with jams and gems.  Such diversity within the music, the lyrics. There were moments I felt like I was in an old fashioned juke joint, other moments where I felt like I was at a classic rock n roll show, and moments where I felt tinges of an Electro clash dancefloor.  How did you assemble the team that helped you bring it all together?
JS: Though it is a solo record in name, there are about fifty people that put their fingerprints on this album. I found Kevin Ratterman who produced this record in Louisville, Kentucky through other albums that I loved, including My Morning Jacket records and Ray LaMontagne. We just became an awesome team. He put loads of Kentucky musicians on this record and we got a lot of New Orleans horn players on it. My friend Christian Hebel, who does Barbra Streisand's string arrangements and plays violin for her on stage, flew over to Louisville and did all the string arrangements. It was a big cast of characters that were very involved in this record and I was super lucky to have them all. Stylistically the songs sort of do different things, but it's a vocabulary that I've been developing for fifteen years making music, and hopefully it speaks to all of the other stuff as well.
LAK: I heard an interview on NPR with you over the Summer, where you said something like, and I am paraphrasing here,"making a solo record would be narcissistic". What changed your mind?
JS: I really just ended up in a spot where I felt I didn't have a choice, because I really wanted to make music and an album. I figured that if I was true to myself and made a really great record, then I wouldn't have any shame putting it out as a solo album. Something that I could truly stand behind.
LAK: As a DJ, I have to ask this – will there be remixes?  Please tell me yes. I know you got all the connections to make that happen!
JS: Yes, there will be some remixes coming out, definitely.
LAK: Can't wait to hear them!  Now let's talk about this tour!… I read somewhere this was your first time in Seattle.  But that can't be right. That's as a solo artist, correct? I could swear I read somewhere that you were born in Arizona but did some growing up here in the Pacific Northwest (which we have in common!).  I am also quite sure that I saw Scissor Sisters perform here in the mid 2000's…though, that was so epic, perhaps it was a dream?
JS: Seattle is a city that I consider a hometown. I grew up on San Juan Island and spent my high school years in Seattle at Northwest School where I graduated. I went to SCC for summer college, and worked at the Harvard Exit and Bimbo's Bitchin Burrito Kitchen. So Seattle's definitely my old stomping grounds. Scissor Sisters played loads of shows at the Showbox and the Paramount. It's one of my favorite places to be and to play. But yes! This is my first show in Seattle as a solo artist.
LAK: What can folks expect from your first solo tour? I can tell you there is A TON of excitement about it here in Seattle!
JS: What I give is a timeless rock show. I'm a showman at heart, and I just love going out there and hoofing it and giving a great show with some wicked outfits. I love showing the audience a really good time while taking them on a semi-theatrical journey.
LAK: That gave me goosebumps.  I can't wait for the show! I was very excited to see both SSION and DJ Sammy Jo on the bill!  How did you decide who to tour with?
JS: Sammy Jo has toured with me since day one. He's always kind of been a part of Scissors and it would be strange to do a tour without him. He's really one of my main sisters. Ssion, Cody Critcheloe, is someone who I have been a big fan of for a long time. We've written together – He co-wrote the chorus of "Creep City" with me. I'm a massive fan of his work, his videos and his music. And when I was thinking about support for this tour, I just thought it would be an awesome double bill. Our stuff really compliments each other…it's a totally queer lineup and I couldn't be more thrilled that we're on the road together.
LAK: The schedule for your solo tour looks exciting (for your fans) but brutal (for you)!  A show almost every day from October 30th to November 15th. What's your secret for keeping that mojo going on a tight schedule like that?
JS: There is no big secret, it can be exhausting. But one thing I've found is having great people around you that you want to hang out with and be on a bus all night with. I've got some great friends coming on this tour with me. It's gonna be so much fun. It's also important to take care of yourself and get sleep when you can.
LAK: What's next on the horizon for you?  A long nap?
JS: More books, more records, more musicals, more acting. I'm in a big new movie coming out.
LAK: Oooh – keep us wanting more!  Can't wait for ALL OF IT!
---
See Jake Shears LIVE with SSION and Sammy Jo!  Tickets on sale NOW at: https://www.stgpresents.org/neptune/calendar/eventdetail/4332/-/jake-shears
(Visited 19 times, 1 visits today)