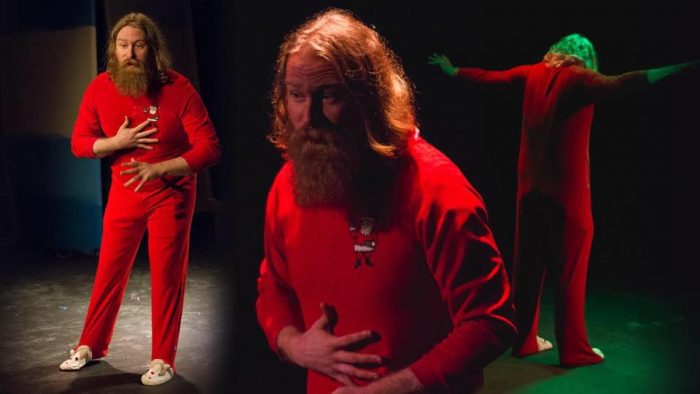 If you came to see a Christmas play, you probably won't be very happy.
Emmett Montgomery, inhibitor of the mysterious Sugar Plum Gary, freely admits that of his solo show, an offbeat Christmas-themed production that concluded this year on Christmas Eve at 18th & Union.  
He also resists the sentiment that Christmas comes but once a year — and is holding a Sugar Plum Gary encore show on New Year's Day for those who couldn't make it before the sold-out closing night, or for those who didn't get enough the first time around.  It's at 7 pm at Vermillion on Capitol Hill, on a pay-what-you-can basis; and local poet/writer Sarah Galvin will open the show with poems about butts.  Details here.     
What Montgomery brings to stage with Sugar Plum Gary is the same, at its core, as his other performative art: it is community-oriented, storytelling-driven, humor-filled, and just plain weird.  Montgomery's strength is that on top of the humor and weirdness, there's always a great deal of heart. And so it's a unique Montgomery experience that you can go hear about Santa ravaging an orphanage and being appeased only precariously with milk and cookies, and somehow feel warm when the whole thing is done.
More so than any other show that comes to mind, Sugar Plum Gary is audience-driven: Gary's schtick is to come out in footie pajamas and ask, in a tone of invitation that grows humorous in its redundancy by night's end, "Does anybody have a question about Christmas?"  
While Gary has some stories and information he'll work into pretty much any show, a lot of it is dependent on how the audience is that night.  The better the questions, and the faster audience members volunteer them, the better the show moves along. The show I saw this year had an active audience who heard, for example, about Gary's love interest Frosty the Snowwoman (gender is particularly fluid when constructed from frozen water), why mall-Santa frauds exist (insidious market research), and the difficulties of subsisting solely on eggnog.  
It's not a kids' show (though there were some hardy older kids there).  It's a grown-ups' show that encourages those childlike traits we have reason to exercise far too rarely: curiosity, selfless participation, and suspension of disbelief.  And it makes for a lovely new Christmas Eve tradition surrounded by people who are, as Montgomery puts it, the best kind of family: the ones you get to enjoy the hour with, then never have to see again.  
When he's not ceding the stage to Sugar Plum Gary, you can "make a joyous noise" for Montgomery at several shows of comedy, variety and weirdness.  Recurring shows include the long-running Weird & Awesome with Emmett Montgomery at Annex Theatre, every first Sunday night ($10-15, or free with A-List) (featuring a free raffle of perhaps the best gift bags in town); Joketellers Union Comedy Showcase ($7), hosted by Montgomery and Brett Hamil every Wednesday night at the Clock-Out Lounge (a great new-ish, musician-owned spot on Beacon Hill that features Breezy Town Pizza, certifiably the best pizza in town and a reason I maintain my sweeping figure); and The Magic Hat ($5), a variety show that likely stretches the meaning of the term, occurring Mondays in the basement of the Rendezvous (and featuring the best recurring hat-themed poster art in town).  
(Visited 1 times, 1 visits today)