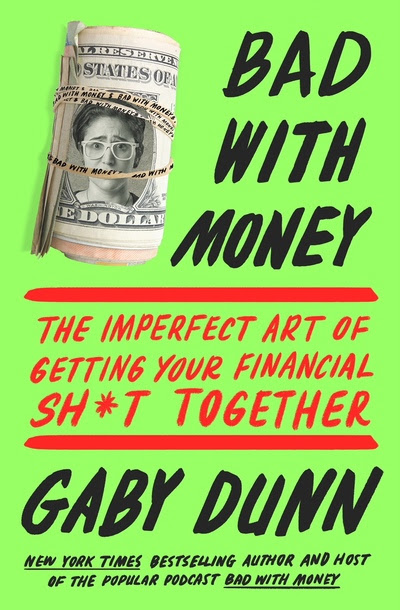 We're HORRIBLE with money.
HOOOOOOORRRRRRRRIIIIIIIBBBBBBBLLLLLLLEEEEEEE!!!!
I blame my parents who were also bad with money…yes, we were poor but we were also poor 'cause we were BAD WITH MONEY!
Multi-hyphenate author/activist/podcaster GABY DUNN wanted to explore why so many people are that way and in her podcast (not surprisingly called, "Bad With Money") she finds out why that is so, and how we can deal with it…how we can self-correct our tendencies to be terrible at personal finances.
The result was also a brand new book, BAD WITH MONEY: The Imperfect Art of Getting Your Financial Sh*t Together, published by Atria Books/Simon & Schuster which of course is also resulting in a book tour and Gaby Dunn visiting Seattle on February 11th at University Temple United Methodist Church – The Sanctuary, 1415 NE 43rd Street in Seattle's University District.
Check out some more info on Gaby and the book:

Gaby Dunn is a bestselling author, journalist, television writer, actress, and LGBTQ activist living in Los Angeles. Her podcast "Bad With Money" was named one of the top ten podcasts of 2016 by The New York Times. Along with her comedy partner Allison Raskin, Gaby stars in, writes, and produces the YouTube channel Just Between Us, which has been viewed over 140 million times. Their 2017 novel I Hate Everyone But You was a New York Times bestseller.

In the first episode of her "Bad With Money" podcast, Gaby Dunn asked patrons at a coffee shop two questions: First, what's your favorite sex position? Everyone was game to answer, even the barista. Then, she asked how much money was in their bank accounts. People were aghast. "That's a very personal question," they insisted. And therein lies the problem.

Dunn argues that our inability to speak honestly about money is our #1 barrier to understanding it, leading us to feel alone, ashamed and anxious, which in turns makes us feel even more overwhelmed by it. In Bad With Money, she reveals the legitimate, systemic reasons behind our feeling of helplessness when it comes to personal finance, demystifying the many signposts on the road to getting our financial sh*t together, like how to choose an insurance plan or buy a car, sign up for a credit card or take out student loans. She speaks directly to her audience, offering advice on how to make that #freelancelyfe work for you, navigate money while you date, and budget without becoming a Nobel-winning economist overnight.

Even a topic as notoriously dry as money becomes hilarious and engaging in the hands of Dunn, who weaves her own stories with the perspectives of various comedians, artists, students, and more, arguing that—even without selling our bodies to science or suffering the indignity of snobby thrift shop buyers—we can all start taking control of our financial futures.
"Humorous and forthright…[Gaby] Dunn makes facing money issues seem not only palatable but possibly even fun….Dunn's book delivers."

—Publishers Weekly

WHO:

 Gaby Dunn (Take My Wife, Bad with Money)  ADDED: Seattle area writer Paulette Perhach to appear with Gaby  as well!  – 

http://www.pauletteperhach.com/
WHEN/WHERE/HOW:

February 11th at 7:00pm

University Temple United Methodist Church – The Sanctuary

1415 NE 43rd St. Seattle, WA 98105

$16 ticket includes admission for two and a copy of the book
Tags: #freelancelyfe, Atria Books/Simon & Schuster, BAD WITH MONEY: The Imperfect Art of Getting Your Financial Sh*t Together, Finances, Gaby Dunn, Personal Finances, University Temple United Methodist Church - The Sanctuary