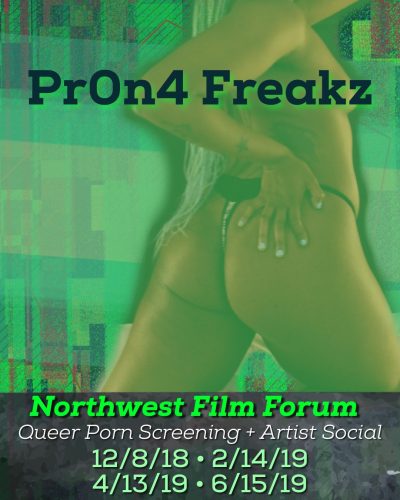 We're ALWAYS lookin' for different stuff to do (and write about because typing the words "RuPaul's. Drag. Race." 4000 times a day gets RAAAAAAAL tiresome….) so we're DEE-LIGHTED to showcase this intriguing film series happening at Northwest Film Forum.
It's "PrOn 4 Freakz" a bi-monthly film series that started back in December and has another installment happening Thursday, February 14th, just in time for freaky Valentine's Day Smutty Fun!
It's a queer/trans smut event, so if you're lookin' for more traditional filmed acts of coitus, you probably should just stay home and watch Pornhub with your best sweetie, Rosie Palm and her five sisters….if you know what I mean (and I think you do.)
The event is also a social for local queer smut filmmakers, so if you're queer and/or trans and interested in learning more about the filmmaking process, then it's a  good place to network. (But, this is an event for the over 18 crowd…)
More info below including the films scheduled to be screened including "A Sunday Hike" which was also a selection of Dan Savage's HUMP Festival. And, the series will continue on April 13 and June 15.
Welcome to a Trans/Queer Smut Screening Event Series!

Revelations of the Beast is a campy, magic-filled queer porn. A pair of park rangers falling for each other are swept up by otherworldly energy. Will they find the source before their relationship and workplace are overtaken by mystical forces?

Each night starts off with a sexy witchy market and social, followed by a screening, featuring premieres from ScumTrust, Lyric Seal, and more. The night will be rounded out by a Q+A after the screening featuring queer porn filmmakers and performers centering the procedures, ideas and creative process behind making erotic films.

These events in December, February, and April will premiere one part of ScumTrust's new project, as well as showing other queer porn artists' short films. At the final June event, Jiz Lee and Louise Shine Houston of Crash Pad/PinkLabel TV will join us for the screening, a Q&A, and an after-event social with local QTPOC kink demonstrations.

These interactive screenings will be hosted and facilitated by Isha Lynde, Saira Barbaric, Lyric Seal and Alistair Fyrn – all of whom are trans and/or queer and the majority of whom are black. This crew of local creatives, workers and artists are curating and cultivating a steamy, thoughtful and fun evening of queer erotica!

This event series is dedicated to building community while fostering inclusive, accessible dialogue around sex, gender, sexuality, magic, porn, and queer bodies.
Thu Feb 14 +
Sat Apr 13 +
Sat Jun 15
6.00–9.00pm
Price: Pay what you can, in tiers from $5–25

highest tier comes with sexy Polaroids as door prize
limited tickets per tier
tickets may be purchased in advance or day-of

** No one under 18 will be admitted to this screening series! **
Schedule for each event:
6 – 7pm || Market + Mingle
7 – 8:30pm || Shorts Screening
8:30 – 9pm || Talkback

February Films:

Daylight Delight with Mia Secreto ~10 min.

Xöe and Mia have a spontaneous meeting through friends and what starts as a cute, innocent joint-sharing blossoms into something more sensual.

Coven Compilation 1 ~11 min.

This short compilation featuring Alistair Fyrn, Saira Barbic and Drew Honey takes a sweet moment to show these witchy queers enjoy themselves and each other. With stone and metal toys as well as vibrators and quirky paddles, this coven celebrates each other in a luscious way.

Training of Poe, excerpt ~20 min.

Chelsea Poe embarks on a journey to deepen her relationship with submission and pain through a weekend with Mistress Bella Vendetta.
A Sunday Hike ~15 min.
ScumTrust Productions' first short film and a 2017 HUMP selection with an original score by K.Hudson. In this nonspeaking short film, Saira Barbaric plays a woodland coven leader and Alistair Fyrn, an unsuspecting hiker who settles in the wrong part of the forest. How will Alistair possibly get free of the witches clutches? Does Alistair even want to?
(Visited 1 times, 1 visits today)