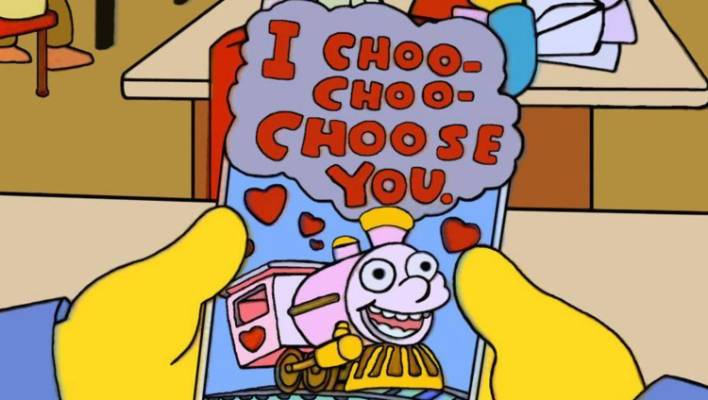 As a bitter old person, I don't really care what you couple-y people wanna do for Valentine's Day.
Meh.
However, there's still a tiny, kind, fresh faced, ray of sunshine still residing in the basement of my dark, dark, DARK cellar of a soul so I'll give you some options, if you're stuck and don't have a clue…but, really. How hard is it?
Flowers….candy….some good food….booze….a new lube….
And, thou.
OR, go do some of these things…that is, if this gawdamned shit-tastic effing SNOW HELL EVER STOPS!!!
Kill all the snow.
Kill it.
Anyway…stuff to do for LURVE!!!! (But, seriously, due to our inclement weather, please check venue/event producer websites/social media to make sure events aren't cxled due to this freaking weather, before leaving the house!)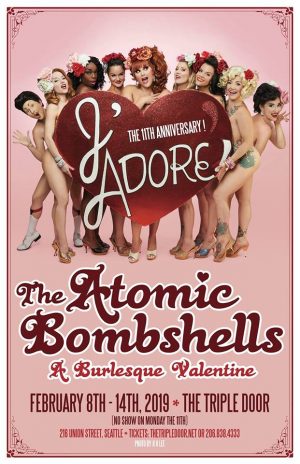 J'adore! A Burlesque Valentine @ The Triple Door. The adorable Atomic Bombshells are back at The Triple Door for sexy burlesque shows this week, including shows (effing weather permitting) on Tuesday, Wednesday and two shows on Thursday the 14th.
Coronation 48, The Greatest D @ Various. For those of you of the "OMG! I love Drag and I ADORE Pageant Drag!" persuasion, this week is Coronation 48 for the Imperial Court of Seattle. Grab your honey (or, find a new honey…) at shows happening Thurs the 14th through Sunday the 17th. Tix HERE!
Denver – Salt Lake Show – Thursday, February 14, 2019
Door 7/Show 8 @ Neighbours Night Club
1509 Broadway, Seattle, WA 98122
No cover.

Out of Town Show – Friday, February 15, 2019
Door 6/Show 7 @ The Renaissance Seattle Hotel – Madison Ball Room – $20 Presale / $25 at the Door (Preference given to Reigning Emperors, Empresses, Imperial Princes, & Imperial Princesses)

Coronation – Saturday, February 16, 2019
Door 5/Show 6 @ The Renaissance Seattle Hotel – Madison Ball Room – $50 Presale / $60 at the Door (One Title/One Walk will be observed. The Court of Seattle reserves the right to edit protocol to observe timeliness and order of the evening)

Victory Brunch – Sunday, February 17, 2019
11am to 1pm @ The Renaissance Seattle Hotel
$30 Presale / $35 at the Door

The Alaska Birdwater Party – Sunday, February 17, 2019
2pm to 5pm @ CCAttle's
1701 E. Olive Way, Seattle, WA 98102

Valentine's Salsa – Dinner, Dancing & Live Salsa w/ Buena Vibra @ Century Ballroom. Here's a special V-Day event for those who love to salsa, or want to learn. It's a Valentine's Salsa at Century Ballroom with options for dinner with your dancing. This event is open to all, but Century Ballroom is queer owned so same sex couples are very much encouraged to attend. Tix (and more info, including menus)

HERE!
DINING
There will be an optional elegant dinner (menu below!) served in the main Ballroom before dancing begins (seating times are 6:30 & 6:45). Make your dinner reservations when you purchase your dance tickets.

DANCING
Century Ballroom: Live Salsa w/ Buena Vibra
There will be an intro Salsa lesson from 8:30-9:30pm for those who are new to dancing.  We won't be rotating partners in this class, so you'll get to stay with your date/friend(s).

PRICING
Salsa Lesson, Dance + Dinner: $65
Salsa Lesson & Dance: $21
Salsa Dance Only: $15

Select 6:30pm or 6:45pm  for meal times. For "Dance Only" with no meal, select 8:30pm ticket time.

This is a dance-focused event. Seating is limited: first come, first serve.  Diners will retain their seat for the duration of the evening.
Berlin10: My Bloody Valentine for those of the gothier/industrial persuasion there's this dark hearted event at Mercury @ Machinewerks, that odd private-ish club on Capitol Hill. The dress code makes us giggle: "Dress like you want to get fucked. No khakis. "
Emotional Queen is back for a very special Valentine's Day show! Enjoy 2 for 1 Smoke Tree Rosé specials and Veuve Clicquot by the glass as your EmoQueen hosts, Rowan Ruthless and Kitty Glitter, return to give you all the feels you need this Valentine's Day. Whether you're in love with yourself or someone else, this array of Seattle's favorite queens is the treat you need. Catch them February 14th at 9pm, on the Queer/Bar stage serving up performances guaranteed to slay all the lovers and lonely hearts of Seattle.

$5 suggested cover, profits donated to YouthCare
21+ ONLY

Come to queer/bar early to grab your seat for the show and enjoy tasty Sunset Fried Chicken sandwiches and power drink specials from 8-9pm!
Also on Thursday the 14th, there's also, Nikki Dee's Valentine's Day at Nordo's new Knife Room space. (which has been cxled.) Boy Band vs Girl Group Sing Along: Dream Date Edition at Central Cinema….Comedy of Love: A Valentine's Day Improv at Unexpected Productions… Valentine's Day Habitat w/ Worthy [KW 5 YR] at Kremwerk…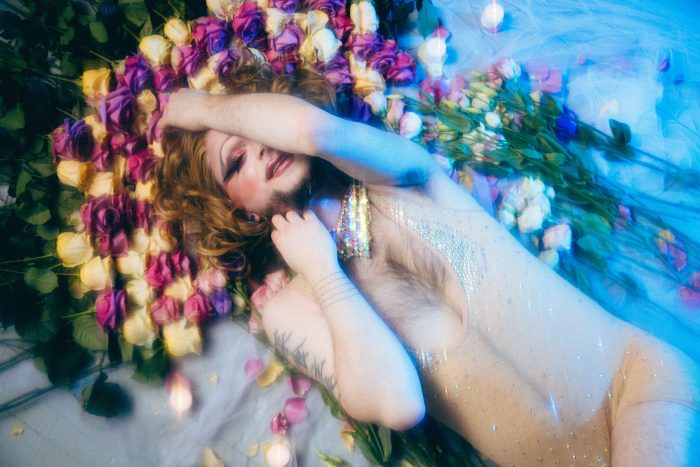 If you can't snag your sweetie to go out on Thursday, there's stuff the rest of the weekend, too….
Friday, the 15th:
Lavender Country Valentine's Concert @ Couth Buzzard Books/Espresso in Greenwood. Join living legend Patrick Haggerty and Lavender Country, the first queer country western band in the world for a special Valentine's Day show with host/comedian Jeffrey Robert.
My Imaginary Love Life w/ EmpeROAR Fabulous @ Re-bar. A return engagement from his popular show of the same name from 2018, boylesque star EmpeROAR Fabulous!!! returns for TWO nights of romance and world class burlesque.  Tix HERE!
LGBTQ OutDancing (& special Line Dance Lesson) @ Century Ballroom. This dance event is specifically for classic ballroom dancing for the LGBTQ community.
VideoDJ Andy Presents Falcon Studios Video Release of Beach Rats of Lauderdale 

 @ The Lumber Yard. Nothing to do with "love" but we're BIG fans of lusty, so this will do as an event to add! Sounds like it's basically a "Swimwear and Beach Themed Underwear Contest"….we're in LOVE!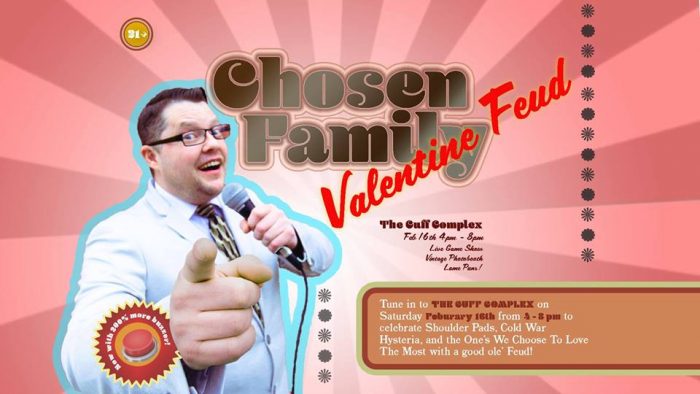 Saturday, the 16th:
Chosen Family: Valentine Feud! @ Cuff Complex. It's a late afternoon/early evening gig with a live game show theme!
This evening is to celebrate all of those families that never appear in a Valentine's Day commercial! Chosen Families, Leather Families, Packs, Tribes, Poly, Blended, Mixed, Stirred, etc. There's more to life than straight couples exchanging roses!

Live Game show!
Vintage Photo booth!
And of course, Lame Puns!!!
Hot Flash Inferno: Feel the Love @ Neighbours Night Club. Seattle's VERY popular dance party for women has a LOVE theme for this go around.
Womxn Galantine Dance Party! @ Fred Wildlife Refuge. A bounty of riches for ladies who love ladies with a second dance party for womxn in one night! This one is encouraging color coded dressing…and, it looks like queer male allies are welcome (if they come with a womxn). Info:
Please join us at Fred Wildlife Refuge on Saturday, February 16th from 9pm – 1am. DJ Kowboy Kelley will be making it rain as we celebrate love or lack thereof and friendship. To optimize the evening, I kindly ask that you consider the following outfit colors:

Red = Open — you're in a committed open relationship and are looking to mingleeeeahhh

White = Monogamous — you're in a committed relationship and are just looking to minglleeeahh with your partner

Black = Single — need I say more?

Pink or blue = Womx(e)n ally — in the words of Destiny's Child: "ladiez, leave your (cis) straight men at home", but if you have a badass ally you want to party with, they're welcome to join. If there's confusion here, just message me (via the FB invite link).
The Pleasurrection Tour @ Copious Love/Ballard Underground. Sometime SGS music contributor JOHN PAUL SHARP, has just released a new album of music and the singer/songwriter is performing material from that album, "Pleasurrection" on Saturday and Sunday at Copious Love's new venue, formerly the space known as the Ballard Underground on Market Street in beautiful downtown Ballard.
Join Queer American songwriter John Paul Sharp as they perform their new album, Pleasurrection. These songs are about love, relationships, and living your best life. In a chaotic world filled with uncertainty, now is the time to resurrect your pleasure and be inspired by new works of art.
Finally, on Sunday, the 17th:
02.17.19 ValentineDance w/ Herrera / O'Connor / Hyasynth @ Re-bar. It's their weekly Flammable dance party and this week, not surprisingly, it has a rather late VD theme!
(Visited 6 times, 1 visits today)