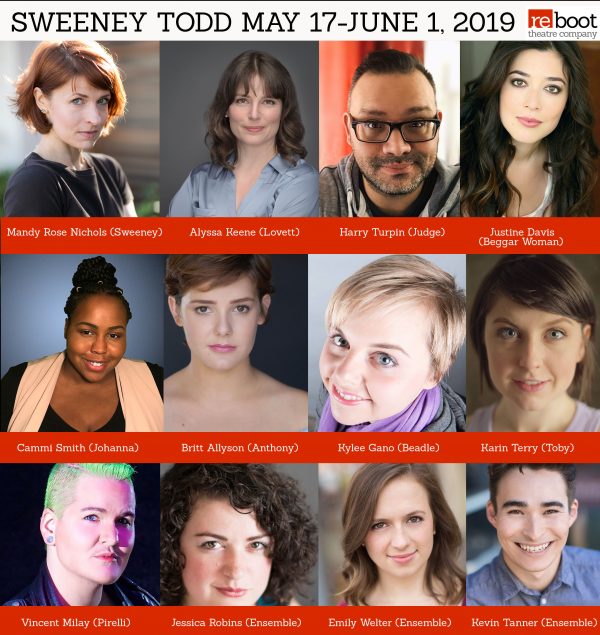 Many of you enjoyed Reboot Theatre Company's production of Little Shop of Horrors last year. The production was diversely cast and included drag performers and transgender and genderqueer actors in many of the roles including popular local performers like Tipsy Rose Lee and Vincent Milay and Dani Hobbs. 
Reboot returns this year to tackle another beloved musical, but this one is even darker than "Little Shop's" man eating plant…it's Stephen Sondheim's SWEENEY TODD, THE DEMON BARBER OF FLEET STREET which concerns a vengeful barber and his crazed landlady and their murder spree in Victorian London.
Reboot will be modernizing the setting (hey! it saves money on costumes!) as well as the casting with another ensemble of diverse actors in the roles.
It opens May 17th back at the Slate Theater where they produced "Little Shop"…it's the funky theater in the Inscape Arts building that was converted from the old INS space. It's an appropriately creepy locale to stage Sweeney Todd.
More info on the production:
For its fifth production, Reboot is cooking up Sondheim's masterpiece SWEENEY TODD, THE DEMON BARBER OF FLEET STREET, music and lyrics by Stephen Sondheim, book by Hugh Wheeler. Reboot's SWEENEY TODD will highlight and satirize class struggle in a modern day setting. Directed by Julia Griffin (Swallow, In Arabia We'd All Be Kings, The Secretaries at Theater Schmeater) and music directed by Aimee Hong (Bainbridge Performing Arts, Renton Civic, SecondStory Rep), SWEENEY TODD will run May 17- June 1, 2019 at Slate Theater (815 Seattle Blvd S). Tickets are on sale now at www.reboottheatre.org or rebootsweeneytodd.bpt.me

The cast for SWEENEY includes Mandy Rose Nichols as Sweeney Todd (1776, Fly By Night at Reboot, recently starred in the Gregory Award-winning Silhouette at Annex), Alyssa Keene as Mrs. Lovett (Intiman, Seattle Children's Theater, ACT), Harry Turpin as Judge Turpin (5th Ave, Village, Showtunes, Annie Nat'l Tour), Cammi Smith as Johanna (Sound Theatre, Seattle Musical Theatre), Britt Allyson as Anthony (co-founder of Filament), Vincent Milay as Pirelli (Gregory Award nominated for The Dentist in Reboot's Little Shop), Kylee Gano as the Beadle (1776, Fly By Night), Justine Davis as Beggar Woman (Sound Theatre, SMT, Broadway Rose), Karin Terry as Toby (Seattle Musical Theatre, SSR), and with Emily Welter, Jessica Robins, and Kevin Tanner filling out the ensemble.

SWEENEY's production team includes Gregory nominated Robin McCartney (props and set), Carolina Johnson (lights), Josh Valdez (sound), and BroadwayWorld nominated Barb Klingberg (costumes).

Through a combination of nontraditional concept, interpretation, and casting, Reboot Theatre Company's mission is to test new interpretations of established works both as a way for local artists to stretch their wings and for audiences to experience classics in a different light. Reboot is a proud recipient of 4Culture's Arts Sustained Support grant.
Tags: Gender Diverse Casting, Reboot Theatre Company, Sweeney Todd