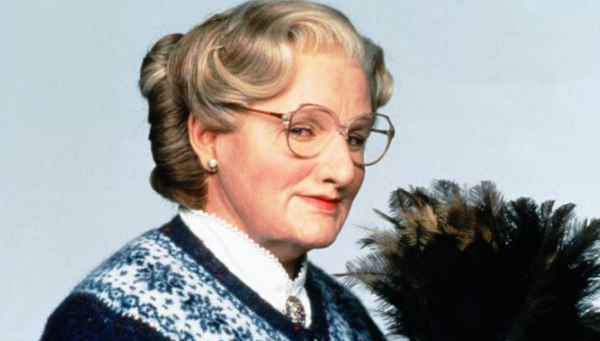 The 5th Avenue Theatre has snagged yet another "New Musical Hopefully Broadway Bound" for the 2019 holiday season. The musical theater company became a favorite of Broadway theater producers back in 2002 after Hairspray the Musical had a hugely successful tryout period at the theater prior to its triumphant multiple Tony Award winning debut in New York. Since then, many shows have done tryouts ranging from notorious flops like Lone Star Love, the infamous musical that actor Randy Quaid rampaged through, to other Tony Award winning hits like Memphis.
Now, it's Mrs. Doubtfire's turn. The very popular 1993 movie that starred Robin Williams as a desperate dad who resorts to disguising himself as a British nanny in order to spend time with his kids, is being musicalized (like every other film hit of the last 30 years…) with an impressive line-up of theatrical talent on board. The 5th Avenue announced today that Mrs. Doubtfire the Musical will bop into their Seattle theater from November 26 thru December 29, 2019. It will replace the already announced Shrek the Musical in the 5th Avenue's 2019/2020 season (Shrek will be bumped to the holiday 2020 slot).
Mrs. Doubtfire the Musical has some major talent attached including Wayne and Karey Kirkpatrick the fraternal team who wrote the music & lyrics for Broadway hit Something Rotten! will do the same for 'Doubtfire' with fellow Something Rotten alum John O'Farrell writing the book with Karey Kirkpatrick. Tony Award winning director Jerry Zaks is on board to stage this new show with Lorin Latarro (Waitress) tapped to  choreograph and Ethan Popp (Tina) serving as Music Supervisor.
No cast has been announced for the Seattle production. An industry reading was held in New York in May which included Rob McClure (currently on Broadway in Beetlejuice the Musical) and Kate Baldwin in the Sally Field/ex-wife role, with out gay actor/comedian Mario Cantone reading the role of Frank, the brother of the main character Daniel/Mrs. Doubtfire, the role played by Harvey Fierstein in the original film. Cantone is married to Village Theatre's artistic director Jerry Dixon so we're kinda figuring/hoping that Cantone MIGHT be coming to Seattle but…we'll see.
As of now (June 6, 2019) tickets to Mrs. Doubtfire the Musical are only available as part of a subscription to the 5th Avenue 19/20 season. Starting June 10, groups of 10 or more may purchase group tickets. Single tickets go on sale July 19, 2019.
More info below and certainly more info to come in the future: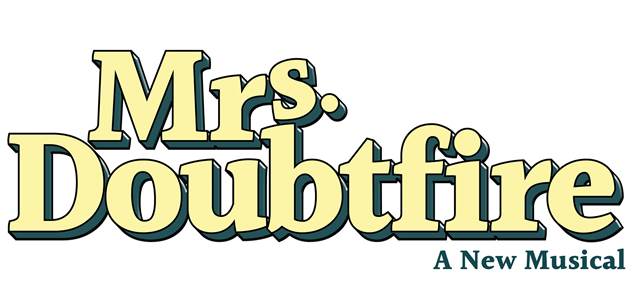 Book by Karey Kirkpatrick and John O'Farrell
Music and Lyrics by Wayne Kirkpatrick and Karey Kirkpatrick
Based upon the Twentieth Century Fox Motion Picture
Music Supervision by Ethan Popp
Choreography by Lorin Latarro
Directed by Jerry Zaks
New Musical to Premiere at Seattle's 5th Avenue Theatre
Fall 2019
Producer Kevin McCollum announced today that the new musical, Mrs. Doubtfire, will premiere at Seattle's 5th Avenue Theatre this fall on route to Broadway.  The musical features a book Karey Kirkpatrick and John O'Farrell and music and lyrics by Wayne Kirkpatrick and Karey Kirkpatrick, the Tony Award nominated team behind Something Rotten!  Four-time Tony Award winner Jerry Zaks (Hello, Dolly!) will direct and Lorin Latarro (Waitress) will choreograph.  Ethan Popp (Tina) will serve as Music Supervisor.
Performances will begin in Seattle on November 26, with a December 13 opening; it will run through December 29.
Casting, additional creative team, and a production timeline will be announced later. Mrs. Doubtfire is presented by special arrangement with Buena Vista Theatrical.
Fix your wig and slip on this pantyhose, dear, 'cause Mrs. Doubtfire is strutting to the stage!  Based on the beloved 1993 Twentieth Century Fox film, Mrs. Doubtfire is the laugh-out-loud hilarious and heartfelt story of newly divorced and out-of-work actor Daniel Hillard.  After losing custody of his children, Daniel disguises himself as Scottish nanny Euphegenia Doubtfire and takes a job in his ex-wife's home in a desperate attempt to stay in their lives.  As he gets lost in his new persona and grows closer to his kids, Mrs. Doubtfire teaches Daniel more than he bargained for about how to be a father.
Mrs. Doubtfire is currently only available as a part of a 2019/20 subscription.
2019/20 Subscriptions Available:
Online:             www.5thavenue.org
By Phone:      Call 206-625-1900 or Toll-free 888-5TH-4TIX (584-4849)
In Person:       Visit the Box Office at 1308 5th Avenue, Seattle, WA 98101
                        Groups of 10 or more:
                        Tickets for Mrs. Doubtfire will be available for Groups of 10 or more on Monday, June 10
                        Contact our group Sales team, Chad and Martha, at 1.888.625.1418 to find out more.
                        2019/20 Single Ticket On-Sale Dates:
                        July 19, 2019                    Mrs. Doubtfire
Tags: Mrs Doubtfire the Musical, New Musicals, The 5th Avenue Theatre