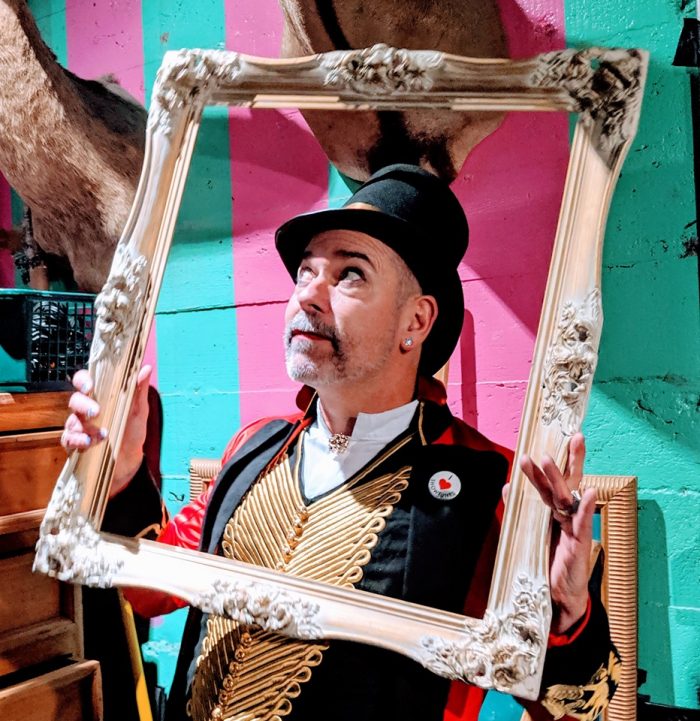 David-Edward Hughes has been friends and colleagues with actor and parody lyricist Tom Orr since 1992. They first worked together as writers for TWIST Weekly, a valiant effort at a local gay paper that didn't rely on sex ads for revenue (and thus did not last), as well as both Northwest On Stage and Intermission. Orr was the editor-in-chief of the latter, a short-lived bi-weekly newspaper that hoped to cover the Performing Arts scene in the Pacific Northwest from Portland to Vancouver. At the time, Orr was also a theatre critic for The Seattle Times, working with its former chief critic, Misha Berson.
Sharing a devotion to Broadway lore, Hughes and Orr have also collaborated both on and off stage, appearing in a musical version of Whatever Happened to Baby Jane? starring local drag doyenne Mark Finley; hosting benefits with The Killer ShowQueens; Orr's musical mystery murder revue, Who Killed Stephen Sondheim?; and the Seattle staging of Orr's signature hit, the award-winning Dirty Little Showtunes! at Re-bar.
They recently sat down to discuss Orr's latest stage venture, THE GREATEST SHOWQUEEN, his colorful career and recent rebirth, renaissance and return to the NW.
---
DAVID-EDWARD HUGHES: Hi Tom!
TOM ORR: Hi David! Thanks for wanting to do this interview! I feel like Don Lockwood in Singin' in the Rain, talking to Dora Bailey the gossip columnist about my early career and what's been going on in the meantime since I last was living in Seattle. It was 22 years ago when I moved away, can you believe it?
DEH: Nope! I can't! But after so many years away, how has your "Seattle Homecoming" been?
TO: Seattle is my Happy Place! I forgot how much I love it here and how many fabulous friends I left behind when I moved on to seek my so-called fortune back in San Francisco and New York City.
Everyday since I've been back, some magical little thing happens to tell me this is the right place to be right now in my life. It's a bit overwhelming to discover how much my Dirty Little Showtunes! was enjoyed and missed. You know, David, we never did record an original cast album, but people come up to me everywhere I go and sing my lyrics back to me 22 years later! "I Am The Very Model of a Modern Homosexual!" …
DEH: "How Do You Solve Your Problem Gonorrhea?" …
BOTH: "Oh, The Leather Man and The Drag Queen Should Be Friends!"
TO: My lyrics stick in their heads!
DEH: You were quite the toast of the town with TWO long runs of DLST. I know you're planning to do a new edition. With how different the contemporary Broadway scene is, what will that look like?
TO: It's funny, the last time we did DLST in San Francisco in 2013 — even though it won Best Musical and I was named Best Actor — a few of the critics complained that there were too many showtunes from The Golden Age of Broadway and not enough songs from the new shows. But I actually tried to do that! I remember I wrote a gay version of "Revolutionary Costume For Today" from Grey Gardens, yet so many of our older patrons who loved the first four productions of DLST griped that they didn't know the show or recognize the tune and we had to cut it. I've learned that parody requires familiarity with the source melody if it's really going to land with the audience; otherwise (and I've seen it) folks lean over to each other the entire show whispering, "What's this from? … what's that from? … I don't get it."
DEH: So they stop listening …
TO: Exactly! But David, it's neat to see how Broadway has come back around and is back in the zeitgeist, thanks to shows like Hamilton and Book of Mormon and Mean Girls, musicals that really resonate with young people. Plus there was Glee and Smash, and High School Musical….all of these live TV broadcast versions of Grease and Hairspray and Rent … so I feel like I really should update the show with more modern songs. I have a bunch of smutty ideas for Legally Blonde and Heathers and Hamilton … and even Mary Poppins Returns!
DEH: Your new solo show, THE GREATEST SHOWQUEEN, just opened last Sunday at the Unicorn. What can you share about what we can expect?
TO: Well, I realized that I had gone through so much in the last 22 years, both good and bad: there were 17 separate productions of DLST in 7 major cities and I moved to New York and met Sondheim, but I also got lost in party drugs and seroconverted with HIV and dealt with a dark depression and became homeless due to a flood. There was a dramatic story there to be told.
DEH: A fable, or a cautionary tale?
TO: Ha ha! A little of both I guess. But they say write what you know, and so much of my work is based on my own life, and as I looked through my files, I saw a way to do a Greatest Hits that told where I've been and how I got my mojo back. Everything I've written in 22 years is new to the Seattle audience so the show was already written. I just filled in the blanks with new stuff!
DEH: You went through quite a few ups and downs after you moved away from here. What were the best and worst experiences you had?
TO: Well, it's been over 20 years … how much time have you got?
Let's see, some of the highlights would have to include my three years in New York City, where I wined, dined and rubbed elbows with Broadway royalty and the theater cognoscenti: I became friends with Gerard Alessandrini, who writes Forbidden Broadway; I went to an early workshop of In The Heights and got to meet Lin-Manuel Miranda; I had French onion soup with Polly Bergen at a French restaurant next to the Belasco Theater after a performance of Follies; I met Jane White …
DEH: *The* Jane White? Original Queen Aggravain from Once Upon A Mattress Jane White?
TO: Yep! and Rex Reed and Carrie Nye, Dick Cavett's wife, when they came to see John Epperson aka Lypsinka at Joe's Pub, in a cabaret show for which I'd written special material. I met Rex Reed again at Feinstein's and we sat right behind Tony Bennett and his daughter while watching Rosemary Clooney; I saw a tipsy Michele Lee and Lainie Kazan heckle their mutual friend Donna McKechnie at Arci's Place; and I went to a birthday party for Craig Lucas where I met Victor Garber, George C. Wolfe, Tony Kushner, Joe Mantello, and was finally introduced to my idol.
DEH: Stephen Sondheim!
TO: It felt like Mount Olympus!
Meanwhile, I finally made it to Broadway … selling souvenirs and tending bar at the Shubert-owned theaters. The pay was terrible but I got to see the shows for free. I saw Chicago almost 200 times, I was in coat check for the closing night of Les Miserables and stood next to Cameron Mackintosh and Trevor Nunn in the back, and for a few weeks in 2003, I was working at Frankie & Johnny in the Clair de Lune — where I figured out exactly where to stand to see a naked Stanley Tucci in all his glory at the top of the show! — then I'd race across Times Square to the Shubert to watch Bernadette in Gypsy sing "Everything's Coming Up Roses" at the end of Act 1, help in the balcony selling drinks, watch the top of Act 2, sprint back to the Belasco for intermission at Frankie & Johnny, count my candy, cups and cash, then dash back in time for "Ya Gotta Get A Gimmick" and "Rose's Turn." It was Broadway ShowQueen Heaven!
DEH: You have been building up quite a storehouse of politically geared satire in the last few years. Will any of that pop up in TGS or will you save it all for another revue?
TO: Ah, yes! My political parodies! (sings) "Try to remember that awful November!" All thru the campaign in 2016 and during the election and especially after the inauguration, I wrote a song a day, or 2 or 3 or 4, depending on the treachery. It was my true coping mechanism and the only way I could wrap my head around what was going on and is *still* going on. I have over 200 of these songs now, so the end of Act 1 is a medley of my favorites and a sneak preview of my next show, which I'm calling, THINGS THAT GO TRUMP IN THE NIGHT! … "Because when it's 4 a.m. and he's pooping and tweeting, that's when the s*** is really going down!"
DEH: What would be the most shocking thing about you to others?
TO: Ready for this one? I was celibate for four and a half years! The Dirty Little ShowQueen, that Nasty Broadway Guy, was celibate!
Then I was "sainted" by the Sisters of Perpetual Indulgence back in Guerneville, CA, where I had moved when I lost my apartment in San Francisco in 2014 and four friends had committed suicide the year before and I sank into depression. Then I snapped out of it! It's "How Aunt Eller Got Her Groove Back!"
DEH: A select few (ahem) may recall that you and I, along with Charles Smith and Dan Savage, did two successful early 1990's fundraisers (Attack of the Killer ShowQueens and Revenge of the Killer ShowQueens) fighting against Lon Mabon who was an Oregon based anti-LGBTQ legislator in Portland. I was proud to have been part of those.
TO: Me too! DLST was a direct descendant of those shows we did!
DEH: Maybe we should do a reunion fundraiser? There are certainly plenty of people to fight against, yes?
TO: Come see my new show! I've got a list as long as my … arm.
DEH: It has been heartwarming to see how your return has been so welcomed by so many. Has that been overwhelming?
TO: It really has. After the flood in Guerneville and I was homeless, so many friends and especially my family stepped up to help out in any way they could, with donations of gift cards or places to stay or taking me to dinner and a show — I even got to finally see Hamilton in San Francisco! — and I realized how foolish I'd been to let despair color my world and to stop producing, performing and writing. The day I left San Francisco it was pouring rain and when I landed at SeaTac it was 82 degrees and sunny. Two days later, on March 22, which is …
BOTH: Sondheim and Lloyd Webber's birthday!
TO: Ha ha, yes! I went to see my friend Karen Skrinde in her new show at Egan's in Ballard as part of Cabaret Month, and she was doing one of my songs. It was the first time I've heard an audience howl with laughter at my funny lyrics in six years. At the curtain call, she introduced me from the stage and everybody clapped for me — and the room was packed with local theater celebrities — and I knew that, after 22 years, I was finally home!
DEH: Hello, Tommy! It's so nice to have you back where you belong!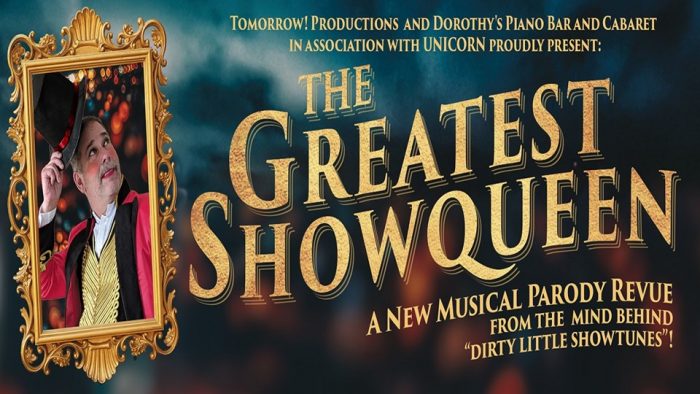 ---
THE GREATEST SHOWQUEEN plays Sundays at 6pm for 3 more shows only, thru 6/23. 21 & Over only.
UNICORN, 1118 Pike St. @ 12th on Capitol Hill. Info: 415-374-5625.
www.dorothyspianobar.com/tickets
Graphic Design: Mike Christopher
Production Photos: K. Art Cardinal
THE GREATEST SHOWQUEEN!

A New Musical Parody Revue
Written & Performed by Tom Orr
Directed by Marie Ruzicka
Musical Direction by John Lehrack

4 Shows Only! 4 Sundays in June!
5pm Door • 6pm Curtain • 6/2-6/23

After an absence of 22 years, Tom Orr — the creative mind behind the award-winning musical parody revue Dirty Little Showtunes!, a long-running smash hit at Re-bar in 1997-98 — is back in Seattle with a new solo cabaret and a multitude of new perverted twists on classic showtunes.

Winner of 3 Bay Area Theatre Critics Circle awards (Best Musical, Best Lyrics & Best Actor), Orr brings his diabolical wordplay and a uniquely skewed worldview to the forefront with his latest work, a look back at his colorful past and a sneak peek at his bright future, with new material and selections from his prior solo shows: I Feel A Thong Coming On!, A Crass Act!, The Devil Wears Nada!, Aging Bull! and A Funny Thing Happened On The Way To His Forearm!

He has been called "The Lost Love Child of Al & Dorothy Parker," is a former theatre critic for The Seattle Times, won kudos for his lyrics for Pimpin'! and Who Killed Stephen Sondheim?, was "Best Cashier" in The Seattle Weekly Readers' Poll & recently survived a major flood!

Pianist John Lehrack's career as a professional musician spans three decades and includes time as a performer, educator, business owner and more. He has appeared as a featured performer with San Francisco City Summer Opera, Solano Symphony, San Francisco Cabaret Opera, Maui Symphony Chorus, Gay Men's Chorus of Honolulu, South Coast Chorale and many regional companies. He launched Dorothy's Piano Bar in 2017.

Marie Ruzicka is an accomplished actress, director, choreographer, consultant, podcaster (Magickal Land of [Awe]some), author and solo performer: "Why Am I So Happy? An Introvert's Journey to #LivinTheJOMOLife" opens soon.

UNICORN is a popular new bar and restaurant hosting weekly drag cabarets on Seattle's Capitol Hill, with a second location opening soon at White Center in S. Seattle.
(Visited 25 times, 1 visits today)