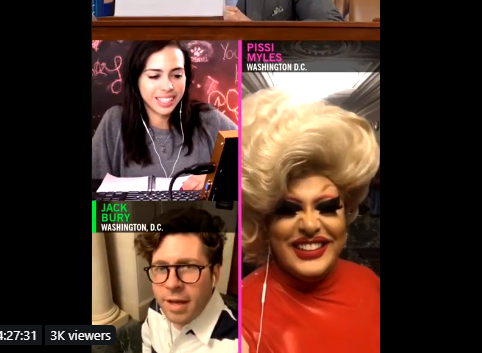 Well, obviously we j'adore Pissi Myles, the drag performer from Asbury Park, New Jersey (Springsteen Country!) who showed up at the U.S. Capitol Building today for the House's Impeachment hearings to get rid of the terminally criminal Donald Trump.
Miss Myles, arriving in a huge blond wig and a zexy red frock, was werking the journalistic beat as a reporter for a new start-up media site called HAPPS, which is billing itself as the "first open-source live news network". They scouted the drag star just this weekend and hired her to cover the hearings.
Pissi told NBC News:
"It's a crazy day in Washington! I'm flipping my wig over the high-energy proceedings today…tensions are high, and the bar for who's allowed in the Longworth House is very, very low."
Myles, according to her bio, is an award-winning drag performer, comedy producer and winner of Philly Drag Wars and Miss Fish NYC who performs regularly in the New York area. Myles is also a regular performer in Fire Island Pines, a largely gay male summer vacation destination, and has a podcast, "My Gay Spooky Family."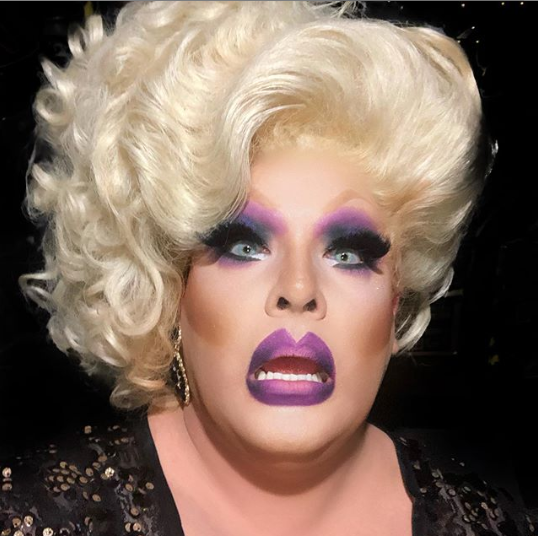 So, bravo to Pissi and Happ for grabbing some spotlight…smart cookies!
Now, how long before Pissi starts making the media rounds? You know Ellen's people are calling Pissi's people…
Quick! Someone in Seattle book her for an appearance!
(Visited 1 times, 1 visits today)