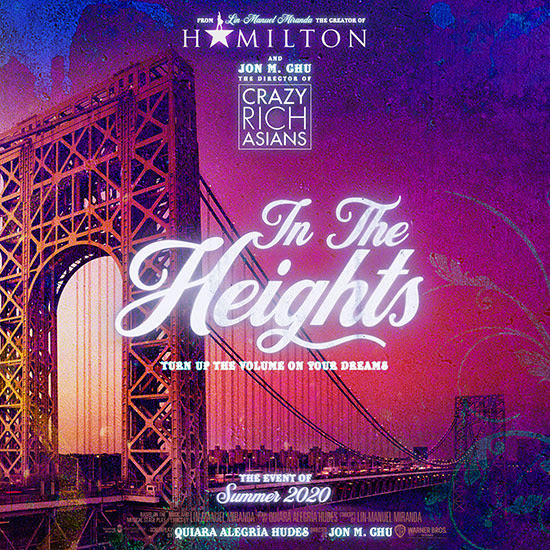 For fans of Lin-Manuel Miranda, the multiple Tony Award winning creator of "Hamilton" and "In The Heights", two of the biggest stage musical successes of the last 20 years, the release of the trailer for the film version of In The Heights is a very big deal.
In The Heights is a multi-plotted story about the lives of the Latinx residents, mostly from the Caribbean and especially the Dominican Republic,Cuba, and Puerto Rico, living in the Washington Heights section in the far northern reaches of New York City's Manhattan. It centers on Usnavi, a sweet natured and much liked young owner of his family's bodega (neighborhood market/store) and his relationships with his friends and family and the beginnings of a romance with Vanessa who works in a beauty salon next to the bodega.
The musical, created by Miranda with playwright Quiara Alegría Hudes, covers three day/nights over a 4th of July Weekend in the neighborhood and uses a variety of music styles including rap/hip-hop, salsa and soul music to relay the story. Miranda also starred in the original Broadway production as Usnavi and he returns for the musical but has aged out of the leading role and now plays "the Piragua Guy" who sells the popular Puerto Rican version of a snow cone and gets to comment/interact with the main stories in the show.
The film adaptation has just released its trailer; the film itself will open June 26, 2020, and at a press party in New York City this week, the cast revealed some of the changes for the film, including the addition of a same sex relationship for a pair of characters in the musical, as well as a new subplot involving the current and very inflammatory issue of deportation of "Dreamers", young immigrants who entered the country illegally with their parents and now denied permanent citizenship.
The film is directed by Jon M. Chu, who directed the hugely successful "Crazy Rich Asians" and stars a cast including Anthony Ramos as Usnavi with Corey Hawkins, Leslie Grace, Melissa Barrera, Olga Merediz, Daphne Rubin-Vega, Gregory Diaz IV, Stephanie Beatriz, Dascha Polanco, and Jimmy Smits.
The trailer looks fantastic…this film has jumped to the head of the line for Summer 2020 must see movies.
(Visited 1 times, 1 visits today)