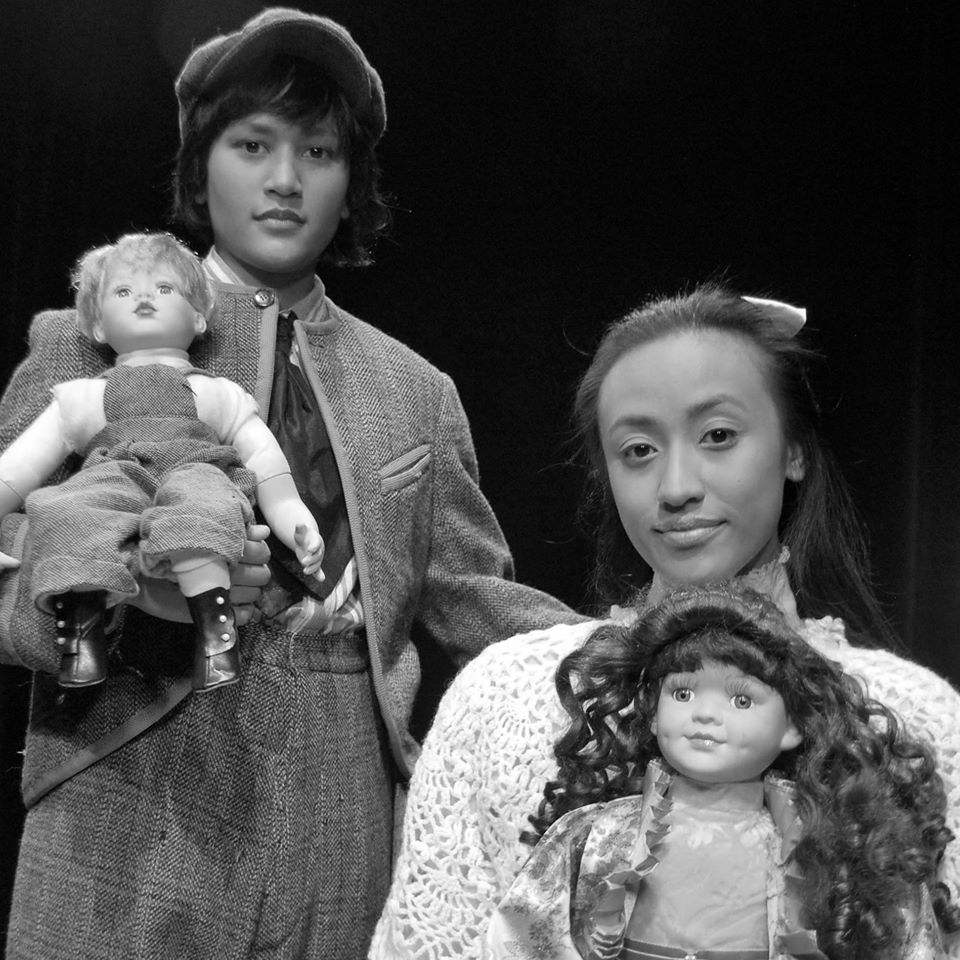 Review: The Turn of the Screw. Based on Henry James' novella and adapted by Rachel Atkins. Produced by Book-It Repertory Theatre. Directed by Carol Roscoe. Scenic Design by Pete Rush. Costume Design by Melanie Burgess. Lighting Design by Peter Maradudin. Sound Design by Robertson Witmer. Properties Design by Robin Macartney. With Nabilah S. Ahmed, Rheanna Atendido, Shannon Lee Clair, Bridget Connors, Amy Driesler. Onstage at the Center House Theatre/Seattle Center from February 12th to March 8, 2020.
Spooky is hard to accomplish onstage, in my opinion. To create an atmosphere that is haunting requires the right script and the right direction and an extra special attention to design elements like scenic design, lighting and especially sound. If any of those key ingredients are missing or aren't fully realized, then you're probably not going to achieve what you set out to do…creep/freak/spook your audience.
Sadly but not at all hauntingly, Book-It Repertory Theatre's current production of Henry James' classic novella THE TURN OF THE SCREW adapted by Rachel Atkins doesn't succeed at getting very many of those needed "scare" components up to the levels they need to be. At ground zero is the fact the script is very, very talky; talking and explaining and saying out loud EVERY single thought in a character's head isn't suspenseful. In fact, it's achingly dull. Which is why most successful thrillers onstage and especially on screen, feature little dialogue but lots of atmospheric music and sound effects.
And, most importantly, plain old silence. The void of silence and the dread of what lurks in that silence is a lot scarier than the constant babble of annoying characters. And, that's another problem with this adaptation…the characters are a chore to deal with, especially our "heroine" who is never actually named but referred to as "Miss", a Victorian governess sent to care for two children in a remote manor house in the country who becomes convinced that the evil spirits of the former governess and Quint, a laborer on the estate are after the souls of the two kiddies, a girl named Flora and an older boy named Miles.
Part of the fun of "Screw" is the ambiguity of the plot and situation. Does Miss have a reason to be concerned that actual evil ghosts are causing these problems or is Miss a batshit crazy neurotic who is actually the one stirring up all this drama? Or, is it a little bit of Column A and a little bit of Column B? That's always been part of this story's charm and why it's a beloved and much adapted piece of literature that has been adapted many times for the stage, film, and for broadcast, the most adapted piece of work by Henry James.
Ambiguity is key to the story's success…and, Book-It's production sorely lacks that ambiguity because their chatterbox Miss just never shuts up about every single thing that comes into her head about the ghosts, or the weird kids, or her crush on their Uncle or whether or not the Queen should pay for the security detail for the Duke and Duchess of Sussex…it all comes dribbling out of her never silent mouth. She's obviously a silly twit from the get go.
And, I'm going to blame it on the script, which very much emphasizes WORDS over anything else, and on Carol Roscoe's dull direction of the material which seems to consist of the characters just constantly making entrances and exits while TALKING non-stop and never letting any kind of mood or menace penetrate all the dreary babble. The actor who plays Miss, Shannon Lee Clair, is an interesting actor who is obviously talented and trained but she's saddled with a script and a director that isn't doing her any favors. Miss is established as a nincompoop from her very first scene so the actor is never given any where to go with the character.
Sadly, half of the design elements fail as well. On the plus side, Pete Rush's drape-y and crepe-y scenic design puts the fun in funereal and includes a brilliant doll house that the director never managed to fully utilize and Melanie Burgess has similar fun with the late Victorian costumes. (And, props designer Robin Macartney has come up with some terrific props including some creepy as hell dolls.) Meanwhile, the all important lighting and sound designs fall flat mostly because there's just not enough of either. This is a show that demands a menacing lighting scheme and a thoroughly thought out sound design but it's all a bit lacking, like the director couldn't be bothered to work that out with the designers (Pete Maradudin, on lighting and Robinson Witmer on sound)…like it's of minor importance to a story that totally depends on creating a moody atmosphere. Instead, we have lots of exits and lots of blathering.
As for the actors…I think ONE actor is actually superbly cast and gives a great performance, and that's Bridget Connors as Mrs. Grose the kindly housekeeper who puts up with Miss's nonsense. She's the only character that felt real and organic to the material.
I liked Nabilah S. Ahmed in some gender blind casting as Miles and Rheanna Atendido as Flora but here we come up against the issue of how do you cast children's roles in works that feature children in adult situations? There is a lot of weird sexual stuff going on in James' story…disturbing imagery and implications about Miles in particular. Anything that has to deal with sexuality and children is automatically dangerous to portray; it can come across as promoting pedophilia and just plain nasty if you actually try and cast children or teens in the roles. But, when you cast young adults like Ms Ahmed and Ms Atendido, that automatically adds on a layer of adult sexuality whether or not it's intentional. And, that's only something that can be addressed with choices made in the script and choices made by the direction of the actors and for me, neither succeeded. Everything in The Turn of the Screw should be ambiguously portrayed but I think they failed here as well…these kids are just weird and in a kinky way.
Finally, there's the odd casting of Amy Driesler who, for some reason unknown to us, plays all the other male roles including the creepy Quint, the Uncle and a Vicar but since there isn't much difference in any of her portrayals (other than Quint who leers) it's hard to tell who she's supposed to be every time she pops onstage. I don't really get why she was cast…is it a feminist thing? Supporting female artists? Those are all nice things but the problem is, two of the roles she plays (Quint and the Uncle) require a certain masculine presence that Ms Driesler just isn't able to portray. And, I can think of OTHER local female actors who could, so it's not really a "gender issue" but more of a "not the right actor for the roles" issue.
The result of all this is, this production of The Turn of a Screw feels a bit like its produced by the Drama Department in an all female high school/college…awkward and jejune. Other than a fantastic dollhouse set piece, there's really not much of anything else to recommend here.