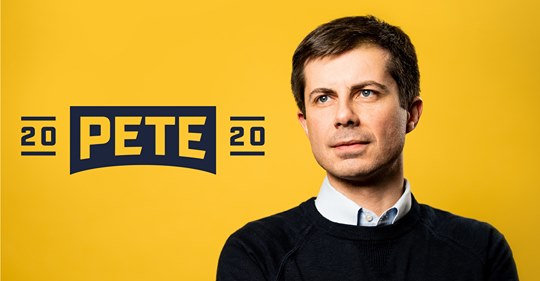 In news that's not particularly shocking, it's been leaked that Pete Buttigieg, the openly gay former mayor of South Bend Indiana, will announce he's pulling out of the 2020 race to seek the Democratic nomination for President of the United States sometime Sunday evening, March 1st.
Buttigieg's 4th place finish in Saturday's South Carolina primary and projections that he will not win any of the states holding primaries on "Super Tuesday", March 3rd seemed to seal the fate of his campaign which despite the huge amounts of press coverage and support from many (but not all) in the LGBTQ community couldn't erase the fact the 38 year old politician faced an uphill battle to collect enough delegates to win the Democratic nomination.
Other contributing factors: lack of much support from other communities, especially Black voters, and not enough revenue to continue campaigning. Millions were raised but much of the war chest accumulated by the Buttigieg campaign was used to capture a win in the first battle, the Iowa caucus and a second place showing in New Hampshire.
Buttigieg's decision to leave the race follows the departure of billionaire Tom Steyer who shut down his campaign Saturday evening after spending millions of dollars in South Carolina to achieve a respectable 3rd place finish which was still not enough to snag any delegates.
And, now eyes move to the campaigns of Massachusetts Senator Elizabeth Warren who finished 5th in South Carolina and Senator Amy Klobuchar of Minnesota who finished 6th. Neither has a path to the nomination and both are likely to end campaigns in the next few days which leaves the race to three men in their late 70s: front runner Senator Bernie Sanders, former Vice-President Joe Biden and billionaire/former NYC mayor Michael Bloomberg.
But, it's the ending of Pete Buttigieg's campaign that will hit hard for millions of LGBTQ supporters excited by the success of an out gay politician in a national election. While Buttigieg's cautious and more centrist stance on many issues alienated many LGBTQ progressive/leftist voters, the boyish enthusiasm and nerdish charm of Pete Buttigieg and his marriage to husband Chasten appealed to many others.
Regardless of how you feel about Pete Buttigieg's politics, his success is an important part of LGBTQ history.
(Visited 1 times, 1 visits today)