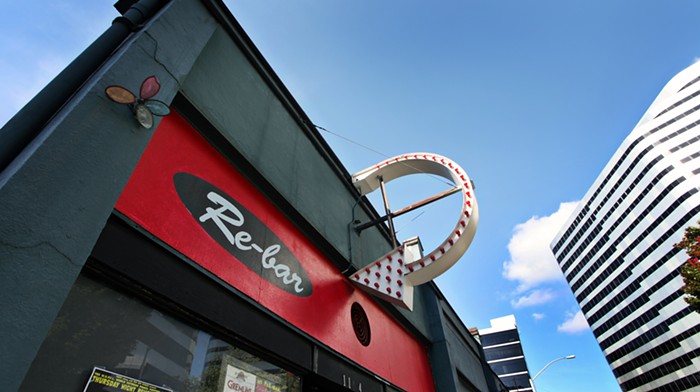 A day dreaded by many in Seattle has finally happened. In news that is sure to depress many of its fans in the LGBTQ community, iconic Seattle dance club and cabaret space Re-bar announced today that they would shut down all operations at the club which has been closed for the last two months due to the ongoing coronavirus pandemic which has shut down most public venues.
The announcement was originally made early Saturday morning, May 9th when owners, employees and artists associated with Re-bar were interviewed on radio station KEXP on the Sound & Vision podcast with host Emily Fox as part of a segment on how the pandemic has effected local nightlife venues.
Re-bar then followed up this evening with a post on their Facebook page that acknowledged the 30 year legacy of the club, located at 1114 Howell Street in an area sandwiched between downtown Seattle and Capitol Hill, Seattle's predominant LGBTQ center and home to much of the city's arts and entertainment options.
The post expressed thanks to all the thousands of fans as well as the many artists from many different fields: music, drag, cabaret, theater, dance, burlesque who all were part of the fantastic community who called Re-bar an artistic home over the last 3 decades.
And, then they dropped the bombshell: Re-bar would not reopen at the Howell Street location (once the state begins allowing clubs/theaters to reopen) but will instead take an 18 month break with plans to reopen at a new location "on the South Side" in the fall of 2021.
From the Facebook announcement:
With the phased reopening plan, we wouldn't be open until fall with severe restrictions. Its been costing the venue $10,000 a month to stay closed and we cant sustain this any longer. We are super proud of our community for the fund raising that has allowed us to finish paying our employees and function during the lockdown. But adding in other financial issues, we will not be reopening at our Howell St. location. Re-bar will be taking an 18 month hiatus and reopening Fall 2021.

You've supported us for 30 years. We would like you to meet us in Spring 2021 to be involved in the process of reopening Re-bar for our 31st Anniversary on Seattle's South side as a 7 day a week bar and nightclub with full food service. We'll be rising like the phoenix.
We love feedback. If you feel called to, let us know at info@rebarseattle.com. Love to you all!
The news wasn't totally unexpected. It has long been rumored and discussed that Re-bar's time at that location was close to coming to an end. Earlier this year, it was announced the property was up for sale in an area that has seen a considerable amount of development in the last decade. The venue had been surrounded by surface parking lots for the first 25 years of its life but those lots have all been replaced by high rise residential towers in the last 5 years.
Still. It's going to be hard to say good bye to a space like Re-bar that has been a very unique kind of place that was always home to both queer and non-queer audiences. So many pivotal performers have been on that stage doing everything from Bacon Strip Drag Variety Shows to the Seattle premiere of Hedwig & The Angry Inch and countless other drag shows, dance nights, live music, crazy live bar theater and some things you can't really even adequately describe like the one and only Dina Martina…it's all part of Re-bar's magic and legacy.
And, personally, it's a big loss for myself and Seattle Gay Scene. We've produced a couple shows there over the years (in addition to promoting dozens and dozens of shows there over the last 12 years) and it was always a very special home away from home for us.
A big, teary eyed toast to the old Re-bar and another big hopeful one for its future.
Salut.
(Visited 11 times, 1 visits today)