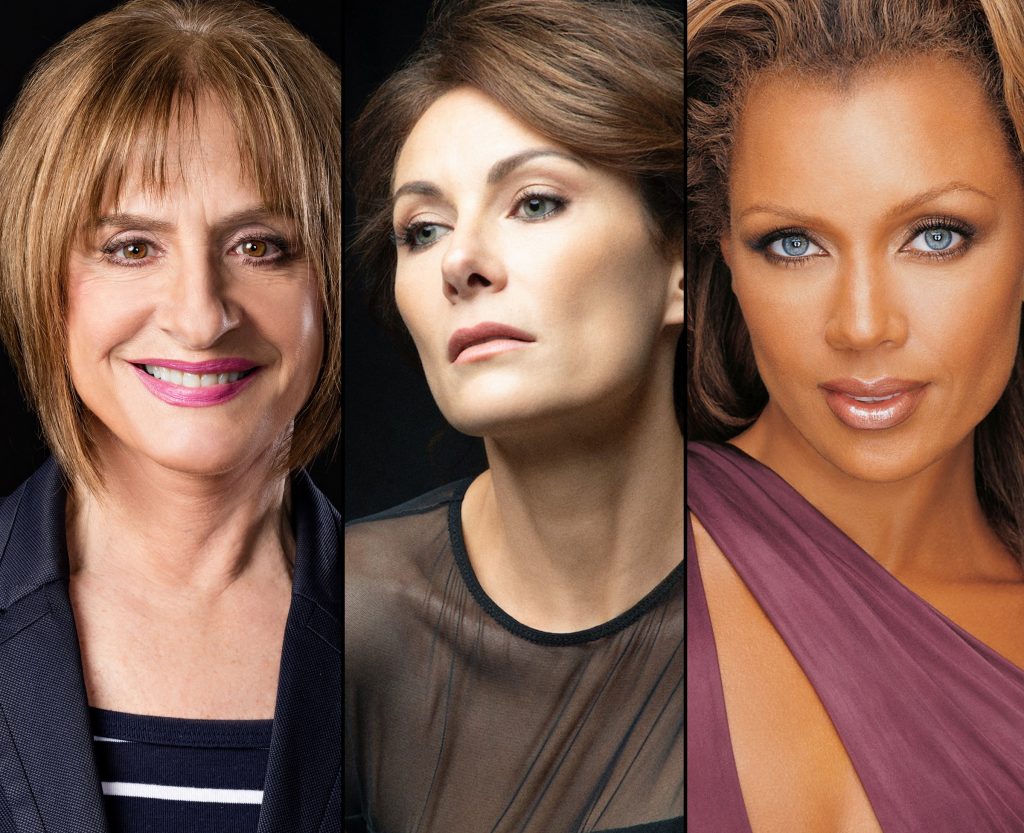 Due to Covid-19 (wow, I'm tired of starting every post with some version of those f*cking words….) Seattle's 5th Avenue Theatre has naturally had to cancel all their live shows for the foreseeable future, which sucks for their fans who crave live musical theater entertainment, but also for themselves and their bottom line….it's tough to keep your doors open when you can't actually sell tickets to live events!
But, like the hackneyed old phrase says, "The Show Must Go On!" so the 5th Avenue announced last week that they were going to do virtual performance events for their 2020/2021 season and today they've announced their first set of shows: a trio of amazing concerts starring some of Broadway's biggest divas.
Live from the West End: The Women of Broadway will kick off on Saturday, October 24th with two time Tony Award winner Patti LuPone, followed by another Tony winner, Laura Benanti on November 14th and the multi-talented actress/singer Vanessa Williams on December 5th. You can buy individual tickets to each show for $30 each OR save some money by buying a pass for all three for $75!
Oh, and this event is (obviously) available all over the country partnered with area theater companies. If you want to support the 5th Avenue Theatre , then purchase your tickets through THIS LINK. If you live outside the Seattle area and want to support a theater company closer to where you live, then do a Google search with the show title and the name of the nearest big city near you to find a theater to support.
More info:
Missing the magic of musical theater? The 5th has got you covered! We're thrilled to partner with theaters around the country to bring Broadway's brightest stars in the Live from the West Side Concert series.

Join us for The Women of Broadway livestream concert series featuring two-time Tony Award® winner Patti LuPone, Tony Award® winner Laura Benanti, and critically acclaimed actress and singer Vanessa Williams. Streamed live from New York's Shubert Virtual Studios, each show will feature a mix of Broadway show tunes, pop songs, and personal stories from the life of each headliner. You can even submit questions in advance for each artist to answer during the show.

Tickets to each Live from the West Side streaming event are available for $30 plus a $6 handling fee, or you can bundle all three events into one package for $75 plus a single $6 handling fee.

Don't miss your opportunity to have a Broadway diva LIVE in your living room!


CLICK FOR TICKETS
Patti LuPone is not only known for her theater work which includes creating roles in Evita, Les Miserables, and Sunset Blvd (before evil Andrew Lloyd Webber replaced her with Glenn Close) but also for her work in television shows like Life Goes On and Penny Dreadful. Laura Benanti has an extensive Broadway resume but she might be best known to many for her hilarious guest spots on The Late Show playing First "Letty" Melania Trump.
As for Vanessa Williams…well, she's known for many, many things including being the first black woman to win the Miss America pageant (then losing the title because nude photos of her surfaced), then for her very successful career as a pop singer with 11 Grammy Award nominations. She's also much beloved for her stint on the comedy series Ugly Betty, as the vampish diva Wilhelmina Slater and for other appearances in TV, film and onstage.
Tags: Laura Benanti, Live from the West End: The Women of Broadway, Patti LuPone, The 5th Avenue Theatre, Vanessa Williams