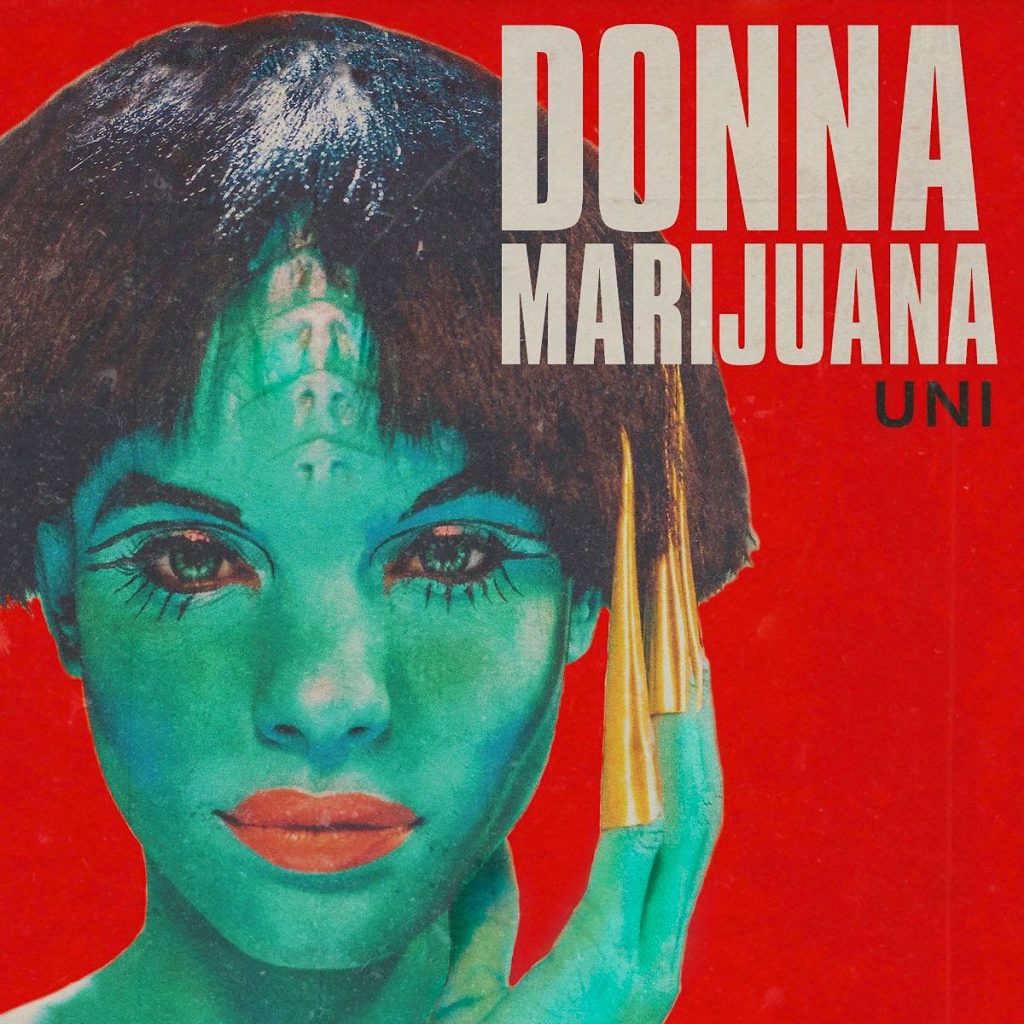 We j'adore a glam, maximalist pop band with a DIY sensibility so naturally we're over the moon for UNI, the trio that loves embodies all these fabulous things!
They have a fun video/single out just in time for the celebration of 4/20 Day…it's "Donna Marijuana" and it combines the "Drugs are Bad" aesthetic of the 70s/80s (complete with Nancy & Ronnie Raygun appearances!) plus cute Cardin dresses and gothy gay lead singers with facial appliances and a love for drag.
More about UNI: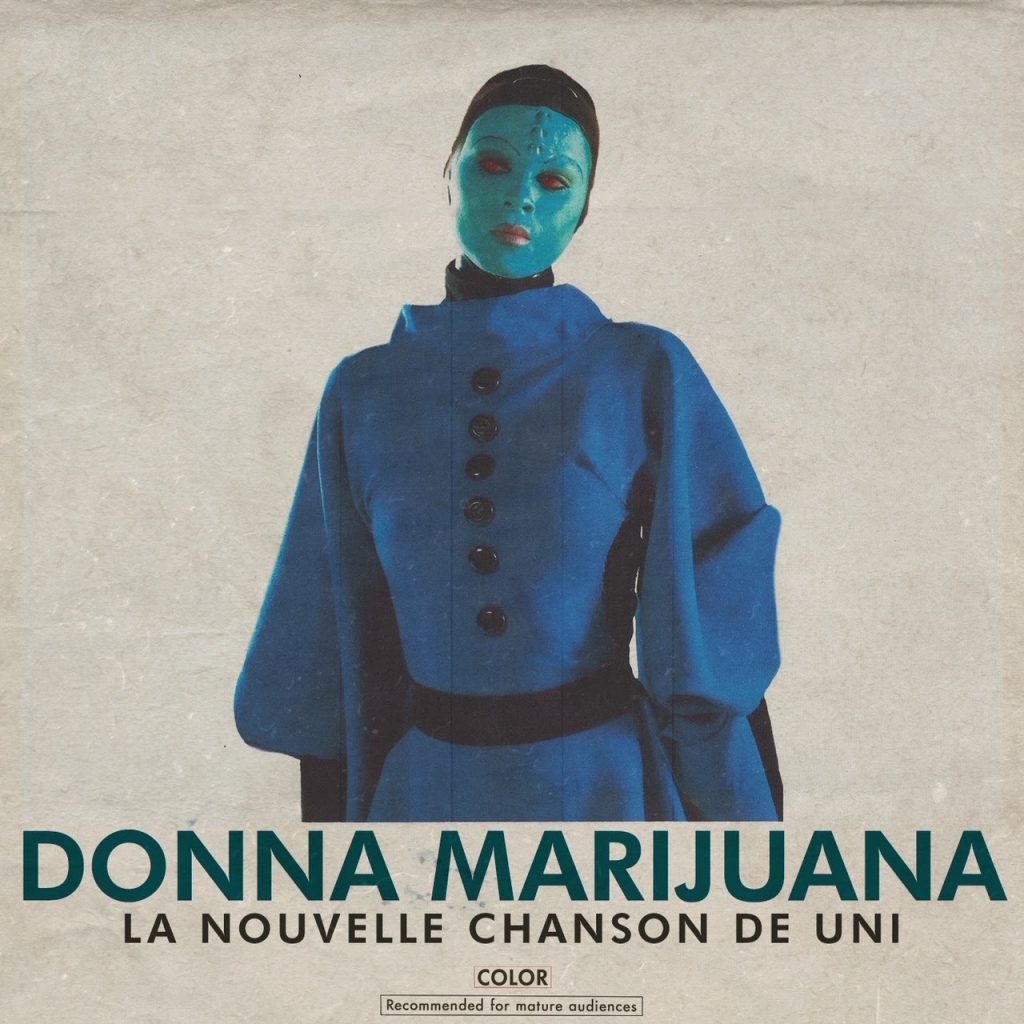 Uni's latest over-the-top video (60's Ed Sullivan meets Pierre Cardin and 90's MTV) celebrates reefer madness while poking fun at the war on drugs for release on 4/20, premiering with a feature article at Cool Hunting. Directed and edited by Charlotte Kemp Muhl (who played on Jack White's album, directed a Smashing Pumpkins video, appeared in Jim Jarmush's newest film) and starring/choreographed by Jack James (co-star of upcoming Showtime series and Uni's charismatic frontman) who even dons prosthetics to portray Nancy Reagan. Post-Punk also featured the video, praising "Kemp's unbridled creativity, enthusiasm, and sense of humour is gleefully on full display with Donna Marijuana, and it is a sight to behold, no matter your state of mind."

Having only released a few vinyl singles, some of Uni's Youtubes and insane Tiktok videos have generated over a half million views each. These are Enfants Terrible to keep a third eye on!

Turn on, tune in and drop out. From flower child to atomic mutant, cold war to alien invasion, Pierre Cardin's space age visors have never felt more appropriate. To escape our planet's inhospitable viruses, we turn to the plasticine bubble of our addictions- weed, social media, sodium, religion… Black holes are the new black, K holes are on sale at K mart and fashion is the opioid epidemic of the masses.


For TV dinner laugh tracks, Johnny Carson clones peel their own faces off and bleed out like trickle down economics. Your id fragments into Busby Berkeley fractals.
So put on the new Uni 45 on that bakelite jukebox in the CIA observation booth, and practice the twist into that one-way mirror as the THC kicks in.
The lab coats will be taking notes, so dance like no one's watching…
Uni is a project of unbridled creative collaboration. Comprised of Charlotte Kemp Muhl (bass), David Strange (guitar) and Jack James (vocals), Uni represents what happens when three artists unleash their talents together — as evidenced by their DIY approach to their art. The band orchestrates everything from the concept to directing to producing themselves, resulting in grandiose, maximalist art.
WATCH & SHARE: Uni – "Donna Marijuana"
WATCH & SHARE: Uni – "Hold My Gun"
WATCH & SHARE: Uni – "DNA"
WATCH & SHARE: Uni – "Predator's Ball"
WATCH & SHARE: Uni – "Debris"
WATCH & SHARE: Uni – "American Fag"
WATCH & SHARE: Uni – "Destroyer"
WATCH & SHARE: Uni – "Electric Universe"
WATCH & SHARE: Uni – "The Girl Who Has It All"
WATCH & SHARE: Uni – "DDT"
WATCH & SHARE: Uni – "Mushroom Cloud"
WATCH & SHARE: Uni – "Adult Video"
WATCH & SHARE: Uni – "What's The Problem"
LINKS:
Website – Facebook – Twitter – SoundCloud – BandCamp – Instagram – YouTube – Spotify – Bandsintown – Songkick
Tags: Donna Marijuana (song), Uni