Also, is it really Pride Season? Or, is it PRE-Pride Season since, in our opinions, Pride Season would be a period of time around the anniversary of the Stonewall Rebellion which happened in the last weekend of June/early July in 1969?
REGARDLESS, it's apparently the season to buy lots and lots of shi…er, stuff, er, LOVELY THINGS with rainbow colors plastered all over them that usually minutely benefit some LGBTQ charity while making LOTS of money for the company making/selling said products.
JUST what STONEWALL was ALL ABOUT!!! COMMERCE!!!!
I keed!
Ish.
Is equality really about buying merchandise? Is that what Stonewall was all about? I guess you could argue that to a certain degree the 1969 Stonewall Inn riots were about commerce…part of the anger of that crowd was due to the fact that most options for gay people to gather involved going to a Mafia owned venue that charged outrageous prices for drinks served in glasses "washed" in a bucket of dirty water (because they didn't have proper sinks for washing up). Part of the queer anger that night was about being ripped off.
A part.

A tiny part.
So, the commercialization of LGBTQ Pride is troubling. The marketing of goods with rainbow coloring to make a buck or two while many LGBTQ people still struggle with oppression, especially people of color and transgender people, is problematic. There's nothing wrong with buying things (well, unless you have a shopping addiction or you're a hoarder or you ignore/refuse to use your money to aid others who have so much less than you do). But, there are times when the commercialization of LGBTQ Pride feels overtly manipulative and destructive.
It's a dilly of a pickle and a conundrum wrapped in an enigma wrapped in a rainbow colored Ralph Lauren beach towel.
So, that off my chest, here's some rainbow shit you can buy for Pride!!!!!!
OBVIOUSLY, Lego loves us enough to give us an adorable rainbow pride play set, EVERYONE IS AWESOME, with adorable mini-figs the same colors as the new rainbow flag….which we do really, really love. I mean, LOOK AT THEM! ADORABLE!!!!
Via press release:
The LEGO Group today announces LEGO® Everyone is Awesome, a set designed to celebrate the diversity of our fans and the world around us. The buildable display model is inspired by the iconic rainbow flag which is used as a symbol of love and acceptance by the LGBTQIA+ community, and features 11 monochrome minifigures each with its own individual hairstyle and rainbow colour.

Set designer Matthew Ashton, Vice President, Design said: "I wanted to create a model that symbolises inclusivity and celebrates everyone, no matter how they identify or who they love.

"Everyone is unique, and with a little more love, acceptance and understanding in the world, we can all feel more free to be our true AWESOME selves! This model shows that we care, and that we truly believe 'Everyone is awesome'!"


Or, Crystal Head Vodka's hella cool rainbow bottle. I mean, it's a rainbow hued skull bottle…with booze in it! Gay goth alcoholic nirvana!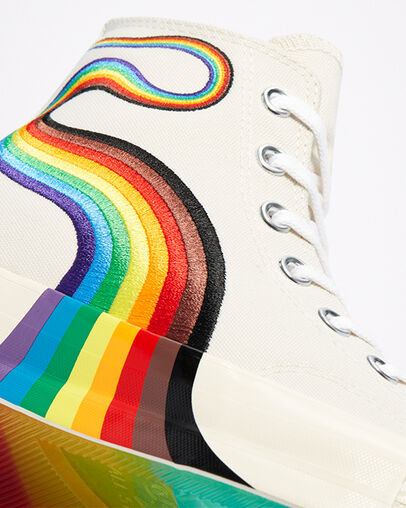 Converse of course has a whole line of Pridey products including their signature Chuck Taylor's. You even have multiple lines to choose from because they have their Pride rainbow colored stuff as well as their just released Keith Haring line which is even more fun if you're not so much into wearing rainbow colors (like me…)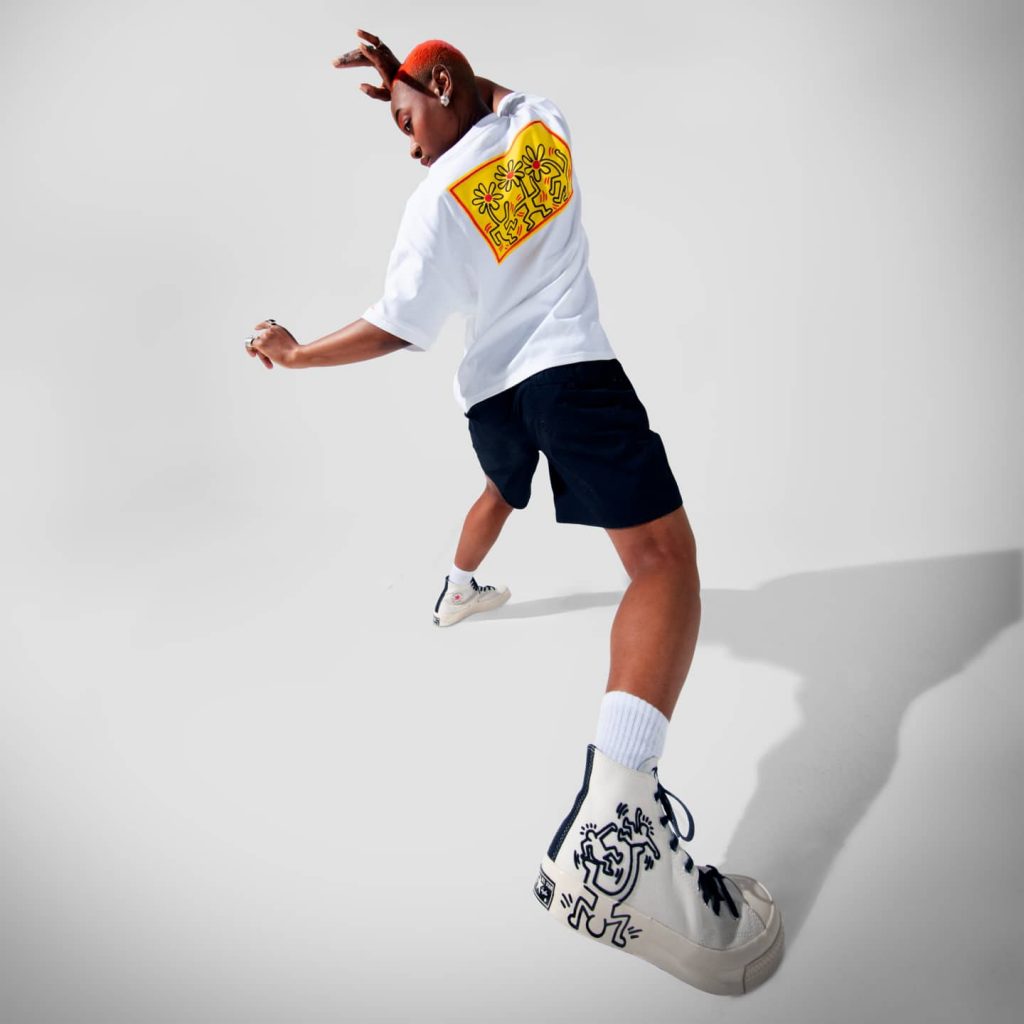 And, if you like to draw on yourself, there's always the super fun option of Bic's BodyMark pens, "cosmetic-quality, skin-safe* temporary tattoo markers in all the colors of the rainbow" which are available at Amazon.com and Kroger stores nationwide.
AND, finally, there's a local box of gay goodness you can purchase…Seattle Pride, (the parade people) are selling a Pride Box for $120 (ok…$119.99) that contains all sorts of locally sourced/made/grown queer goodness from LGBTQ businesses including cakes, teas and infusions! Go HERE for the poo!
What's in the Seattle Pride Box:
Bonnie B's Peppers – Original Greens (12oz.)
A true savory, vinegary pickled pepper. Hungarian Wax Peppers with garlic, vinegar, and dried herbs.

Broadcast Coffee Roasters – Breaker One 9 Blend (12oz.)
The classics never go out of style. Peanut butter, orange chocolate, and cherries in a cup! San Coffee, a grower-owned coop in Brazil and Del Campo are a perfect pair!
Friday Afternoon Tea – Earl Gay Tea (1oz.)
Black tea, rainbow unicorn sprinkle candy, bergamot oil, gold lustre dust. A limited edition offered only during LGBTQIA+ Pride Month, with a portion of proceeds benefitting the National Queer and Trans Therapists of Color Network. Tea Infuser available for add on.

Home Economics Cakes & Cookies – 4 Pride-themed cookies
Chef Kyle Smothers' creations. Winner of Food Network's Holiday Wars 2!
Honest Biscuits – Biscuit Mix (1 bag)
Shepherd's Grain flour made from wheat grown in Washington State. Make your own biscuits at home with easy to follow instructions!

Hot Dame! – Chili Pepper Cocktail Shrub (4oz.)
2021 Good Food Award Winner! Pair tequila or Mezcal (alcohol not included) with a salted rim. For alcohol-free folks, a seltzer is a refreshing substitute.
Intrigue Chocolate Co. – 1 SURPRISE! Spiced Chocolate Bar from the "Rainbow Collection" (1 bar, 100g.)
Each box will contain one mystery surprise bar – possible flavors include:


Guajillo Chili, Hibiscus, Cassia Cinnamon, Vanilla Bean Bar
Hops, Clover Honey Bar
Jasmine Green Tea, Turkish Bay Leaf, Lemon Bar
Juniper Berry, Black Lime Bar
Rosemary, Blackberry Honey, Alderwood Smoked Sea Salt Bar
Lavender, Coffee, Long Pepper Bar

Marination Station – Liliko'i Caramel Sauce (6oz.)
The beloved sauce from Super Six's Coconut Cream Pie and original malasada is now available for you to take home.
Seattle Pride Magazine – 48-page Pride Guide Issue

(Visited 5 times, 1 visits today)