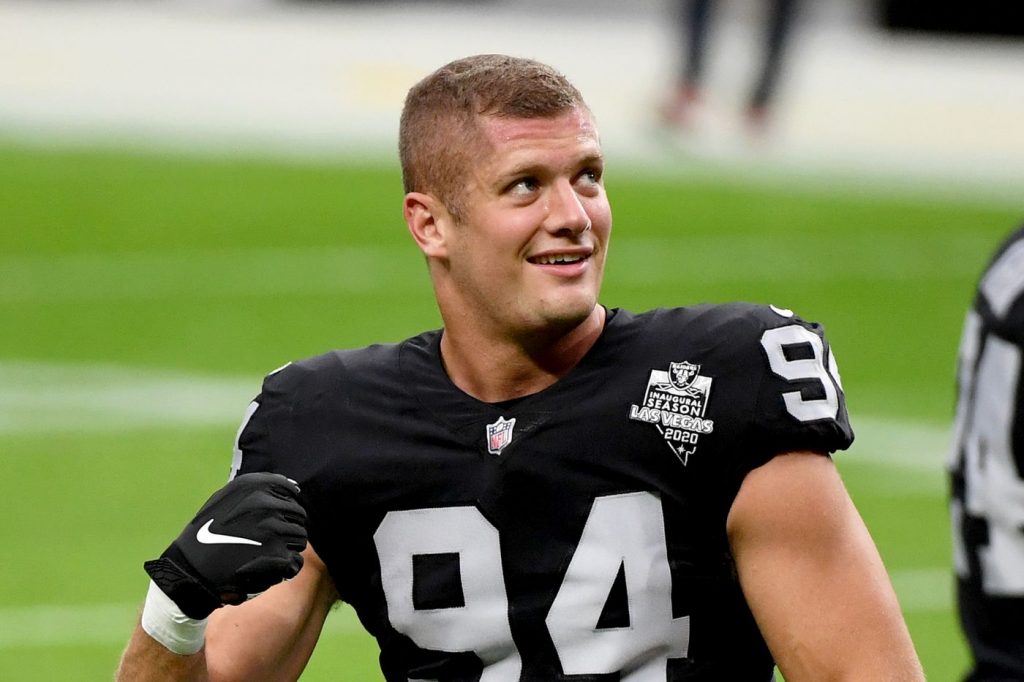 So, for anyone who has ever googled "Is Carl Nassib gay?" we now have an answer.
And, it's YES!
The NFL player broke the news today via his Instagram account:
It's a big deal because Nassib is the first active NFL player to come out of the closet. He's currently a defensive lineman for the Las Vegas Raiders. Other players have come out after their careers had ended and in 2014, Michael Sam came out after being drafted but never actually played a game.
His statement via Outsports:
"What's up people? I'm at my house in West Chester Pennsylvania. I just wanted to take a quick moment to say that I'm gay. I've been meaning to do this for a while now but finally feel comfortable getting it off my chest. I really have the best life, the best family, friends and job a guy can ask for.

"I'm a pretty private person so I hope you guys know that I'm not doing this for attention. I just think that representation and visibility are so important. I actually hope that one day, videos like this and the whole coming out process are not necessary, but until then I will do my best and my part to cultivate a culture that's accepting and compassionate and I'm going to start by donating $100,000 to the Trevor Project. They're an incredible organization, they're the number one suicide-prevention service for LGBTQ youth in America and they're truly doing incredible things. I'm very excited to be a part of it and help in any way that I can and I'm really pumped to see what the future holds."
After his announcement, both his team, the Las Vegas Raiders and the NFL pledged their support with NFL Commissioner Roger Goodell issuing this statement:
"The NFL family is proud of Carl for courageously sharing his truth today," "Representation matters. We share his hope that someday soon statements like his will no longer be newsworthy as we march toward full equality for the LGBTQ+ community. We wish Carl the best of luck this coming season."
The 28 year old graduate of Penn State is entering his 6th season in the NFL. In a later statement he asked: "I'm a private person, so I'd ask the media to give me some space as I navigate this exciting time in my life. Please do not take it personally if I decline an interview or am unable to answer your questions. Thank you everyone for your support."
So, I guess that rules out us asking him if he's currently dating anyone…
We wish Carl the best of luck in his new role as a gay mentor for so many LGBTQ youth, especially young athletes.
(Visited 1 times, 1 visits today)