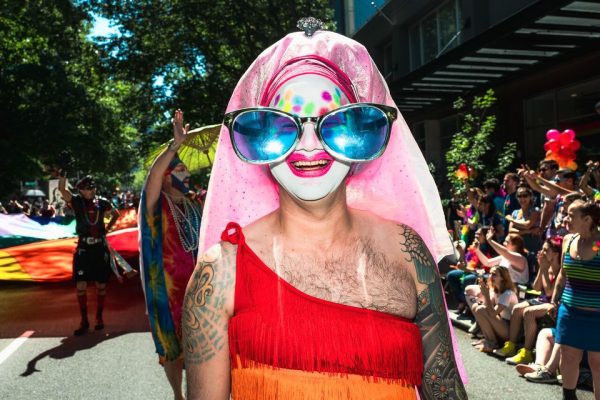 On the surface, it seems like there aren't many things to actually go out and do to enjoy/celebrate Seattle LGBTQ Pride this week, the traditional time of the year for the city's Pride celebrations. Though not as bad as last year when the Covid-19 pandemic had everything shut down except for online events, there still isn't official authorization for large public in-person events to happen. For the 2nd year in a row, the Seattle Pride group, who produce the big downtown parade and other events, will be doing online celebrations this weekend while Seattle PrideFest, the producers of the big festivals on Capitol Hill on Pride Saturday and at Seattle Center on Pride Sunday, are sitting out this weekend by staging no events and planning for a September festival of some kind.
And, while the fact the two big non-profits aren't doing big events and the major bar street fairs can't happen this year (from Queer Bar, The Wildrose and The Cuff) a few things were announced including what is now the quite controversial CAPITOL HILL PRIDE FESTIVAL which is currently under fire for racist accusations made by its producers.
However, in the last few days, more and more smaller events began emerging from the closet. There are a surprising number of smaller events happening at non-profits and commercial spaces all over the city during the next week…you just have to know where to go find them…
Here's a list of some of the events happening this week and go over to the Seattle Gay Scene Calendar to check out ALL events coming up!
If you see something MISSING, then tell us in the comments below or send us an email: info@seattlegayscene.com !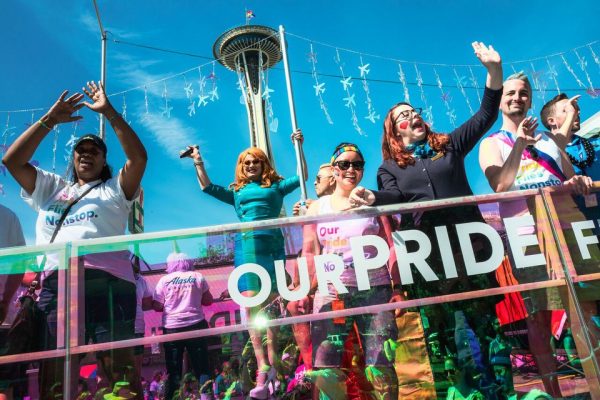 Pride Events for June 22, 2021
5:00 PM
June 22 @ 5:00 pm – 8:00 pmqueer/bar, 1518 11th Avenue
Seattle, WA 98122 United States + Google Map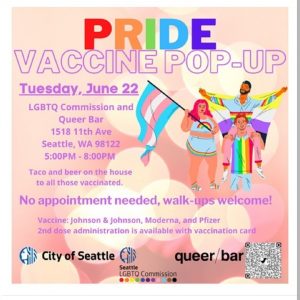 We've partnered with the Seattle LGBTQ Commission to host a Vaccine Pop-In at Queer Bar on Tuesday, June 22nd from 5 p.m. – 8 p.m. Enjoy a taco and beer on the house for all those vaccinated. #QueerBarFind out more »
7:00 PM
June 22 @ 7:00 pm – 9:00 pmAngel of the Winds Arena, 2000 Hewitt Ave
Everett, WA 98201 United States + Google Map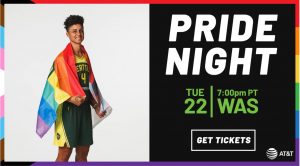 As a result of the Covid-19 pandemic, the Seattle Storm has two kinds of seating for fans attending home games at Angel of the Winds Arena in Everett. If you are fully vaccinated: FANS MUST PROVIDE PROOF OF FULL VACCINATION TO THE GUEST EXPERIENCE ATTENDANT AT ENTRY. IF PROOF OF BEING FULLY VACCINATED IS NOT […]Find out more »
Pride Events for June 23, 2021
5:00 PM
June 23 @ 5:00 pm – June 24 @ 5:00 pmOnline Event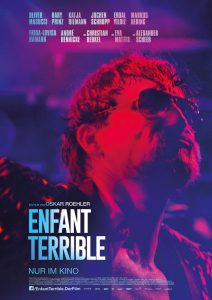 Goethe Pop Up is thrilled to partner with Three Dollar Bill Cinema for a very special Pride edition of German Cinema Now!, featuring the Seattle premiere of Oskar Roehler's Enfant Terrible, an official selection at the 2020 Cannes Film Festival. Rainer Werner Fassbinder (1945–1982): cruel, sensitive, childish, domineering, imaginative, egocentric. And, yes, an artist of genius with a fiendish […]Find out more »
7:00 PM
June 23 @ 7:00 pm – 12:00 amCc Attle's, 1701 E Olive Way
Seattle, 98102 United States + Google Map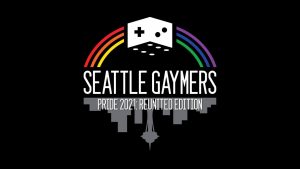 Join us for an evening of video games, good company, prizes, and more in this belated 5-year Anniversary celebration! We are so excited to be meeting in person again and gathering for the first time since Washington State's initial lockdown. CELEBRATION This is a belated celebration of our 5 Year Anniversary which we didn't get […]Find out more »
Pride Events for Thursday, June 24, 2021
4:00 PM
June 24 @ 4:00 pm – 7:00 pmUnion Seattle, 1009 East Union Street
Seattle, WA 98122 United States + Google Map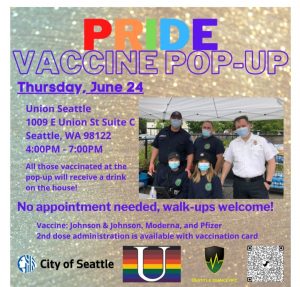 Union is hosting a pop-up vaccination clinic this Thursday June 24th 4pm to 7pm! Get vaccinated and get a drink on the house. Co-sponsored with Quake Rugby and Seattle Fire Dept. Come together as a community and celebrate #Pride @union.seattle @quakerugby @Seattle_Fire ! Find out more »
5:00 PM
June 24 @ 5:00 pm – 12:00 am|Recurring Event (See all)Queer Bar, 1518 11th Ave
Seattle, 98122 United States + Google Map
We are now open Thursdays! The one and only, crowd favorite, unstoppable DJ, burlesqekaraoke bad-ass, music extraordinaire, Baby Van Beezly returns to Queer Bar Thursdays with an ALL DAY happy hour featuring $5 Burgers + fries. Doors open at 5, party starts at 7:30 p.m. 21+ w/ID Find out more »
8:00 PM
June 24 @ 8:00 pm – 10:00 pmOnline Event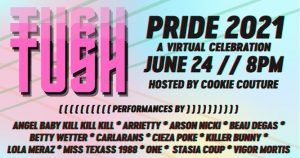 TUSH! Is back online for PRIDE! To make this an extra special celebration we have a packed lineup of spectacular guests including: Stasia Coup CarLarans Arrietty Killer Bunny One Vigor Mortis Lola Meraz Gieza Poke and special guest host Cookie Couture! Brought to you by your regular Tush cast: Arson Nicki Angel Baby Kill Kill […]Find out more »
June 24 @ 8:00 pm – 10:00 pm|Recurring Event (See all)Little Maria's Pizza, 1809 Minor Ave Ste 101
Seattle, WA 98101 United States + Google Map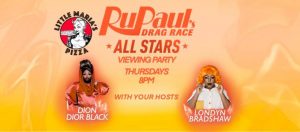 Pride at Kremwerk + Timbre Room Complex proudly presents: Drag Race All Stars Season 6 Viewing Party Hosted by Dion Dior Black & Londyn Bradshaw 8PM No Cover RPDR All Stars Season 6 viewings every Thursday at 8PM at Little Maria's Pizza ========= Little Maria's Pizza 1809 Minor Ave Seattle, WA 21+ ========= Sign up […]Find out more »
Pride Events for Friday, June 25, 2021
All Day/Online
June 25 @ 8:00 am – July 8 @ 5:00 pm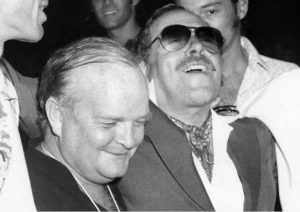 Opens June 25, 2021 Featuring the voices of Jim Parsons and Zachary Quinto as the eponymous duo, this dual-portrait documentary from director Lisa Immordino Vreeland (Love, Cecil) charts the friendship and professional rivalry between author Truman Capote and playwright Tennessee Williams. Closed Captioning available Watch on SIFF Channel "I was 16 years-old when I met […]Find out more »
4:00 PM
June 25 @ 4:00 pm – 7:00 pmSODO Urbanworks, 3931 1st Ave S
Seattle, WA 98134 United States + Google Map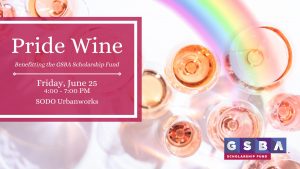 Have you missed seeing all of your friends? Getting a hug? Going out? We have too! Please join us for a chance to get together once again, and support the GSBA Scholarship Fund while you're at it. Ticket proceeds will all go towards our 2021 GSBA Scholarship Fund cohort of 61 students. This rainbow-themed event will start […]Find out more »
6:00 PM
June 25 @ 6:00 pm – 9:00 pmThe Lumber Yard Bar, 9619 16th Ave SW
Seattle, WA 98106 United States + Google Map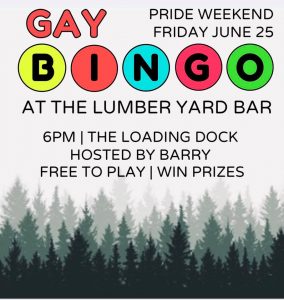 HAPPY PRIDE! Join us for 10 rounds of BINGO hosted by Barry in our Loading Dock. Play is free and each round has a prize! Tables are first come first serve, call 206-695-2007 if you have questions. 21+ w/ID Find out more »
8:00 PM
June 25 @ 8:00 pm – 10:00 pmTimbre Room, 1809 Minor Ave.
Seattle, 98101 United States + Google Map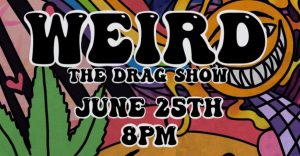 Pride at Kremwerk + Timbre Room Complex proudly presents: Weird: A Drag Show Hosted by Londyn Bradshaw 8PM Doors, 830PM Show $15 Door Advanced Tix: http://bit.ly/WEIRDPride21 ~Proof of vaccination required to attend. Read our vaccination policy here: https://bit.ly/KWCovidPolicy ~ ========= Timbre Room 1809 Minor Ave Seattle, WA 21+ ========= Sign up for the Kremwerk + Timbre Room Complex […]Find out more »
June 25 @ 8:00 pm – 12:00 am|Recurring Event (See all)The Seattle Eagle, 314 E Pike St.
Seattle, 98122 United States + Google Map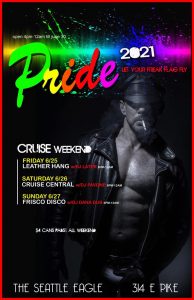 The Seattle Eagle is open for Pride Weekend! Friday, June 25: Leather Hang w/DJ Later 8pm to Midnight Saturday, June 26: Cruise Central w/DJ Pavone 8pm to Midnight Sundy, June 27: Frisco Disco w/DJ Dana Dub 6pm to Midnight 21+ w/ID Bar opens at 4pm each day. Find out more »
9:00 PM
June 25 @ 9:00 pm – 12:00 amThe Lumber Yard Bar, 9619 16th Ave SW
Seattle, WA 98106 United States + Google Map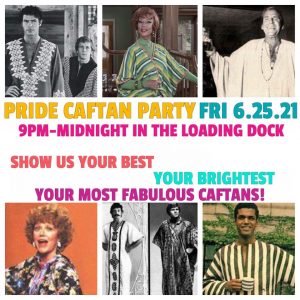 The title pretty much says it all…put on your prettiest caftan/muu muu and shake your groove thing. 21+ w/IDFind out more »
June 25 @ 9:00 pm – 12:00 am|Recurring Event (See all)Queer Bar, 1518 11th Ave
Seattle, 98122 United States + Google Map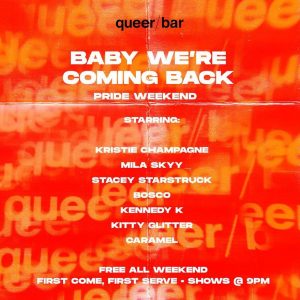 Baby We're Coming Back #Pride weekend with an all new drag show starring: @kristiechamps @missmilaskyy @stacey.starstruck @thisisbosco @misskennedyk @kittyglitterqueen @caramel.flava The show is free all weekend long. We will seat on a first come first serve basis. Show starts at 9 p.m. Doors open at 5 p.m. on Friday the 25th and Saturday the 26th. […]Find out more »
Pride Events for Saturday, June 26, 2021
9:00 AM
June 26 @ 9:00 am – 1:00 pmMagnuson Park, 110 NE 62nd St
Seattle, WA 98115 United States + Google Map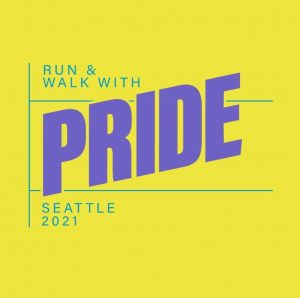 Warren G. Magnuson Park Seattle Frontrunners presents their annual event, benefitting Peer Seattle. Full event details and registration is found at www.runwalkwithpride.org Run/Walk with Pride 5K and 10K Saturday, June 26 9am at Magnuson Park Friday, June 25 – Monday, June 28 Virtually REGISTER NOW 5/24/2021 Update: Current regulations will allow us to start waves of […]Find out more »
10:00 AM
June 26 @ 10:00 am – 10:00 pm|Recurring Event (See all)Bobby Morris Playfield, 1635 11th Ave W
Seattle, WA 98119 United States + Google MapFree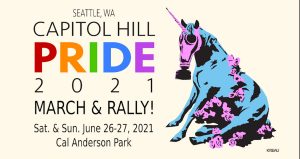 Capitol Hill Pride March & Rally 2021 at Cal Anderson Park's Bobby Morris Playfield/Capitol Hill, Seattle, WA Sat. & Sun. June 26 & 27, 2021 10am-10pm March at noon Remembering the anniversary of Stonewall – when the LGBTQ community stood up to police harassment and continues the vision of a community free from police excessive […]Find out more »
June 26 @ 10:00 am – 6:00 pmMuseum of Pop Culture, 325 5th Ave N
Seattle, WA 98109 United States + Google Map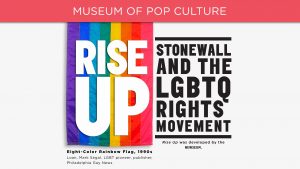 Rise Up: Stonewall and the LGBTQ Rights Movement For decades, lesbian, gay, bisexual, transgender, and queer communities have been fighting for equality, both under the law and in the hearts and minds of their fellow Americans. Rise Up: Stonewall and the LGBTQ Rights Movement explores the cultural transformation that propelled an underground movement into an intrinsic element […]Find out more »
11:00 AM
June 26 @ 11:00 am – 5:00 pmOnline Event
VIRTUAL PRIDE 2021 Saturday & Sunday, June 26 – 27, 2021 11:00AM – 5:00PM PT ONLINE We are SO excited to announce our complete stage schedule for the two-day Seattle Pride Virtual LGBTQIA+ Pride Celebration June 26th and 27th! The two days of fun and entertainment will feature a diverse array of speakers, performers, activities, and […]Find out more »
12:00 PM
June 26 @ 12:00 pm – 3:00 pmAIDS Memorial Pathway, 920 E Denny Way
Seattle, WA 98122 United States + Google MapFree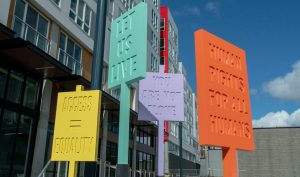 Join us on Saturday, June 26 as we celebrate the completion of The AMP: AIDS Memorial Pathway. We invite the public to drop by the plaza and the park during these hours to visit and experience this unique place of remembrance and reflection in Seattle. See the artwork, talk with the artists, and learn about […]Find out more »
June 26 @ 12:00 pm – 3:00 pmRhein Haus Seattle, 912 12th Ave
Seattle, WA 98122 United States + Google Map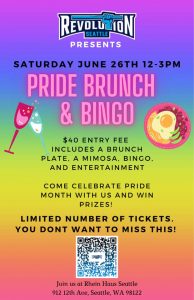 SOLD OUT!!!! Pride Month! Pride Brunch & Bingo! You don't want to miss this show… brunch, bingo, and entertainment! 16 performances!! Limited tickets – https://seattle-revolution.ticketleap.com/pride-brunch…/ Rhein Haus SeattleFind out more »
1:00 PM
June 26 @ 1:00 pm – 10:00 pmJimi Hendrix Park, 2400 S Massachusetts St
Seattle, WA 98144 United States + Google Map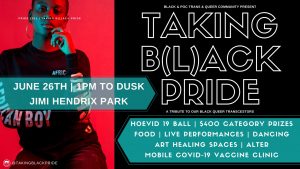 In collaboration with: Trans Women of Color Solidarity Network, Alphabet Alliance of Color, , To Our Community, Our hearts break in the shadow of the recent deaths of our trans siblings Dominique Lucious, Diamond Kyree Sanders and Jaida Peterson. This Pride we honor our fallen, and raise them up! This Pride Month we take our […]Find out more »
5:00 PM
June 26 @ 5:00 pm – 8:00 pmSouthgate Roller Rink, 9646 17th Ave SW
Seattle, 98106 United States + Google Map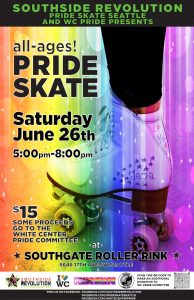 $15 at the door with FREE skate rental. Our All Ages Pride Skate is back! Bring the whole family to our Pride Skate fundraiser for WC Pride brought to you by Southside Revolution Jr. Roller Derby, Southgate Roller Rink, WC Pride, and Pride Skate Seattle. Some proceeds go to the White Center Pride Committee. All […]Find out more »
June 26 @ 5:00 pm – 9:00 pmOnline Event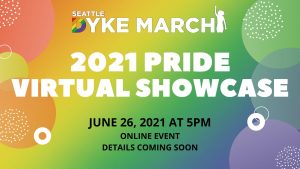 This year the #SeattleDykeMarch is hosting a virtual showcase this pride month on our usual rally day (Saturday, June 26th). Save the date for this exciting showcase of local, queer women and dyke-identified musicians and performers. As we begin to open up and the ability to gather in public becomes more possible, the Seattle Dyke March […]Find out more »
6:00 PM
June 26 @ 6:00 pm – 8:00 pmTimbre Room, 1809 Minor Ave.
Seattle, 98101 United States + Google Map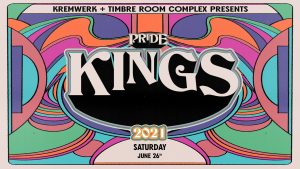 Pride at Kremwerk + Timbre Room Complex proudly presents: KINGS: A Drag King Show 5PM Doors, 6PM Show We've made it into the future, some things have changed, but many remain the same. We see the need to gather still as a force, we'll show our PRIDE by celebrating ourselves and one another with a […]Find out more »
8:00 PM
June 26 @ 8:00 pm – 12:00 amThe Lumber Yard Bar, 9619 16th Ave SW
Seattle, WA 98106 United States + Google Map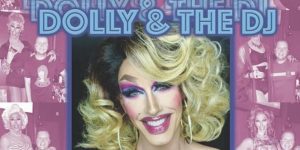 Come Join Dolly and The DJ on June 26th in the Loading Dock at The Lumber Yard Bar! 8pm to Midnight 21+ w/IDFind out more »
June 26 @ 8:00 pm – 12:00 am|Recurring Event (See all)The Seattle Eagle, 314 E Pike St.
Seattle, 98122 United States + Google Map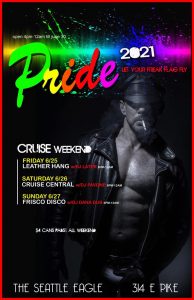 The Seattle Eagle is open for Pride Weekend! Friday, June 25: Leather Hang w/DJ Later 8pm to Midnight Saturday, June 26: Cruise Central w/DJ Pavone 8pm to Midnight Sundy, June 27: Frisco Disco w/DJ Dana Dub 6pm to Midnight 21+ w/ID Bar opens at 4pm each day. Find out more »
8:30 PM
June 26 @ 8:30 pm – 10:00 pmOnline Event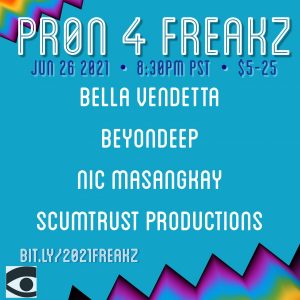 Sat Mar 20: 6.30pm PT Sat Jun 26: 8.30pm PT Sat Oct 23: 6.30pm PT Price: Pay what you can, in tiers from $5–25 highest tier comes with sexy Polaroid Prize Package! (please provide mailing address when you register) limited tickets per tier tickets must be purchased in advance up to an hour before start time […]Find out more »
9:00 PM
June 26 @ 9:00 pm – 11:00 pmTimbre Room, 1809 Minor Ave.
Seattle, 98101 United States + Google Map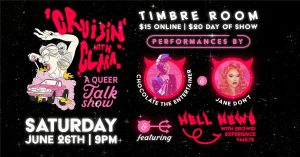 Pride at Kremwerk + Timbre Room Complex proudly presents: Cruisin' With Clara Performances by: Chocolate the Entertainer Jane Don't And featuring: Hell News w/ Erowid Experience Vaults Advanced Tix: http://bit.ly/CruisinPride21 ~Proof of vaccination required to attend. Read our vaccination policy here: https://bit.ly/KWCovidPolicy ~ ========= Timbre Room 1809 Minor Ave Seattle, WA 21+ ========= Sign up for the Kremwerk […]Find out more »
June 25 @ 9:00 pm – 12:00 am|Recurring Event (See all)Queer Bar, 1518 11th Ave
Seattle, 98122 United States + Google Map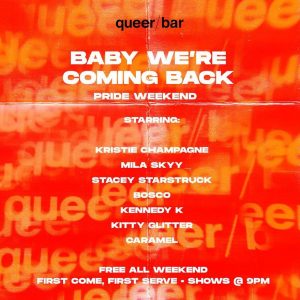 Baby We're Coming Back #Pride weekend with an all new drag show starring: @kristiechamps @missmilaskyy @stacey.starstruck @thisisbosco @misskennedyk @kittyglitterqueen @caramel.flava The show is free all weekend long. We will seat on a first come first serve basis. Show starts at 9 p.m. Doors open at 5 p.m. on Friday the 25th and Saturday the 26th. […]Find out more »
Pride Events for Sunday, June 27, 2021
10:00 AM
June 27 @ 10:00 am – 8:00 pm|Recurring Event (See all)Bobby Morris Playfield, 1635 11th Ave W
Seattle, WA 98119 United States + Google MapFree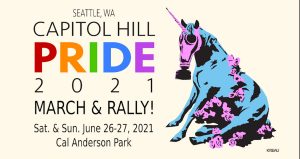 Capitol Hill Pride March & Rally 2021 at Cal Anderson Park's Bobby Morris Playfield/Capitol Hill, Seattle, WA Sat. & Sun. June 26 & 27, 2021 10am-10pm March at noon Remembering the anniversary of Stonewall – when the LGBTQ community stood up to police harassment and continues the vision of a community free from police excessive […]Find out more »
10:30 AM
June 27 @ 10:30 am – 3:30 pm|Recurring Event (See all)Queer Bar, 1518 11th Ave
Seattle, 98122 United States + Google Map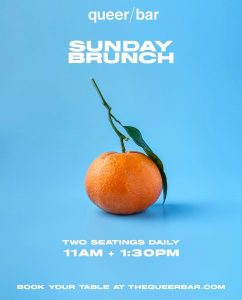 Brunch is back at #QueerBar and it's tastier than ever! Two seatings every Sunday at 11 a.m. and 1:30 p.m. Walk-in's welcome. Our doors and kitchens have reopened! We welcome our community back home to reconnect in a safe environment that fosters fun and inclusivity! Come enjoy some cocktails, delicious foods, and celebrate life. Reservations […]Find out more »
11:00 AM
June 27 @ 11:00 am – 12:30 pmW Hotel Seattle, 1112 4th Avenue
Seattle, WA 98101 United States + Google Map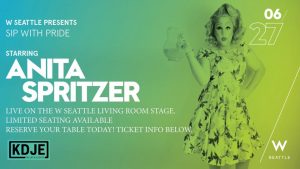 W Seattle presets: Sip With Pride! Starring Anita Spritzer. About this event 6/27/2021 11AM-12:30PM Show starts at 11:30AM Note all reservations not checked in by 11:15 will be released to standby guests and deposits are non-refundable. We know the last year was a drag, but now it's time to dust off the sequins and bust […]Find out more »
June 27 @ 11:00 am – 5:00 pmOnline Event
Saturday & Sunday, June 26 – 27, 2021 11:00AM – 5:00PM PT ONLINE We are SO excited to announce our complete stage schedule for the two-day Seattle Pride Virtual LGBTQIA+ Pride Celebration June 26th and 27th! The two days of fun and entertainment will feature a diverse array of speakers, performers, activities, and activism reflecting this […]Find out more »
12:00 PM
June 27 @ 12:00 pm – 2:00 pm|Recurring Event (See all)Ozzie's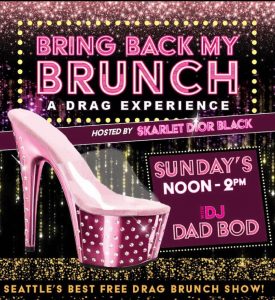 Bring Back my BRUNCH!!! Ozzie's is bringing an afternoon full of bring, fun and energetic entertainment, for all to enjoy! FREE SHOW! Noon to 2pm With Hostess Skarlet Dior Black Special Brunch Menu! *Fried spam and eggs *Eggs Benedict Menu *Chicken and waffles Full and half carafes of Mimosa's and Bloody Mary's! Let's have some […]Find out more »
4:00 PM
June 27 @ 4:00 pm – 8:00 pmTimbre Room, 1809 Minor Ave.
Seattle, 98101 United States + Google Map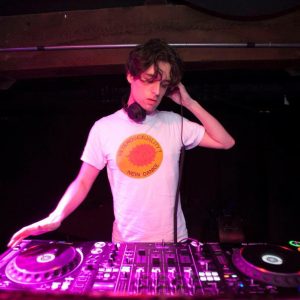 Pride at Kremwerk + Timbre Room Complex proudly presents: Timbre Room Patio Party ft. DJ Having Sex https://soundcloud.com/havingsex No Cover 4-8PM RSVP: http://bit.ly/PatioPride21 ~Proof of vaccination required to attend. Read our vaccination policy here: https://bit.ly/KWCovidPolicy ~ ========= Timbre Room Patio 1809 Minor Ave Seattle, WA 21+ ========= Sign up for the Kremwerk + Timbre Room Complex mailing list […]Find out more »
June 27 @ 4:00 pm – 9:00 pmThe Lumber Yard Bar, 9619 16th Ave SW
Seattle, WA 98106 United States + Google Map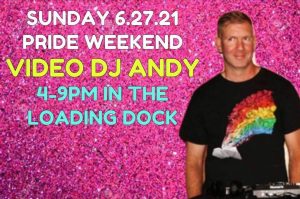 Again….the title says it all! 4pm to 9pm with VJ Andy! Bar open to 11pm! 21+ w/IDFind out more »
6:00 PM
June 27 @ 6:00 pm – 9:00 pm|Recurring Event (See all)Julia's on Broadway, 300 Broadway E
Seattle, WA 98102 United States + Google Map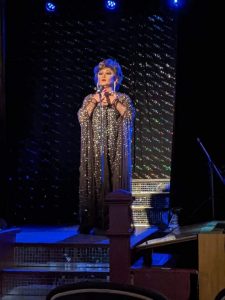 Sunday Nights in June Enjoy an evening of cabaret with Arnaldo! Drag Chanteuse and friends from the Pacific Northwest Cabaret Association. Listen to some of Seattle's talented solo vocalists in the art of intimate story telling through music. Special Guests June 6: Arwen Dewey June 13: Heather Gonio June 20: Karen Skrinde June 27: Judy […]Find out more »
June 27 @ 6:00 pm – 12:00 am|Recurring Event (See all)The Seattle Eagle, 314 E Pike St.
Seattle, 98122 United States + Google Map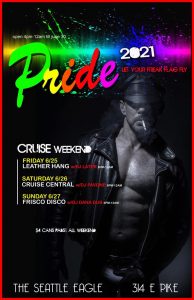 The Seattle Eagle is open for Pride Weekend! Friday, June 25: Leather Hang w/DJ Later 8pm to Midnight Saturday, June 26: Cruise Central w/DJ Pavone 8pm to Midnight Sundy, June 27: Frisco Disco w/DJ Dana Dub 6pm to Midnight 21+ w/ID Bar opens at 4pm each day. Find out more »
(Visited 2 times, 1 visits today)