As part of June Pride Month programming, the LGBTQ Victory Institute is hosting a series of video conversations called PRIDE & PROGRESS on important historical moments in the struggle of achieving LGBTQ equality. Subjects covered include the Compton Cafeteria Riot in San Francisco in 1966 (3 years before Stonewall!), the effects of HIV/AIDS on LGBTQ activism and features on important figures like José Sarria and Frank Kameny.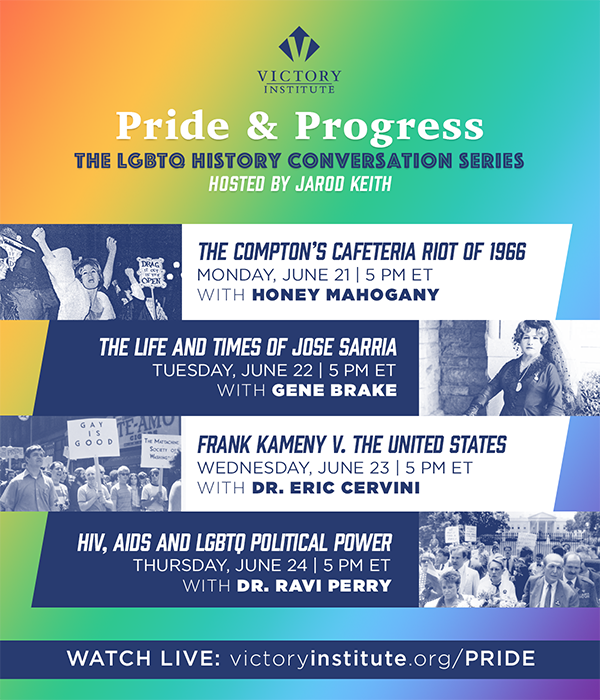 From the release:
Beginning today and throughout this week, Victory Institute will host conversations with experts about key moments in queer history and the fight for LGBTQ political power. The Pride & Progress Conversations, hosted by Victory Institute's Jarod Keith, will air live at 5pm ET at victoryinstitute.org/pride, each day through Thursday.
From the Compton's Cafeteria Riot to the historic candidacy of José Sarria to Frank Kameny's activism and to the impact of HIV/AIDS on LGBTQ political power — these conversations will provide the insight and inspiration we need this Pride Month. You can see descriptions of all four conversations and set reminders here. 

The Pride & Progress conversation series is the latest of our efforts to remember and archive LGBTQ political history. Last month, we launched our Pride & Progress history timeline that will continue to grow and share the stories of our LGBTQ political trailblazers.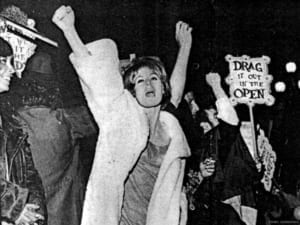 Up first, for Monday, June 21st:
The Compton's Cafeteria Riot and the History of Trans Power in the Tenderloin
Guest Expert: Honey Mahogany, Co-Founder, The Transgender District of San Francisco
Airs Monday, June 21 at 5 p.m. ET
In an episode that was almost lost to history until one determined academic, historian Susan Stryker, brought it back to life through her groundbreaking research, the Compton's Cafeteria Riot is a defining moment in transgender visibility and activism. One late night in August 1966, police raided a favorite hangout spot of transgender and gender-non-conforming residents of San Francisco's Tenderloin District, the 24-hour Gene Compton's Cafeteria, in order to harass and arrest the patrons inside. The "screaming queens" fought back, throwing sugar shakers and coffee at the cops. Then the fight spilled into the street, with a crowd gathering to back up the patrons under siege, resulting in a riot that lasted at least two days. In our conversation with Honey Mahogany, we learn how the riot affected the culture of transgender advocacy for decades to come in San Francisco and beyond.
Further Reading and Resources:
(Visited 1 times, 1 visits today)