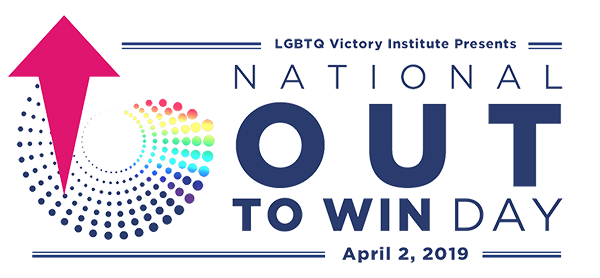 The LGBTQ Victory Institute and 10 partner orgs are encouraging members of the LGBTQ community to run for office.
Ever had an idea you'd like to represent your community on your local school board, city/county council, in your statehouse or in Washington D.C.? National Out To Win Day has goal to attract 22, 272 LGBTQ candidates to enter the political arena!
Why that number?
Currently, 682 out LGBTQ elected officials hold seats across the U.S. In order to reach equitable representation in governing, (based on LGBTQ people making up 4.5% of the population, which is probably a tad low) we need to elect: 22, 272 more out candidates! Easy peasy!
More poo:
Victory Institute Announces National Out to Win Day on April 2;
Aims to Interest 22,272 LGBTQ People in Running for Office
Individuals can take the pledge to run or nominate LGBTQ friends or colleagues to run for office
Washington, DC – Today LGBTQ Victory Institute and 10 partner organizations announced the first National Out to Win Day will be held on Tuesday, April 2, with a goal of 22,272 LGBTQ people pledging to consider a run for office. The day aims to raise awareness about the severe underrepresentation of LGBTQ people in elected office and encourage people to take the pledge or nominate LGBTQ people who should consider a run for office. LGBTQ people are 4.5 percent of the U.S. population but make up just 0.1 percent of elected officials nationwide. America must elect 22,272 more LGBTQ people to office to achieve equitable representation.
Individuals can pledge to run for office or nominate others in advance of National Out to Win Day by visiting outtowin.org. In addition to pledges and nominations on April 2, LGBTQ elected officials across the nation will wear rainbow to raise visibility of out officials. Those who pledge to consider a run or accept the nomination will receive a week's worth of videos from LGBTQ elected officials, resources from campaign experts, and other information intended to inspire them and make running for office more accessible.
"LGBTQ people, much like women and people of color, need to be asked more times to run for office than white straight cisgender men before they give it serious consideration," said Mayor Annise Parker, President & CEO of LGBTQ Victory Institute. "National Out to Win Day aims to address that problem by demystifying the process for those considering a run and encouraging people to ask qualified LGBTQ friends and colleagues to give running for office some thought. We need to be asked more times – and we hope for many LGBTQ people their first ask comes on April 2."
April 2 was chosen for National Out to Win Day because of Kathy Kozachenko's election to the Ann Arbor, Michigan city council on that day in 1974, becoming the first openly LGBTQ person ever elected to public office. More information about the day can be found at outtowin.org.
Partner organizations for National Out to Win Day as of March 6 include: ActionLink Center Action Network, Equality Federation, Equality Ohio, Free State Justice, Montana Human Rights Network, National Black Justice Coalition, National LGBTQ Task Force, National LGBT Chamber of Commerce, One Colorado, and Run for Something. LGBTQ or allied organizations interested in joining National Out to Win Day can contact Reggie Greer atreggie.greer@victoryinstitute.org or 202.545.7384.
About LGBTQ Victory Institute
LGBTQ Victory Institute works to increase the number of LGBTQ people in public office and to provide programming, service, and other support to ensure their success.
National Out to Win Day Partners:
(Visited 1 times, 1 visits today)