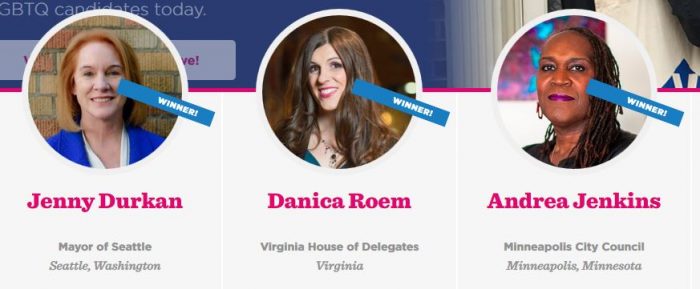 How's that agenda of hate and division working out for ya, Republican Party?
Judging by the results (so far) of elections across the U.S. held yesterday, Tuesday, November 7th the first national election after Donald Trump's shocking and illegitimate "win" of the White House one year ago, it's not working out so well for the Grand Old Party. Democrats won big in races all over the country yesterday with progressive and minority candidates doing especially well.
Democrats won two big governor races in Virginia and New Jersey and both of those states also elected Democrat African Americans as Lt Governors. Virginia also elected the first openly transgender state lawmaker into office with the historic victory of Danica Roem who unseated "Bigot Bob" Marshall, a 25 year veteran of the Virginia Statehouse and best known as the author of Virginia's anti-trans bathroom bill and a man who boasted of his homophobia.
Virginia elected its first openly transgender state lawmaker on Tuesday, voting Democrat Danica Roem into the state's House of Delegates. She unseated Virginia Del. Bob Marshall, the Republican who introduced the "bathroom bill" that would have prohibited transgender students from using the bathroom of their choice.
Aisha C. Moodie-Mills, President & CEO of Victory Fund, released the following statement when Roem's victory was announced:
"Tonight voters chose a smart, solutions-oriented trans leader over a divisive anti-LGBTQ demagogue – sending a powerful message to anti-trans legislators all across the nation. Danica defeated 'Bigot Bob' Marshall not because she is transgender, but because she presented a positive vision for her constituents that will improve their lives. We are determined to replicate this race nationwide – using constituent-focused LGBTQ candidates to takedown elected officials who use their positions to target our community. Tonight was the opening salvo.

"Danica's victory is a historic milestone in our continued march toward equality – becoming the first out trans person to ever win and serve in a state legislature. Her campaign was hard-fought – she shared her personal story with her constituents and braved constant, dehumanizing anti-trans attacks from her opponent – but that is the burden trailblazers often face. Danica has inspired trans leaders across the country, and it is inevitable more will follow in her footsteps and become powerful voices for our community.
Transgender candidates did well in other races as well as three other candidates were declared winners in their races with another still being decided. Via the Victory Fund:
Andrea Jenkins, Minneapolis City Council, Ward 8: Andrea is the first openly trans woman ever elected to the city council of a major U.S. city, and will be the only openly trans person of color currently serving in elected office anywhere in the nation. Andrea was featured at Victory Fund's national event in May and thousands of dollars were bundled on her behalf.

Lisa Middleton, Palm Springs City Council (CA): Lisa is the first openly trans person to win a legislative seat in the state of California, and Victory Fund held a fundraiser on her behalf. Lisa is a former Victory Institute Empowerment Fellow and a graduate of Victory Institute's Candidate & Campaign Training – a four-day intensive training simulation aimed at building the skills necessary to run for office.

Tyler Titus, Erie School Board (PA): Tyler is the first openly trans person ever elected in Pennsylvania. Victory Fund provided national exposure to Tyler's race, securing articles in the Daily Beast and other publications.

Additionally, results are still coming in for Phillipe Cunningham, who ran for Minneapolis City Council's ward 4 seat. If he wins, Phillipe will join Andrea Jenkins as the only out trans people to be elected to the city council of a major U.S. city.

Currently just six openly trans people are elected officials nationwide.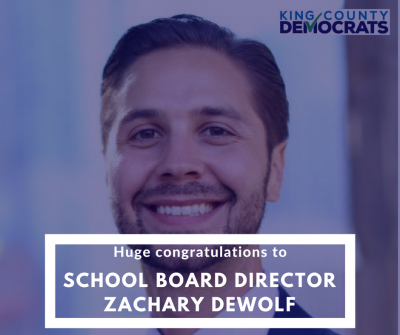 Locally, two out candidates in Seattle also did well with Jenny Durkan easily winning the Seattle mayoral race over Cary Moon becoming the first lesbian mayor of Seattle and the first female mayor in over 90 years.
And, out gay candidate Zachary DeWolf also snagged a spot on the Seattle School Board with a big win over his opponent. DeWolf released this statement after his win was declared:
Wow, friends! I can't believe the amazing outpouring of support you've shown me these last months.

Because of your months of hard work, donations, and dedication, I won with 61% of the vote.

I am humbled to have had you by my side on this journey. It was a long road getting here and I have never regretted my decision to take on this endeavor because there is just too much at stake for our students.

Our communities and children require strong schools to succeed and thrive, and that's what I ran to accomplish; a welcoming school system for all of Seattle students.

Thank you for believing in that message and myself, your support made tonight possible.

Thank you again for your support,

Zachary DeWolf
Washington State Democrats are also poised to retake control of the State Senate giving Dems total control of both legislative bodies and the Governor's mansion.
In Seattle's two races for City Council, Lorena González was easily re-elected to the council while Teresa Mosqueda defeated Jon Grant to win her first term. Seattle city elections are non-partisan but both winners (and, for that matter, most candidates) are Dems.
For further Washington State election results, go here.
Tags: Andrea Jenkins, Danica Roem, Election 2017, Jenny Durkan, Out LGBTQ Candidates, Seattle Mayor's Race 2017, The Victory Fund, Transgender Candidates, Zachary DeWolf