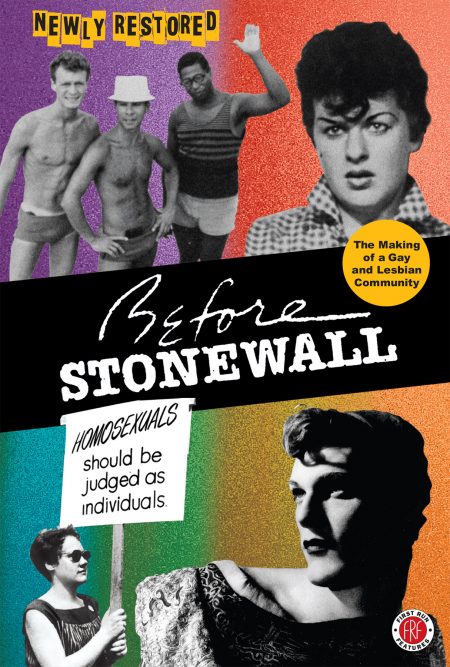 An important LGBTQ documentary returns to the big screen just in time to celebrate the 5oth anniversary of the Stonewall Riots and the birth of the modern LGBTQ civil rights movement. Before Stonewall: The Making of a Gay and Lesbian Community, the groundbreaking 1984 documentary has been newly restored for this re-release and it's a must see film for anyone interested in LGBTQ history PRIOR to Stonewall. It includes interviews with queer pioneers, many of them long since passed away, including Ann Bannon, Martin Duberman, Allen Ginsberg, Barbara Gittings, Harry Hay, Mabel Hampton, Dr. Evelyn Hooker, Frank Kameny, Audre Lorde, Richard Bruce Nugent, and Jose Sarria. 
The film is opening at cinemas nationwide this month including Seattle's own Northwest Film Forum on Capitol Hill, on Sunday, June 23 with screenings daily though Friday, June 28th. 
First Run Features is proud to announce the theatrical re-release of the legendary documentary Before Stonewall: The Making of a Gay and Lesbian Community on June 21 in New York and June 28 in Los Angeles, with other cities to follow. Fifty years after the riots gave birth to the modern lesbian and gay liberation movement, and with substantial progress made, LGBT Americans still find themselves fighting on many fronts for full equality, in the U.S. and around the world;Before Stonewall offers a potent reminder of what life was like for LGBT people before that extraordinary event.

Seattle Screenings at NW Film Forum, 1515 12th Avenue

 

$12 General Admission
$9 Student/Senior
$7 Member

 

In the early morning hours of June 28, 1969, the police raided the Stonewall Inn, a gay bar in New York City's Greenwich Village, leading to three nights of rioting by the city's gay community. With this outpouring of courage and unity the gay and lesbian liberation movement had begun.

Before Stonewall pries open the closet door, setting free the dramatic story of the sometimes horrifying public and private existences experienced by LGBT Americans since the early 1900's. Revealing and often humorous, this widely acclaimed film relives the emotionally-charged sparking of today's gay rights movement, from the events that led to the fevered 1969 riots to many other milestones in the brave fight for acceptance.

Experience the fascinating and unforgettable, decade-by-decade history of homosexuality in America through eye-opening historical footage and amazing interviews with those who lived through an often brutal closeted history. The theatrical re-release of Before Stonewall is a chance for audiences to experience this eye-opening film on the big screen, with an audience, the way it was meant to be seen.

Narrated by iconic author Rita Mae Brown, the film features stirring interviews with pioneering cultural figures and activists including Audre Lorde, Allen Ginsberg, Harry Hay, Richard Bruce Nugent, Frank Kameny and Barbara Gittings.
Executive Producer: John Scagliotti • Director: Greta Schiller • Co-Director: Robert Rosenberg
Produced by Robert Rosenberg, John Scagliotti & Greta Schiller
Editor Bill Daughton • Archival Research Director Andrea Weiss • Narrator Rita Mae Brown

87 minutes, color, 1984

About the restoration: The 16mm negative was scanned and digitized at Periscope Films in Los Angeles. The file was then color corrected at Edition Salzgeber in Berlin, who created the ProRes and DCP. Director Greta Schiller supervised the process and approved the new ProRes and DCP.
(Visited 3 times, 1 visits today)