GERMAN CINEMA NOW! – Enfant Terrible [Online]
June 23, 2021 @ 5:00 pm

-

June 24, 2021 @ 5:00 pm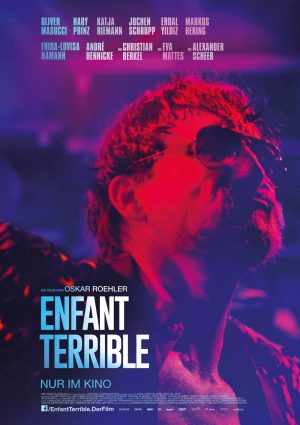 Goethe Pop Up is thrilled to partner with Three Dollar Bill Cinema for a very special Pride edition of German Cinema Now!,  featuring the Seattle premiere of Oskar Roehler's Enfant Terrible, an official selection at the 2020 Cannes Film Festival.
Rainer Werner Fassbinder (1945–1982): cruel, sensitive, childish, domineering, imaginative, egocentric. And, yes, an artist of genius with a fiendish work drive. What the New German Cinema luminary and queer icon Fassbinder is not, in Oskar Roehler's (Jew Suss: Rise and Fall) appropriately unorthodox biopic, is redeemed by a phony narrative about the power of art. This is not a hagiography. This Fassbinder is crude to his friends, abusive to his collaborators, dismissive of the press, and simply awful to his lovers. He moves very, very fast. Masterfully, indelibly characterized by Oliver Masucci (Look Who's Back, When Hitler Stole Pink Rabbit), he is all rough edges, pinched nasality, leather, droopy mustache, and dark glasses. The film does not valorize Fassbinder's views or behavior vis-à-vis race, gender, or violence. Splashing in rage in a bathtub, this is an enfant terrible who is, almost literally, a terrible child. The great artist as sadist. Likability is off the table. Whether this Fassbinder can be loved is another story.
Enfant Terrible's formal gambit is to make a Fassbinder movie as a Fassbinder movie, only one with RWF himself in the frame. The film capitalizes on speed of event, dramatic intensity, outrageous characterizations, gnomic dialogue, and artistic risk. Its characters are larger than life, yet its atmosphere is that of a claustrophobic, overheated world. The "rules" of conventional filmmaking do not apply. Enfant Terrible opens in a theatre, as the young nobody, looking tough and leaning on a wall while he lights a smoke, abruptly takes charge of a theatre production. In a way, the movie remains in the theatre. Whether Fassbinder is filming, in hotels or restaurants, gay bars, or his apartment, the film is set on sets, backed by cardboard or canvas walls, decorated by handwritten signs, and illuminated by wild, expressive lights.
With terrific forward motion, Enfant Terrible shows Masucci/Fassbinder as he collects and then, one by one, betrays a devoted core of collaborators (including Katja Riemann, Rosenstraße), and gains ever greater fame and ever greater control of his craft. (The imagined onset glimpses of Fassbinder's best-known films are a cinephile's delight.) He drinks oceans of Cuba Libre. He finds drugs. He complains. And most of all, he works. Enfant Terrible opens with an epigraph from Wilde: "…each man kills the thing he loves." The manner of the killing and the things this Fassbinder loves are the subjects of Roehler's strange and abiding film. (Martin Schwartz)
Screen this title on demand
Jun. 23 at 5pm to Jun. 24 at 5pm PT
Sliding scale admission: $5–25.
Please pay what you can; proceeds support Northwest Film Forum during our closure.
---
Northwest Film Forum is SCREENING ONLINE! NWFF's physical space is temporarily closed in light of public health concerns around COVID-19, but community, dialogue, and education through media arts WILL persist.
• • HOW TO WATCH • •
Purchase your ticket and watch on this film's GERMAN CINEMA NOW! Eventive page.
When logged in to Eventive, your ticket will appear under "My Tickets" in the main menu of the site. You will also receive a confirmation email linking to the watch page, and if you pre-ordered, a reminder shortly before the film becomes available on June 23 at 5pm PT. The viewing window is only 24 hours long! (Don't see a confirmation email? Check your spam filter.)
If you encounter any issues logging in, please contact rana@nwfilmforum.org for a quick follow-up. (But please, check for your confirmation email!)
Oskar Roehler
Germany
2020
2h 14m
** This screening is followed by a 30-minute recorded Q&A on the film with Richard Block, Professor of German Studies at the University of Washington, and Goethe Pop Up's Martin Schwartz **
About
The monthly film series GERMAN CINEMA NOW! is curated by Goethe Pop Up Seattle. This year, the series explores themes of disruption and continuity to inspire public dialogue about the ways in which the past shapes our moment and can inform a radically different future.
Related Events