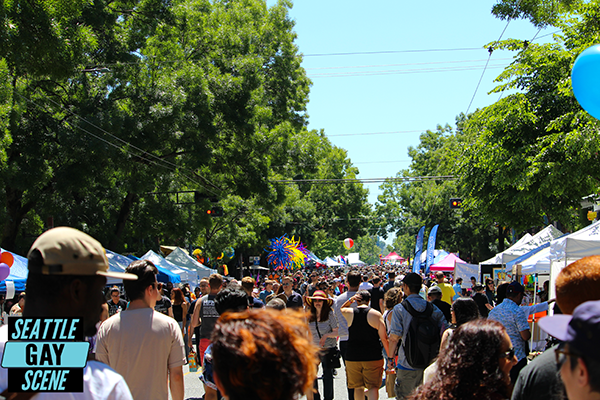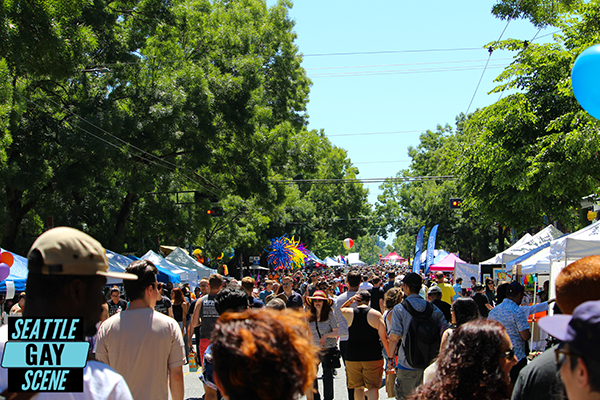 In a surprising move (or not) the Capitol Hill Pride directors, Charlette LeFevre and Philip Lipson, sent out the following press release on Wednesday night declaring they plan on producing in-person live outdoor Pride events on the weekend of June 26th and 27th. Their plans include a "march and rally" but also seem to include the popular "Doggie Drag Show" and a Talent Show.
From their press release:
Capitol Hill Pride is excited to announce it is currently planning for the Capitol Hill Pride March & Rally 2021 at Cal Anderson Park's Bobby Morris Playfield.  
Sat. & Sun. June 26-27th
Sat. 10am-10pm and Sunday 10am-8pm
Although we hope COVID guidelines will no longer be needed in late June, the event will be following any required Washington State Governor's Office and Public Health guidelines.
A call for speakers, organizations, musicians, face-painters, artists and especially volunteers focusing on police reform and equality are requested. Capitol Hill Pride will focus on remembering the anniversary of Stonewall – when the LGBTQ community stood up to police harassment and continue the vision of a community free from police excessive force in a second summer of love.
The all inclusive LGBTQ march will step off on Pine and 11th at noon on Sat. June 26th from Cal Anderson Park, North on 12th, West on Denny, South and Broadway back to the park.
The Capitol Hill Pride Doggie Drag Costume Contest is set for Sat. at 1pm and
An all ages Pride Talent Contest is planned for noon on Sunday June 27th Noon-2pm
We hope to work closer with the Fire Dept. and medics for the March escort and Rally this year so as to create a safe environment and avoid any conflict scenarios with the Police Dept. which we are asking to stay at the perimeters.
To refresh your memories, the Capitol Hill Pride group produced the annual street fair on Broadway on Pride Saturday for many years after the city's official Pride events shifted to downtown Seattle and Seattle Center in 2006. Capitol Hill businesses protested the loss of Pride revenue and created a Pride Saturday event produced by local business owner Charlette LeFevre in 2009 which grew increasingly popular over the years.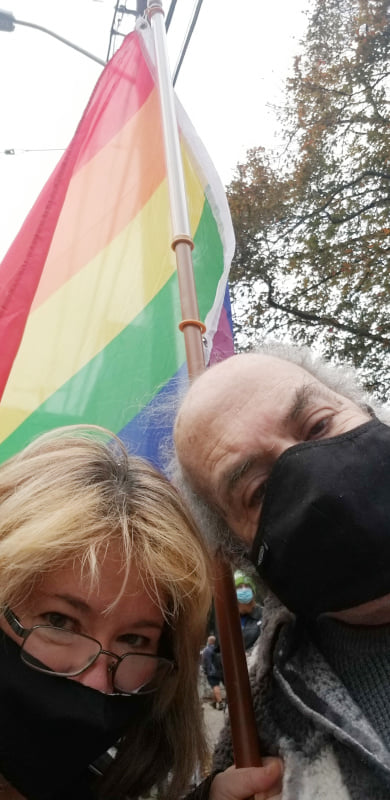 But things became complicated when Egan Orion's Seattle Pridefest group, the producers of the Sunday Pride festival at Seattle Center also began programming Saturday events on Capitol Hill. Friction developed between the two groups which increased as Orion's event began to grow. When LeFevre's group had some production and permitting issues beginning in 2017, the Orion group essentially took over the Broadway street fair with LeFevre's organization sidelined to a much smaller footprint at Seattle Central College. (Check out our previous coverage over the years on this event, HERE!)
Covid-19 sidelined all in-person Seattle Pride events in 2020 and earlier this year, Seattle Pride announced that they would not produce live events for Seattle Pride 2021 but would instead continue with a virtual event online. Egan Orion's Pridefest appears to be making plans to have live events later in the year, possibly in late summer.
We had questions about Capitol Hill Pride's plans so we emailed them and asked if they had applied for the necessary permits to hold a live event and we got this reply from co-director Philip Lipson:
We've already checked availability and (Seattle) Parks and Rec has already confirmed our application. A permit application has been submitted to Special Events but as you know Marches and Rallies don't need permits as they are protected under free speech. It's likely because we have a smaller attendance compared to the other Pride organizations we can safely hold an event. Sometimes bigger isn't better!
It's only two months away, which is shocking to think about, and a lot can change in that time. It all depends on Covid-19 and the city's future plans. If these events do manage to happen, they'll be the only live events that we're currently aware of for the last weekend in June. Queer Bar/Cuff Complex owner Joey Burgess told me recently that they have no plans to do live events that weekend.
More as it develops.
(Visited 5 times, 1 visits today)