SIFF Channel: Truman and Tennessee: An Intimate Conversation (Online Event)
June 25, 2021 @ 8:00 am

-

July 8, 2021 @ 5:00 pm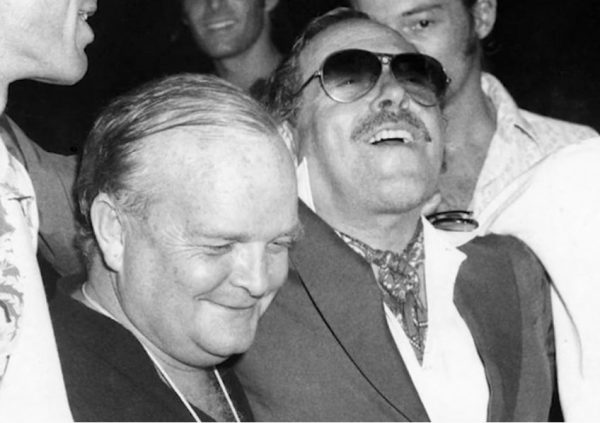 Opens June 25, 2021
Featuring the voices of Jim Parsons and Zachary Quinto as the eponymous duo, this dual-portrait documentary from director Lisa Immordino Vreeland (Love, Cecil) charts the friendship and professional rivalry between author Truman Capote and playwright Tennessee Williams.
Closed Captioning available
"I was 16 years-old when I met him," Truman Capote reminisced of his dear friend Tennessee Williams upon the latter's death. "He was 13 years older than I was, a waiter, and an aspiring playwright. We became great friends." Yet their relationship was both profound and tempestuous. Both were openly gay men from the South who fled to New York City in search of literary success. Each would attain it, becoming famous in the process, though this celebrity, particularly later in life, often eclipsed their artistic achievements. Personal heartbreaks, creative failures, and substance abuse damaged both men, straining their friendship to the point where Capote and Williams publicly traded unsparing, malefic critiques of each other. Filmmaker Lisa Immordino Vreeland uses archival interviews and extensive excerpts from the writers' letters, diaries, and published works to chart the parallel development of their lives and careers. Giving voice to these words, Jim Parsons and Zachary Quinto—as Capote and Williams respectively—channel the personality, voice, and distinctive wit of each author, reinvigorating their enduring works for generations new and old. What emerges is a cinematic collage that provides illuminating insight into the towering talent and troubled psyches of two great American writers.
"An immersive portrait of literary icons, friends, and rivals… a creative way into the ubiquitous figures."—Jude Dry, Indiewire
"A fascinating account of a loving but troubled relationship… succeeds beautifully in providing a revealing look at their troubled psyches."—Frank Scheck, The Hollywood Reporter
Director:

Lisa Immordino Vreeland

Principal Cast:

Voices: Jim Parsons, Zachary Quinto

Country:

USA

Year:

2020

Running Time:

86 minutes

Producer:

Lisa Immordino Vreeland, Mark Lee, Jonathan Gray, John Northrup

Screenplay:

Shane Sigler

Cinematographers:

Bernadine Colish

Music:

Madi

Filmography:

Love, Cecil (2017); Peggy Guggenheim: Art Addict (2015); Diana Vreeland: The Eye Has to Travel (2011)

US Distributor:

Kino Lorber

International Sales:

Dogwoof
Related Events