June 19, 2021

•
by
Michael Strangeways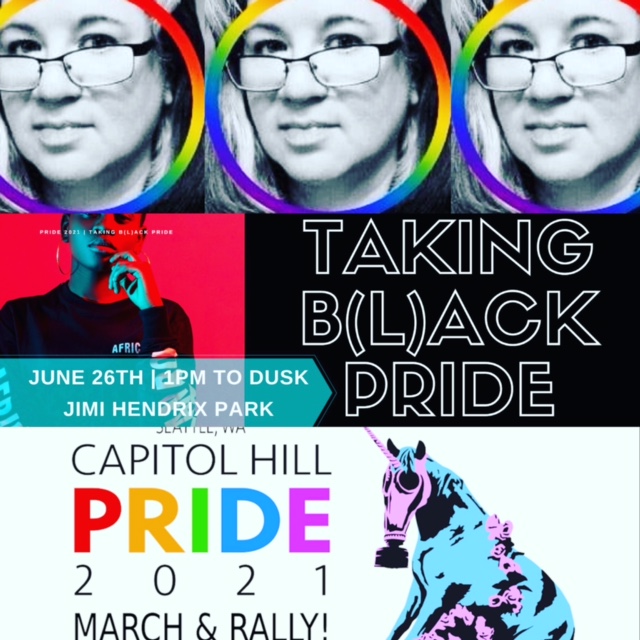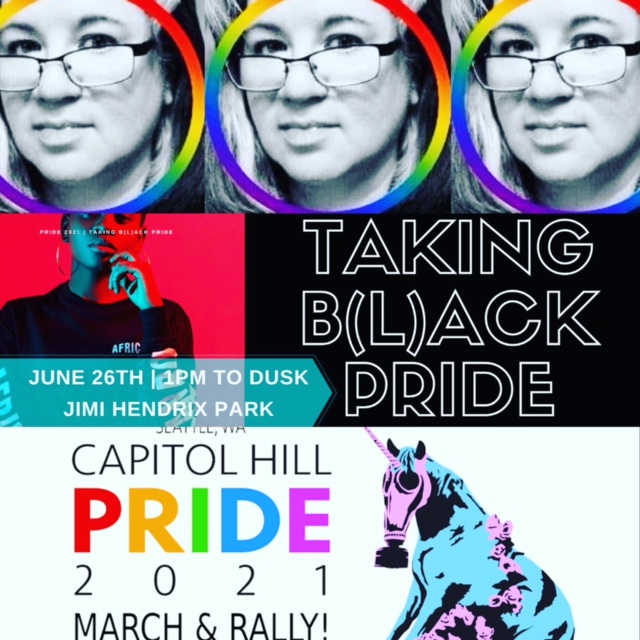 Well, not surprisingly since pretty much every Seattle LGBTQ Pride year features some sort of scandal or disaster, we're running into a helluva one just a week before the city's very mild celebrations are set to occur next weekend.
The poop emoji you hear hitting the fan emoji belongs to the fine folks at Capitol Hill Pride and its leader and co-founder Charlette LeFevre who has frequently been at the center of Seattle LGBTQ Pride Dramas over the years. This year's scandal involves another Pride event, "Taking B(l)ack Pride " which like the Capitol Hill Pride event, is happening Saturday, June 26th with both events being rare examples of actual live, in-person LGBTQ Pride events happening this year as the Covid-19 pandemic gradually winds down in the Seattle area where most large gathering events are still prohibited.
LeFevre boldly announced her smaller scaled public event would be produced at Cal Anderson Park's Bobby Morris Playfield at 11th & Pine Street, several months ago with many in the community wondering if the city would actually allow such an event to happen.
Meanwhile, organizers for the Taking B(l)ack Pride event also took note and began planning their event to happen on Saturday, June 26th at the Jimi Hendrix Park in the Central District. Organized by a number of groups including Trans Women of Color Solidarity Network, Alphabet Alliance of Color and Queer the Land, they had an event planned that centers on Black, Queer and Trans voices but that would welcome white allies with a caveat. From their press release:
"TAKING B[L]ACK PRIDE" is about lifting the voices, narratives, and contributions of black queer and trans voices. It's about centering who we are and what we need to feel empowered, joyful, and heard.****All are free to attend HOWEVER this is a BLACK AND BROWN QUEER TRANS CENTERED, PRIORITIZED, VALUED, EVENT.

White allies and accomplices are welcome to attend but will be charged a $10 to $50 reparations fee that will be used to keep this event free of cost for BLACK AND BROWN Trans and Queer COMMUNITY. ****
Well, once that was released earlier this week, it raised the ire of Capitol Hill Pride's Charlette LeFevre who sent this letter to the City of Seattle's Human Rights Commission: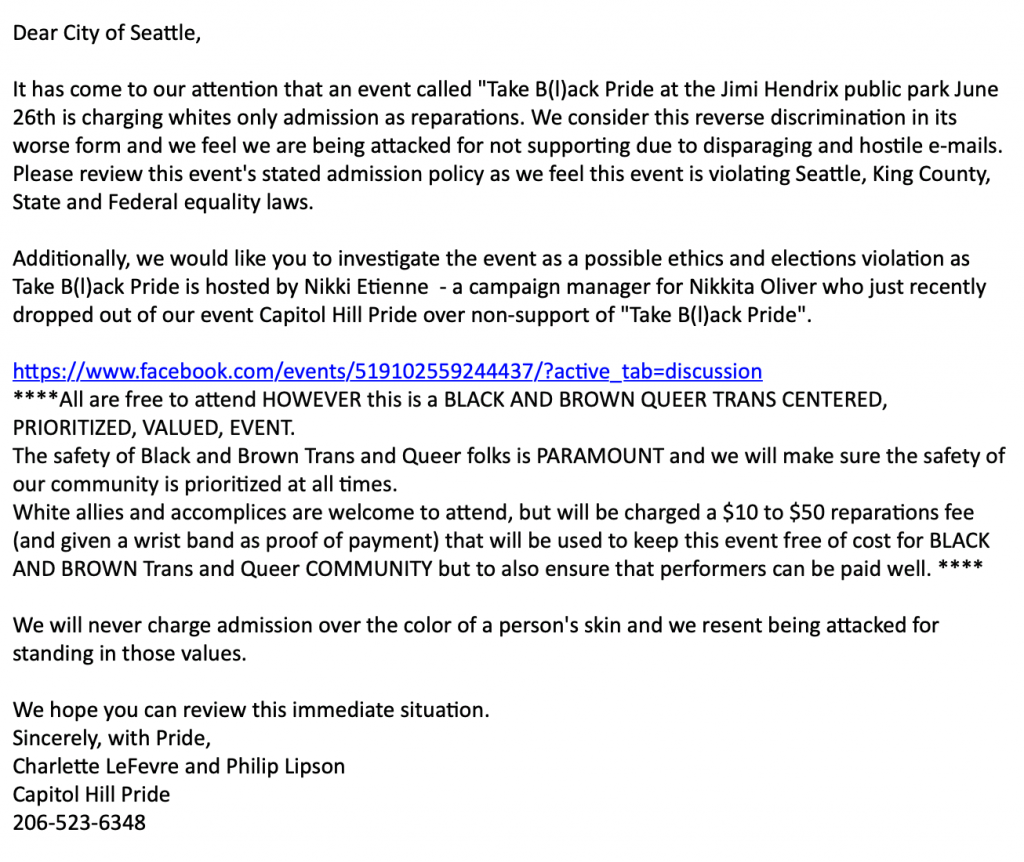 Not surprisingly, the "Taking B(l)ack Pride" producers and their supporters defended their stance and charged LeFevre with being racist and reactionary. And, the Seattle Human Rights Commission sent out their response to LeFevre's claims which politely suggested they rethink their stance: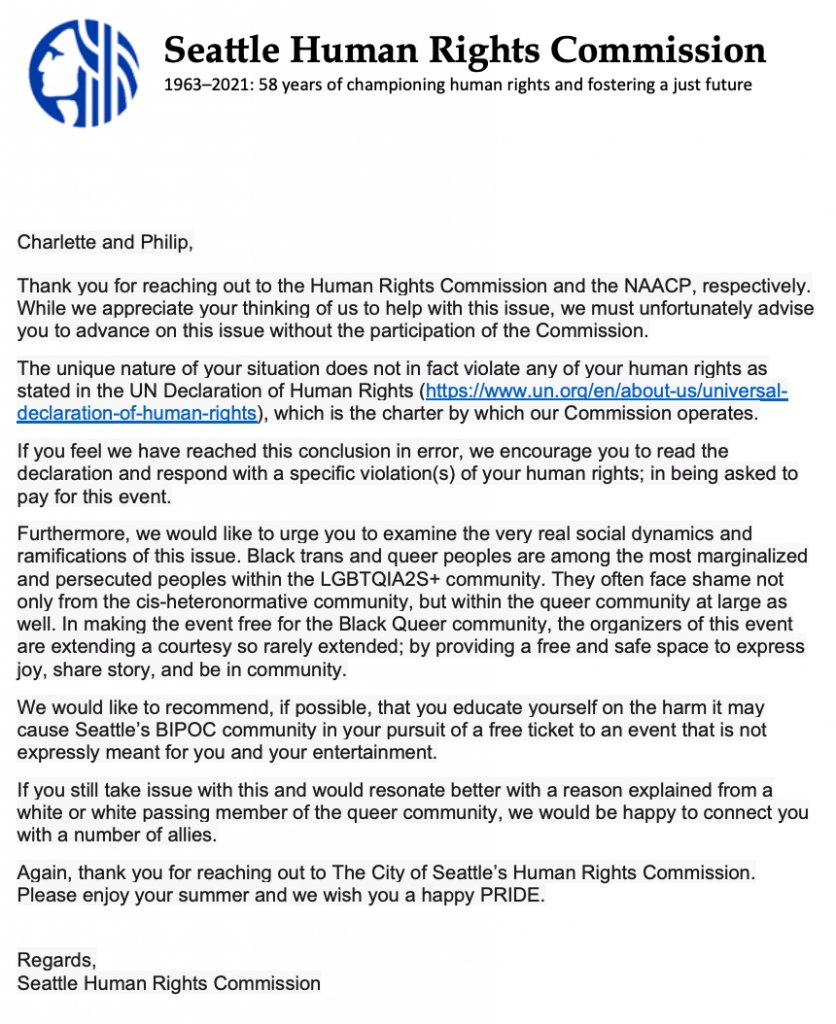 Since then, the local social media world (and some mainstream press) have reported the story and the brouhaha gets messier by the moment. And, LeFevre had placed a great emphasis on the presence of city mayoral and city council candidates at the Capitol Hill Pride event but since this controversy has developed, many of those candidates who had originally agreed to appear have now pulled out. In the last 24 hours, mayoral candidates Lorena Gonzalez, Jessyn Farrell, Colleen Echohawk, and Andrew Grant Houston have all announced they will not appear at the Capitol Hill Pride event.
Meanwhile, there are calls for the entire Capitol Hill Pride event to be boycotted by everyone, including the general public. But, the stubborn LeFevre is sticking to her guns and released this statement Friday afternoon:
Capitol Hill Pride stands firm in its committment to equality and will not support discrimination.

Capitol Hill Pride cannot and will not be pressured into supporting in any manner any Pride event that is charging admission based on the color of a person's skin.

Capitol Hill Pride has worked with many LGBTQAI organizations over the years and our policy is to be inclusive, supportive and not divisive.

We consider any discriminatory admissions policy a violation of the Equality Act and the City of Seattle's commitment to the Race and Social Initiative.
Racial equality and unity does not come about by racial division. We feel strongly that elected representatives take an oath to represent everyone and not just one segment of the community or political party.

We will never charge admission over the color of a person's skin.

Capitol Hill Pride continues to work with ground level organizations to promote equality and social justice with community and stand proud in those values and we should not be pressured, attacked or defamed for our commitment.

Charlette LeFevre and Philip Lipson
Directors, Capitol Hill Pride
Capitol Hill Community Council VP 2008
capitolhillfestival@gmail.com
And, as stated before, this isn't Charlette LeFevre or Capitol Hill Pride's first time in the headlines.
LeFevre was one of the original founders and producers of Capitol Hill Pride back in 2008 after the official Seattle Pride team moved the city's LGBTQ Pride Parade to downtown and the big festival to Seattle Center. Many in the community weren't happy about that, especially Capitol Hill business owners, so a group of them, including LeFevre and Seattle Gay News publisher George Bakan, created a Pride Saturday street fair to take place on Broadway. The event was a big success and grew over the years but some producing snafus and rivalries with other Pride organizations in 2016 led official control of the Broadway event being taking away from LeFevre's Capitol Hill Pride group and given to Egan Orion's PrideFest team. Since then, LeFevre and partner Philip Lipson have produced smaller events usually at the Seattle Central College campus, also on Capitol Hill.
With a week to go until Seattle LGBTQ Pride Weekend, we're inclined to believe this story will continue to "hit the fan" in an ever increasing spray of splattering.
Stay tuned.
UPDATE!
At 10:20pm Saturday night, June 19th, Capitol Hill Pride issued the following press release apologizing for their inquiry to the City of Seattle regarding the Taking B(l)ack Pride event:
Dear Community,

We apologize for the inquiry to the City of Seattle regarding Take B(l)ack Pride, it was not meant to be an attack or divide but to ensure equality for all.

Capitol Hill Pride encourages community events and our mission is to recognize the LGBTQ+ community and all spectrums.

We sincerely want to elevate the segment of the LGBTQ community especially of black transgender women, recognize the important history and contributions and support this segment of the hidden rainbow.

At this time we have requested an invitation of a meeting of hosting parties to resolve any issues and find common ground.

Sincerely, with Pride,
Charlette LeFevre and Philip Lipson
Directors, Capitol Hill Pride
capitolhillfestival@gmail.com
(Visited 106 times, 1 visits today)
As the Editorial Director/Co-Owner, Michael Strangeways writes, edits and does about a million other jobs for Seattle Gay Scene, Puget Sound's most visited LGBTQ news, arts and entertainment website now celebrating its 14th year as a media outlet. A semi-proud Midwesterner by birth, he's lived in Seattle since 2000. He's also a film producer who would like you to check out the Jinkx Monsoon documentary, "Drag Becomes Him" now available on Amazon.com. In his spare time, he gets slightly obsessive about his love for old movies, challenging theater, "otters", vodka, chocolate, "I,Claudius", Lizzie Borden, real books made out of paper, disaster films, show tunes, Weimar era Germany, flea markets, pop surrealistic art, the sex lives of Hollywood actors both living and dead, kitties, chicken fried steak, haute couture and David Bowie. But, not necessarily in that order.
Related Posts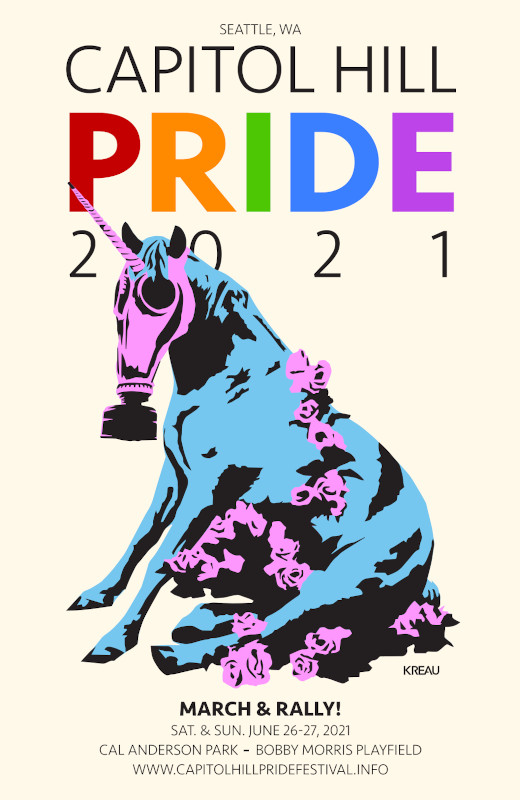 *Resist. Protest. Obstruct. Inform. • Arts & Entertainment • Capitol Hill News • CHOP/CHAZ • Community • Community Events • Community Leaders • Gay News • Music • Neighborhood News • News • Politics • Pride • Queer News • Seattle Lesbian Scene • Seattle News • Seattle Politics • Seattle Pride 2021 • Seattle Transgender Scene • Social Justice
And, progress is being made for an actual live, in-person
...