June 2, 2021

•
by
Michael Strangeways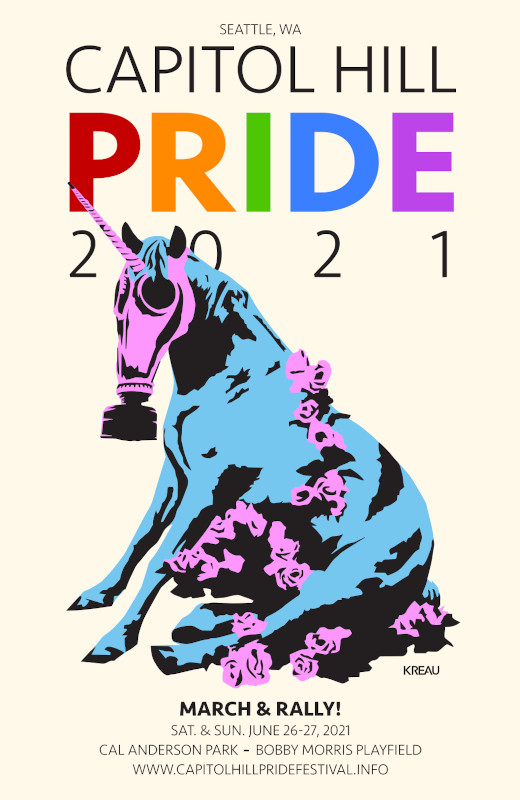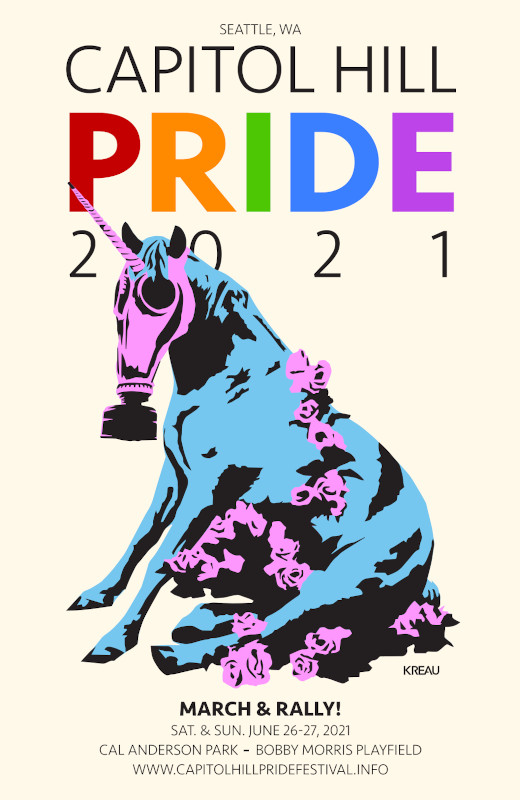 And, progress is being made for an actual live, in-person march, rally and festival to happen on Capitol Hill on June 26th and 27th, the traditional weekend for Seattle's LGBTQ Pride celebrations. While Seattle Pride, the organizers of the big parade in downtown Seattle are going with a virtual/online Pride event for that weekend, repeating what they produced in 2020 due to the coronavirus pandemic. And, Seattle Pridefest, the organizers of the big festivals that happen on Capitol Hill and Seattle Center, are doing no events in June and are aiming for a live event for September.
But, the smaller scaled Capitol Hill Pride Festival group, headed by Charlette LeFevre and Philip Lipson are charging ahead with their own plans for a live public event to happen at Capitol Hill's Cal Anderson Park. More specifically, the event will be held on the Bobby Morris Playfield located on the east end of the park at 11th and Pine Street right in the heart of the Pike/Pine corridor and the center of not only Seattle's LGBTQ neighborhood but also Ground Zero for last year's protests against the Seattle Police Department and police brutality in the wake of the George Floyd murder in Minneapolis. Those protests in June of 2020 led to the Seattle Police Department temporarily vacating their East Precinct building at 12th & Pine and a month long creation of CHOP, the "Capitol Hill Organized/Occupied Protest" which was mostly centered in Cal Anderson Park.
LeFevre and Lipson already made news when they announced two weeks ago that they were organizing this year's Pride event and requesting that Seattle Police Department not be an active presence at the event in respect of the Black Lives Movement and last year's protests and creation of the CHOP Zone.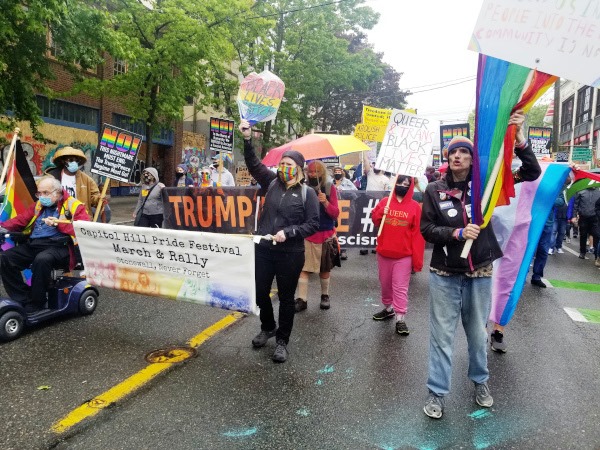 Today, the group has announced performers and a rough schedule for the two day event which is to include live musical performances, fun family events like the popular "Doggy Drag Queen" Contest and a heavy emphasis on political and social justice content with numerous speakers as well as forums and opportunities for local candidates for this year's mayoral and city council races. Go HERE for more info on the event and the line-up announced so far.
The musical headliner announced for the event is the Marshall Law Band who became known via their performances at last year's protests. More on the group via the press release:
Since forming in 2017, Marshall Law Band (MLB), has grown from an unknown funk-hop six-piece to a lauded community collective to the house band of the Seattle Black Live Matter movement. The group's music focuses on individual empowerment and positive community change through the filter of hard-hitting hip-hop vocals laid over funk instrumentation.

It was one fateful decision in June of 2020 that truly began the legacy of MLB — the decision to pull up on the streets of the Seattle George Floyd protests and start playing. Setting up a makeshift stage one block from the protest line, on Pine St. in Seattle's Capitol Hill neighborhood, MLB became the voice of the revolution, playing hour after hour, day after day, through tear gas, rubber bullets, and flash bangs. After receiving nationwide press coverage through outlets like CNN and Fox News, MLB went into the studio with legendary grunge producer Jack Endino to create their debut LP, 12th & Pine, a concept album that details their experience playing through the protests.

More information at: https://marshalllawband.love/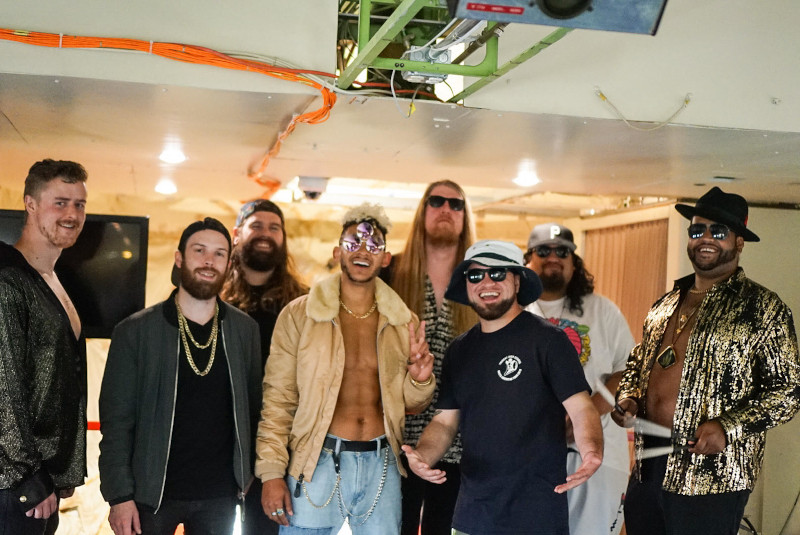 Plans for the 2 day event include a march to be held on Saturday, June 26th starting at Noon and a Council and Mayoral Candidate Debate "Dating Game" featuring city candidates from 2 to 4pm. And, the Marshall Law Band performing a concert from 9pm to 10pm.
Sunday events at this point are less defined but plans include a Capitol Hill Talent Show and more performances as well as speeches.
Stay tuned for more info on the only big live event scheduled (so far) in Seattle for Pride Weekend 2021.
(Visited 5 times, 1 visits today)
As the Editorial Director/Co-Owner, Michael Strangeways writes, edits and does about a million other jobs for Seattle Gay Scene, Puget Sound's most visited LGBTQ news, arts and entertainment website now celebrating its 14th year as a media outlet. A semi-proud Midwesterner by birth, he's lived in Seattle since 2000. He's also a film producer who would like you to check out the Jinkx Monsoon documentary, "Drag Becomes Him" now available on Amazon.com. In his spare time, he gets slightly obsessive about his love for old movies, challenging theater, "otters", vodka, chocolate, "I,Claudius", Lizzie Borden, real books made out of paper, disaster films, show tunes, Weimar era Germany, flea markets, pop surrealistic art, the sex lives of Hollywood actors both living and dead, kitties, chicken fried steak, haute couture and David Bowie. But, not necessarily in that order.
Related Posts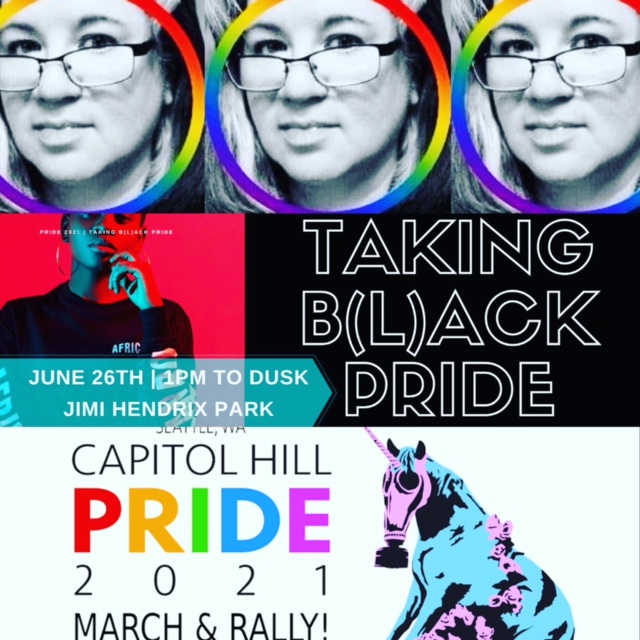 Capitol Hill News • Community • Community News • Controversy • Escandalo • Feuds • Gay News • Neighborhood News • News • Politics • Pride • Queer News • Seattle LGBTQ African American • Seattle LGBTQ BIPOC • Seattle News • Seattle Politics • Seattle Pride 2021 • Social Justice
Well, not surprisingly since pretty much every Seattle LGBTQ Pride
...