Yes, it's already here! And, we're so not ready for it!!!!!! We're NOT in Pride Speedo wearing shape yet!!!!
It's time for the roll out of LGBTQ Pride celebrations across the country but especially in the Pacific Northwest and hyper specifically here in the greater Seattle metro area. And, since it's the 50th anniversary of the Stonewall Riots which sparked the modern LGBTQ civil rights movement, look for more events and bigger and better ones. 
Hopefully.
In Seattle, the month of Pride will kickoff this Friday, May 31st at Seattle City Hall Plaza, 600 4th Avenue in downtown Seattle with the 7th annual Pride Flag raising ceremony. It's an event sponsored by the Seattle LGBTQ Commission and the Office of Mayor Jenny Durkan and it will take place between 3pm and 5pm. There'll be some speeches, some entertainment, some refreshments and the unveiling and raising of Seattle's official city Pride flag, which is the new one purchased last year that has the extra colored stripes. (Read more about it, HERE.)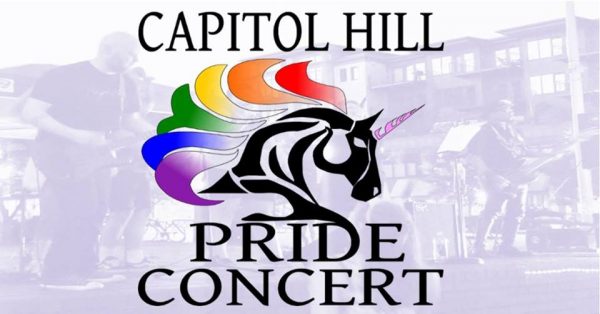 Saturday, June 1st will feature the first Pride event on Capitol Hill. It's the return of Charlette LeFevre and Philip Lipson's Capitol Hill Pride group who were the ones to create the Saturday Pride Weekend street festival on Broadway on Capitol Hill over a decade ago but then they lost the rights to stage that event (which got taken over by Seattle PrideFest the producers of other pride festival events including the big one at Seattle Center on Pride Sunday).
The Capitol Hill Pride folks return for 2019 with what they're calling the Capitol Hill Pride Concert, an event at Seattle Central College's outdoor plaza at Broadway and Pine (1701 Broadway if you want a street address) and it will start at noon and run until 10 pm with a wide variety of  musical talent on hand. It's a FREE event and family friendly (or so we assume since it's outdoors and in public…)
Here's the schedule:
Noon: Welcome by Directors Charlette LeFevre and Philip Lipson
Remembering Stonewall on the 50th Anniversary

MC Asukaa Jaxx

12:15-1:00 Speakers: Jay Westwind Wolf Hollingsworth – Six year Commissioner of Seattle Community Police Commission on police accountability

2-3pm MC Lola
Oz – The Untold Story – a new musical which draws from L. Frank Baum's original novels

5-6pm Tom Orr – Dirty Little Showtunes – a musical parody review

6-7pm MC Michael Cagle
BROADWAY SHOWSTOPPERS Cast

7-8pm Lies in Dust Band – Present their dark and sultry interpretations of their favorite 80's and 90's songs

8-9pm Michael Cagle – Singer, Vegas stage performer and National Recording Artist
(Visited 1 times, 1 visits today)