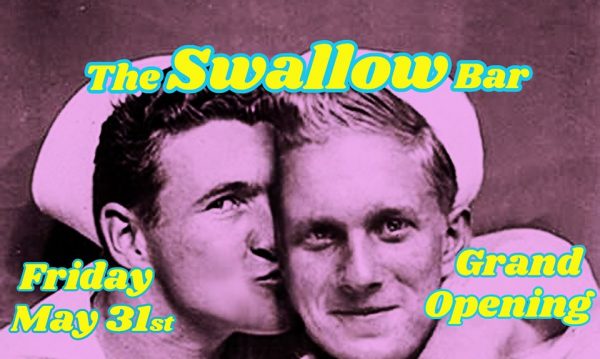 So, two things to note about our unincorporated neighbor to the southwest, WHITE CENTER, that odd little part of King County surrounded by Seattle.  We've already reported on recent changes (aka gentrification) in that area that has long been home to a diverse community of people including Latinx and Asian immigrants reflected in the many restaurant options of the Latinx/Asian variety.
There's also the increased presence of LGBTQ people in the area, some long term residents and others more recent arrivals fleeing the higher prices of central Seattle. A number of new restaurants, bars and clubs have opening in the area, both gay and straight including The Lumber Yard which opened in 2018 and caters to mostly a gay male clientele.
We reported a few weeks back on the arrival of THE SWALLOW,  a new gay bar being opened by former Pony Bar co-creator Marcus Wilson in a space formerly occupied by a bar called Company Store at 9608 16th Avenue SW. Wilson is a well known community member; his CV includes dj, drag queen, singer, club kid, bartender, club creator, event producer,Mo Wave Festival curator, graphic artist and devoted fan of retro queer graphics…his gay centerfold design aesthetic influenced Pony's retro porny look which continues with The Swallow's fun decadent decor.
The Swallow had a soft opening earlier in May and has been in business for the last few weeks, establishing themed event nights like "Shore Leave" on Saturday nights, which is similar to how Pony books its recurring weekly/monthly events. They now have their website up and a Facebook page.
The new bar will have its Grand Opening this Friday night, May 31st at 8pm (no cover!) with special guests Adé, Princess Charming, DJs Girth and Mister Sister (aka Marcus Wilson) and "assorted go-go studzz!!!"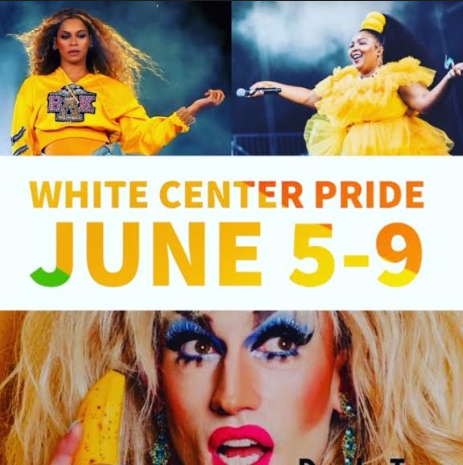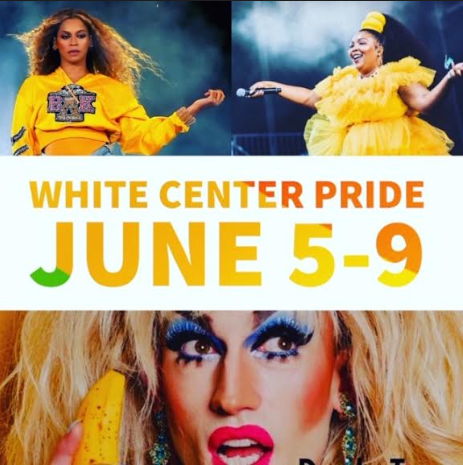 The Swallow will also take part the following week in White Center's First LGBTQ Pride Festival happening Wednesday, June 5th through Sunday, June 9th. WHITE CENTER PRIDE will kick off on Wednesday with a Pride Flag Raising at Mac's Triangle Pub, 9454 Delridge Way SW at 7pm. There will also be Pride Skate happening at 8:30pm at Southgate Roller Rink, 9646 17th Ave SW.
Thursday the 6th will feature a Drag BBQ at Drunky Two Shoes, 9655 16th Ave SW and the rest of the weekend, both The Swallow and The Lumber Yard, 9619 16th Ave SW, will welcome Pride celebrants. On Saturday, Youth Pride Skate, a benefit for Lambert House, will happen at Southgate Roller Rink….and, on Sunday, June 9th, the celebrations wrap up with Sunday Funday Pride Fair @ Future Primitive Brewery, 9832 14th Ave SW. There will be beer and food plus vendors on their patio. Check out the vendor page at whitecenterpride.org.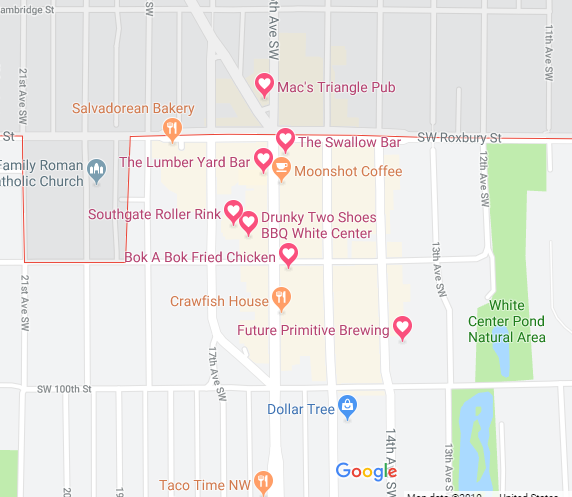 SCHEDULE
Wednesday June 5th, 2019
White Center Art Walk sponsored by the White Center Chamber of Commerce, 16th St, 6-8pm *,**
Pride Flag Raising featuring guest speakers, refreshments, & entertainment @ Mac's Triangle Pub , 7 – 8:30pm *,**
Pride Skate: Beyonce x Lizzo @ Southgate Roller Rink, 8:30-11:30pm
Thursday June 6th, 2019
Beer, BBQ, & DRAG featuring the West End Girls @ Drunky Two Shoes BBQ Patio, 6-9pm, Free * , **
Friday June 7th, 2019
White Center Pride Friday Night Event: The Swallow, 9pm-2am
Swimwear Party @ The Lumber Yard Bar, 10pm – 2am
Saturday June 8th, 2019
Youth Pride Skate benefit for Lambert House @ Southgate Roller Rink, 5:30-9:30pm, $10*
White Center Pride Saturday Night @ The Swallow, 9pm-2am
White Center Pride Saturday Event @ The Lumber Yard Bar, 10pm-2am
Sunday June 9th, 2019
Sunday Funday Pride Fair @ Future Primitive Brewery 12-4pm* , **
Tea Dance @ The Lumber Yard Bar, 4-8pm
(Visited 1 times, 1 visits today)