White Center Pride's likes to say they're not very white and not the center of anything but they ARE full of LGBTQ+ Pride and so they're very happy to return to LIVE, in-person events for area Pride celebrations this June. They're kicking things off on Wednesday, June 1st with a slew of events and then having a big festival on Saturday, June 11th.
On June 1st, they'll raise their Pride flag at Mac's Triangle Pub, 9454 Delridge Way, at 6:30pm. There's also a fun, family friendly parade happening before the flag raising at 5:30pm.
Later, they'll be a special White Center Pride Glow Skate Party at Southgate Roller Rink, 9646 17th Ave SW, starting at 8:30pm and going until 11pm.
The following Saturday, June 11th will feature a day long festival in White Center with a slew of events and performances with something for everyone including drag queens, live bands, roller derby queens, and pet parades. Check out the poster for the line-up.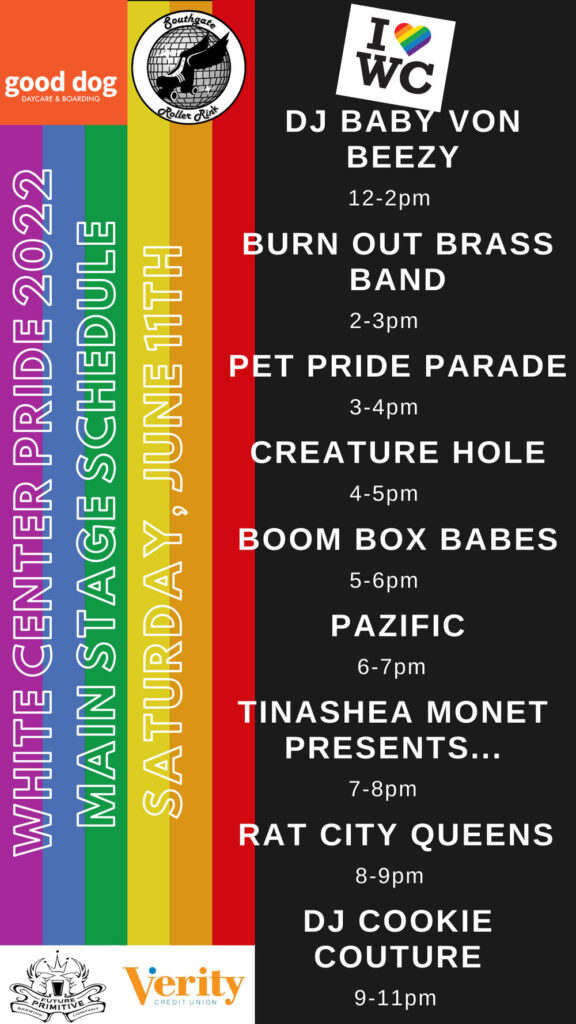 The big mystery: will The Lumber Yard Bar be up and running by then? The original Lumber Yard along with a whole row of local businesses on 17th Avenue were destroyed in an arson fire last 4th of July Weekend. Happily, the Lumber Yard folks found a new location right across the street from their former home and have been working hard to get it ready for reopening.
Fingers crossed it's happening this month.
(Visited 7 times, 1 visits today)