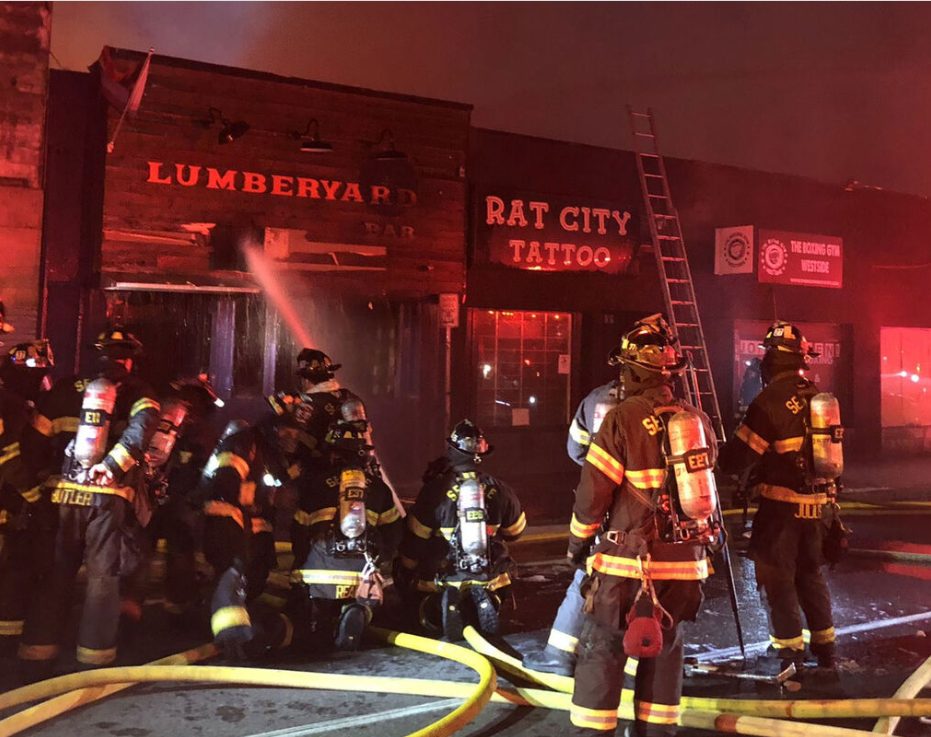 Seattle's LGBTQ community and the citizens of White Center and West Seattle woke up today to some horrible news; an early morning fire severely damaged popular gay venue The Lumber Yard Bar and adjoining businesses.
West Seattle Blog broke the story:
1:54 AM: Big Seattle Fire response for what's described as a structure fire at 16th and Roxbury. We're on our way to find out more.
Their reporter was able to visually confirm that firefighters were battling a blaze centered on The Lumber Yard Bar at 9619 16th Ave SW, the main stretch of the commercial district in the area known as White Center, an unincorporated part of King County adjacent to Seattle. Flames had also spread to the adjoining business Rat City Tattoo and other buildings in the area suffered fire, smoke, and water damage from battling the 2 alarm blaze which included fire units from King County Fire District 2 and Seattle Fire Department.
The bar was closed at that time and had apparently closed early on Sunday, July 4th due to a power outage in the area. Original reports indicated that it was believed fireworks being set off near the rear of the building might have started the blaze but since then investigators have released information that the fire originated on the lower level of The Lumber Yard Bar space.
Since the news of the broke earlier today, an outpouring of both grief and support emerged on social media from patrons, performers and neighbors of the venue, which had been the only fully LGBTQ bar in that part of the city since the closure of the neighboring Swallow Bar across the street which closed permanently over a year ago due to the Covid-19 pandemic.
From the bar's resident drag performer, Dolly Madison:
A number of GoFundMe fundraisers have been established including this one from White Center Pride to help owners Nathan Adams and Michale Farrar recover from this loss.
Via GoFundMe:
Our community is heartbroken by the fire that destroyed The Lumber Yard Bar and affected multiple businesses in downtown White Center the night of July 4th, 2021. The Lumber Yard Bar has been a passion project for Nathan Adams and Michale Farrar and has provided a safe gathering space for the LGBTQIA+ community since opening in 2017.

Please consider partnering with White Center Pride and donate to help The Lumber Yard Bar recover from this devastating fire. All donations will go to help Nathan and Michale.
Go HERE to support this GoFundMe.
Early reports indicate that the Lumber Yard Bar space is a total loss due to the heavy damage caused by the fire.
(Visited 5 times, 1 visits today)