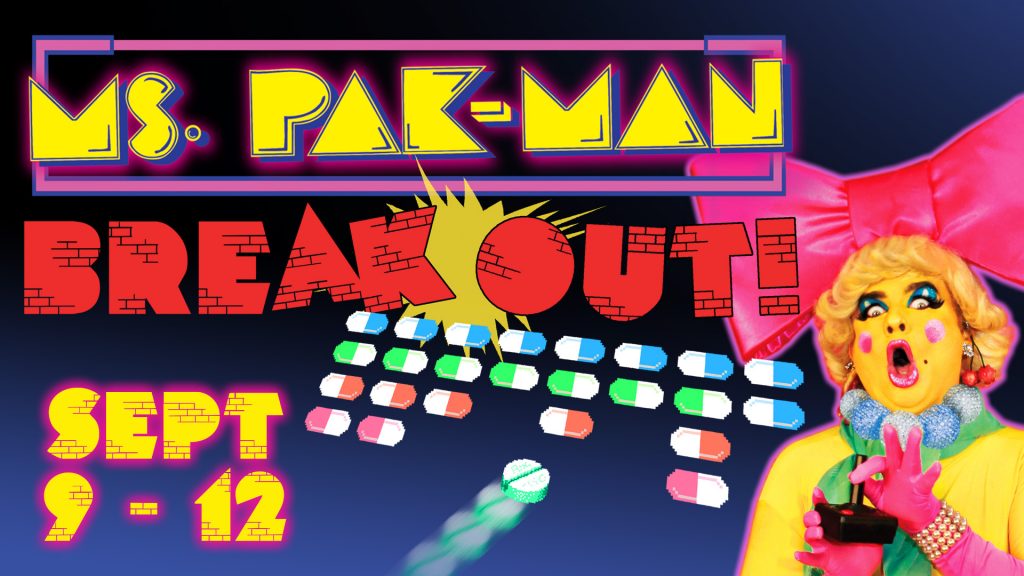 It seems like I start EVERY GAWDAMNED POST WITH A SENTENCE MENTIONED THE EFFING COVID-19 PANDEMIC so we'll just start staying "last year's plague" instead so….
"Last Year's Plague" obviously mean local talent hound Scott Shoemaker couldn't stage any of his popular cabaret shows like his Xmas show or his insanely fun Ms Pak-Man show which features Scott as the beloved pill-popping video game character. Not to mention the sad horror that his main venue, beloved local art house cabaret bar Re-bar had to shut its doors because of "last year's plague".
HAPPILY, Scott and his producing partner slash life partner Freddy Molitch managed to find a new space to stage "Ms. Pak-Man: Breakout!" the latest installment of the cabaret series…they're moving to Capitol Hill's Oddfellows Hall for six shows over 4 nights, September 9 to 12, 2021.
Tickets are already on sale, (https://www.strangertickets.com/…/ms-pak-manbreakout) and selling briskly…do not tarry in buying them!!!!
More skinny:
Ms. Pak-Man: Breakout! is the newest show in the critically acclaimed Ms. Pak-Man series! Last year, during that pesky pandemic, it was Game Over for the original 8-Diva, but now she's breaking out and better than ever with a cabaret style theatre experience like no other! Watch this world-renowned video game superstar of the 1980s pop power pills while she shares scandalous songs and stories about her life and loves… glitches and all!

It's a hilarious night of comedy, confessions, camp and quarters. She sings! She dances! She drinks! She might black out! There's a chance she won't remember the show, but you will!

Starring Scott Shoemaker (Scott Shoemaker's War on Christmas, BenDeLaCreme's Beware the Terror of Gaylord Manor) as the loveable train-wreck Ms. Pak-Man. Also featuring Erin Stewart and Amalia Larson as the amazing Ghostettes! Conceived and directed by Freddy Molitch!

This show has a little something for everyone. Video game geeks, drag / camp fans, 80s aficionados, comedy lovers and boozy theatre-goers will all love this 8-bit diva's antics!

Hold onto your joysticks, it's going to be a bumpy night!Buy tickets here: https://www.strangertickets.com/…/ms-pak-manbreakout
(Visited 1 times, 1 visits today)