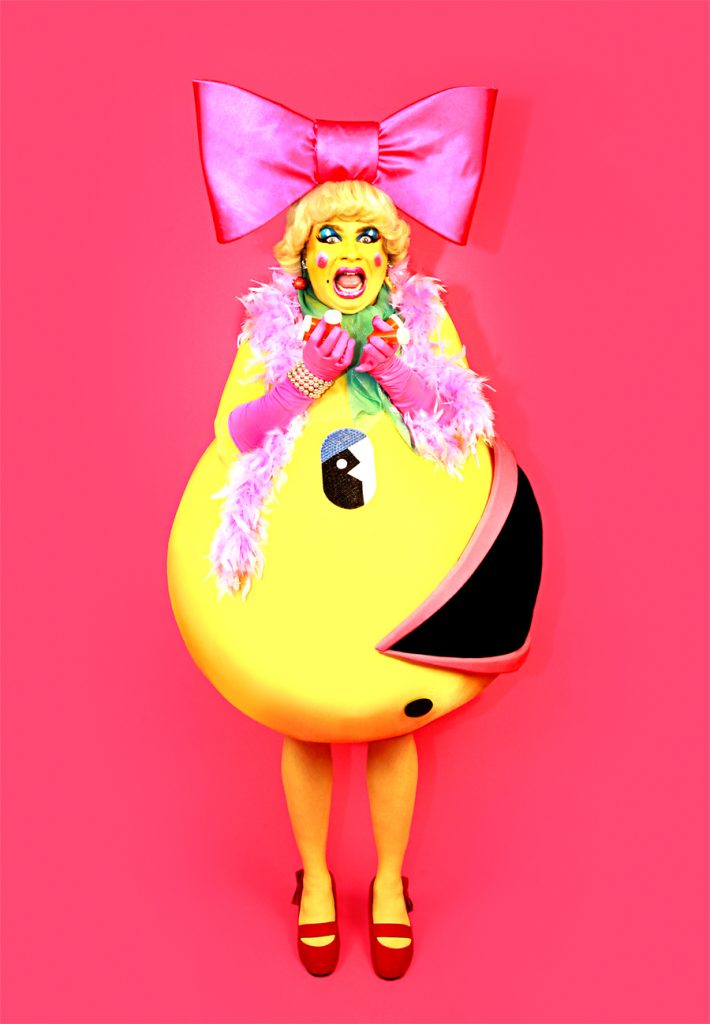 Well, she's now the toast of two coasts since Ms Pak-Man, Seattle actor/performer Scott Shoemaker's delightfully inane/insane parody of the beloved video game character made its New York City debut last month after wowing audiences in Seattle, San Francisco and Los Angeles over the last few years.
Now, the yellow diva with the pill/booze problem is returning to her home stage at Re-bar for her 6th production: BREAKOUT which opens March 26, 2020 and runs through April 11th. Once again, it's conceived and directed by Mr. Shoemaker's partner in life/crime, the divine Freddy Molitch and also once again, the wonderful Erin Stewart and Amalia Larson return in support.
Expect more boozy/pilly gags and delicious musical parodies. Probably at some point, she'll fall off the stage and roll down the street…
If you're a fan, snag those tickets NOW because not even coronavirus is gonna keep away Ms Pak-man's posse of rabid fans most of whom drink as much as she does and are thus immune to most diseases except the venereal.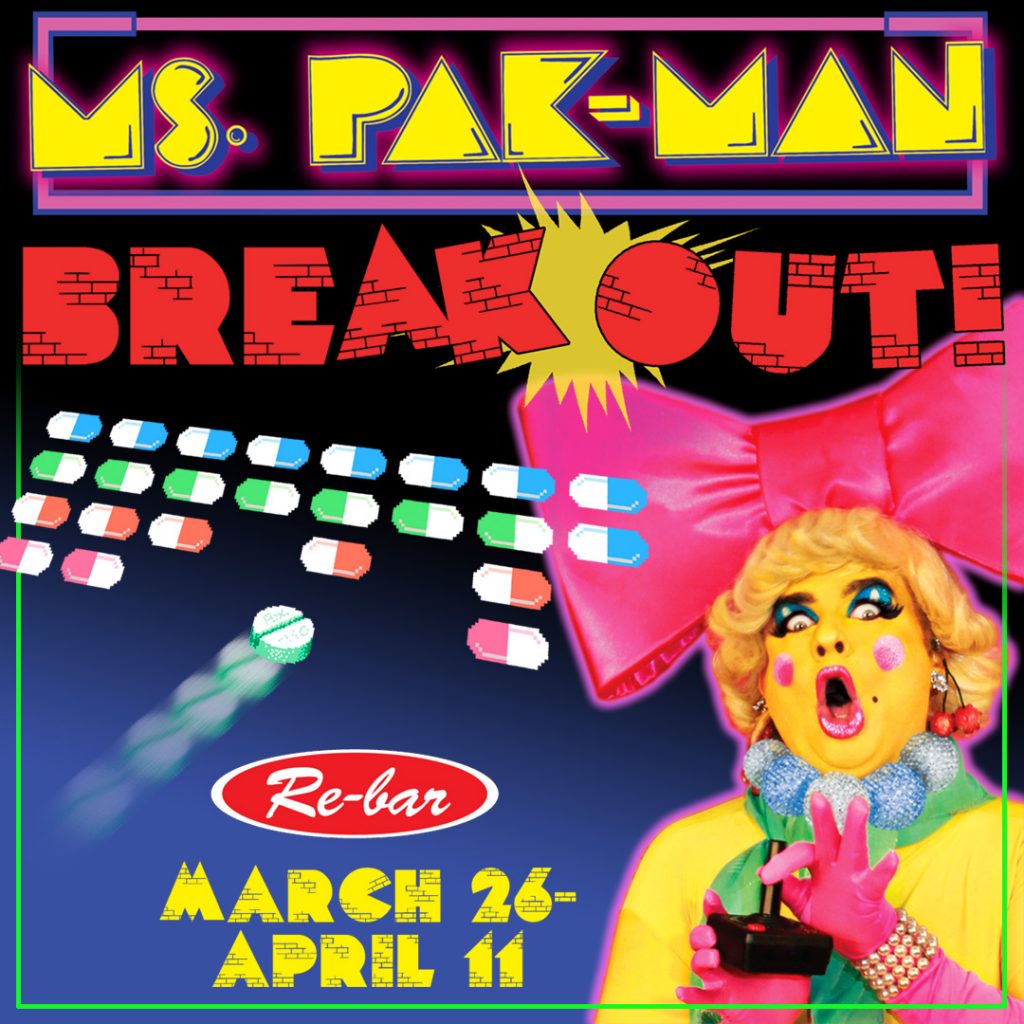 More poo:
Presented by Shoes and Pants Productions, "Ms. Pak-Man: Breakout!" is the 6th installment of the critically acclaimed Ms. Pak-Man series. After playing to packed audiences in San Francisco and Los Angeles, and fresh off her New York debut, Ms. Pak-Man is returning to Seattle's Re-bar, March 26 through April 11. Watch this world-renowned video game superstar of the 1980s pop power pills while she shares scandalous songs and stories about her life and loves—glitches and all! This is an all-new show that is guaranteed to achieve a high score!

It's a hilarious night of comedy, confessions, camp and quarters. She sings! She dances! She drinks! She might black out! There's a chance she won't remember the show, but you will!

Starring Scott Shoemaker (Scott Shoemaker's War on Christmas, Beware the Terror of Gaylord Manor) as the lovable train-wreck Ms. Pak-Man. Also featuring Erin Stewart and Amalia Larson. Conceived and directed by Freddy Molitch!

This show has a little something for everyone. Video game geeks, drag / camp fans, 80s aficionados, comedy lovers, and boozy theatre-goers will all love this 8-bit diva's antics! Hold onto your joysticks, it's going to be a bumpy night!
WHAT: Ms. Pak-Man: Breakout! A cabaret style theatre experience!

DATES: March 26 – 29, April 2 – 5 & 10 – 11.

TIMES: Thursdays, Fridays & Saturdays – 7:00 PM. Sundays – 4:00 PM

WHERE: Re-Bar, 1114 Howell St., Seattle, WA 98101.

HOW: Tickets are on sale now at strangertickets.com. 
(Visited 1 times, 1 visits today)