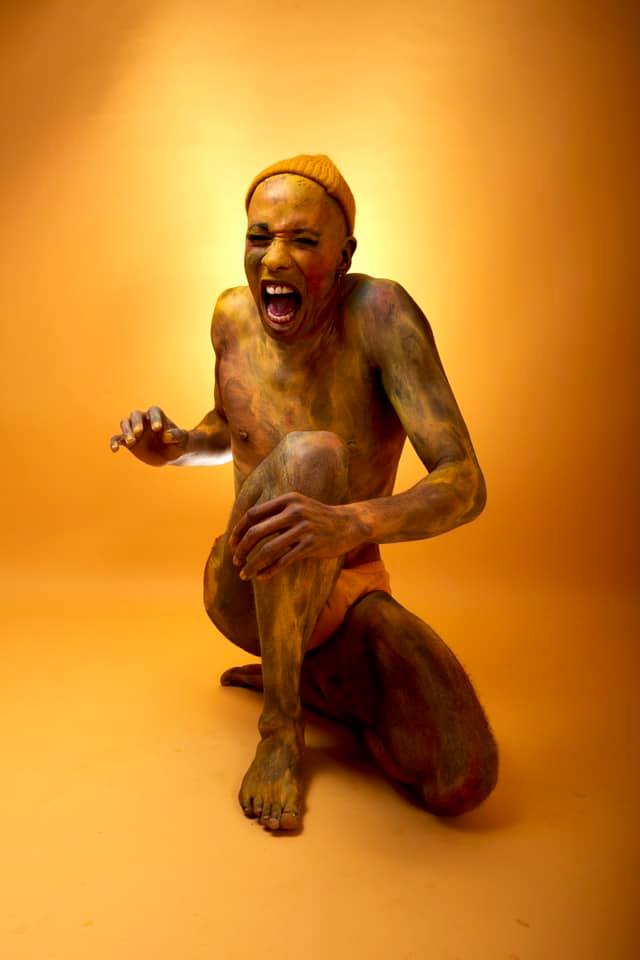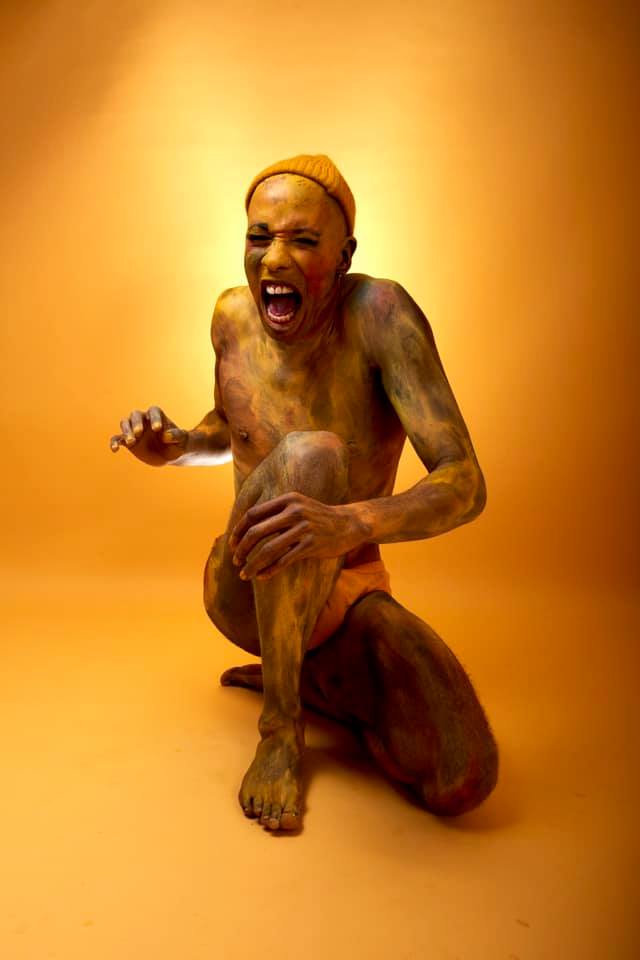 Raja Feather Kelly describes himself as a "Warhol-obsessed, Black, Queer, Drama Queen" and he's debuting his West Coast premiere of "UGLY  (Black Queer Zoo)" this Thursday, March 5 for a very limited run at 12th Avenue Arts on Capitol Hill and presented by Washington Ensemble Theatre (aka "WET") as part of their Gush Series that presents work from international artists.
Yes, it's a dance-theatre piece but don't let that scare you. Raja utilizes a lot of pop culture references (uh, he's obsessed with Warhol, so of course he is going to dip into that well!) And, visually, the piece is energetic and vividly colorful with the artist covered in mustard yellow pigment and contained inside an acrylic box.
This ain't your Grandma's foxtrot class…it's a vibrant evening of powerful dance performance art that explores "the lack of black queer subjectivity in the mainstream".
It's a limited run: UGLY (Black Queer Zoo) plays March 5 – 16, 2020 at 12th Avenue Arts (1620 12th Avenue in Capitol Hill). Tickets are on sale now www.washingtonensemble.org. And, I snooped around and found a discount code for opening weekend if you need a price break: " Use code "KELLY" for 20% off Adult tickets, valid on performances March 5-9."
More about Raja Feather Kelly:
Choreographer/Director Raja Feather Kelly is the artistic director of New Brooklyn Theatre. In 2009, he founded the dance-theatre-media company the feath3r theory. The two companies merged in 2018. Raja is a Creative Associate at The Juilliard School, and has been awarded a Creative Capital Award (2019), a National Dance Project Production Grant (2019), a Breakout Award from the Stage Directors and Choreographers Foundation (2018), Dance Magazine's inaugural Harkness Promise Award (2018), the Solange MacArthur Award for New Choreography (2016), and is a three-time Princess Grace Award winner (2017, 2018, 2019). He was born in Fort Hood, Texas and holds a B.A. in Dance and English from Connecticut College.

Raja has been named as the 2019–2020 Randjelović/Stryker Resident Commissioned Artist at New York Live Arts and is an inaugural Jerome Hill Artist Fellow. Raja has also been awarded a New York Dance Performance "Bessie" Award, a Bessie Schonberg Fellowship at The Yard, a DanceWEB Scholarship, a New York Foundation for the Arts Choreography Fellowship, a HERE Arts Fellowship, 2018 Creator-in-Residence at Kickstarter, and a Choreography Fellowship at the Center for Ballet and the Arts at NYU.

Over the past decade he has created fifteen evening-length works with his company the feath3r theory to critical acclaim. Most recently, UGLY (Black Queer Zoo) at The Bushwick Starr, and We May Never Dance Again® at The Invisible Dog in Brooklyn.  Professionally, Raja has performed with Reggie Wilson/Fist and Heel Performance Group, David Dorfman Dance, Kyle Abraham|Abraham.In.Motion, and zoe | juniper. He has also managed a number of dance companies: Race Dance, Kyle Abraham/Abraham.In.Motion, zoe | juniper, and Reggie Wilson/Fist and Heel Performance Group.

Since 2016, Raja has choreographed extensively for Off-Broadway theatre in New York City, most notably for Signature Theatre, Soho Rep, and New York Theatre Workshop and Playwrights Horizons.  Kelly is the 2019 SDCF Joe Callaway Award Finalist for outstanding choreography of A Strange Loop (Playwrights Horizons) and Fairview (Soho Rep, Berkeley Rep, TFANA and winner of the 2019 Pulitzer Prize for Drama). Frequent collaborators include: Lileana Blain-Cruz, Branden Jacobs-Jenkins, Sarah Benson, and Lila Neugebauer. Other theatre credits include choreography for Skittles Commercial: The Musical (Town Hall), The Chronicles of Cardigan and Khente (Soho Rep), Everyday Afroplay (JACK), GURLS (Princeton University, Yale Repertory Theatre), Electric Lucifer (The Kitchen), Lempicka (Williamstown Theatre Festival), The House That Will Not Stand (New York Theatre Workshop), Fireflies (Atlantic Theatre Company), If Pretty Hurts Ugly Must Be a Muhfucka (Playwrights Horizons, nominated for the 2019 Lucille Lortel Award and the 2019 Chita Rivera Award for Outstanding Choreography), The Good Swimmer (BAM), and Faust (Opera Omaha). 

(Visited 1 times, 1 visits today)