It's been a long journey for The Lumberyard Bar, the gay bar in White Center, the unicorporated southwest of Seattle neighborhood. The popular bar, located at 9619 16th Ave SW in the commercial district of White Center was destroyed in an arson started fire early in the morning of July 5th, 2021 along with a long strip of adjacent businesses on the west side of 16th Avenue SW.
But, the White Center community as well as fans and patrons of The Lumber Yard quickly rallied around owners Nathan Adams and Michale Farrar and created online fundraising projects to support the couple and enable them to create a new home for the bar.
By fall of 2021, a new space had been found for The Lumber Yard 2.0…directly across the street from the first incarnation. Remodeling began but the build out took longer than anyone had expected. Fans of the bar had hopes the bar would reopen in time for Pride celebrations in June of this year and then by end of summer but build outs tend to take longer than expected.
They didn't make Halloween, but The Lumber Yard Bar will be open today for Election Day 2022…the bar had a quiet soft opening this past Saturday, then formally announced they were back in business on Sunday. Via Facebook:
New hours for the bar: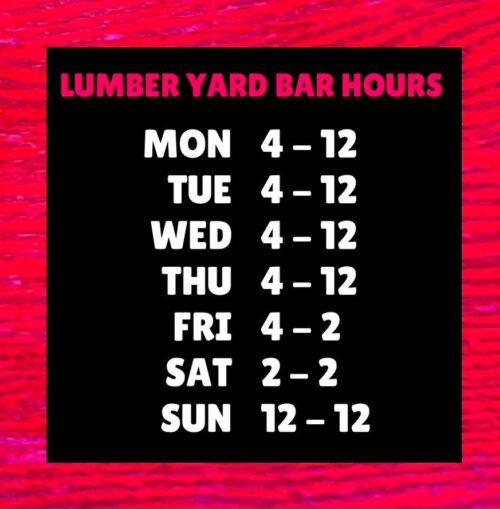 So far, no word on any plans for a Grand Reopening Celebration but stay tuned.
(Visited 48 times, 3 visits today)