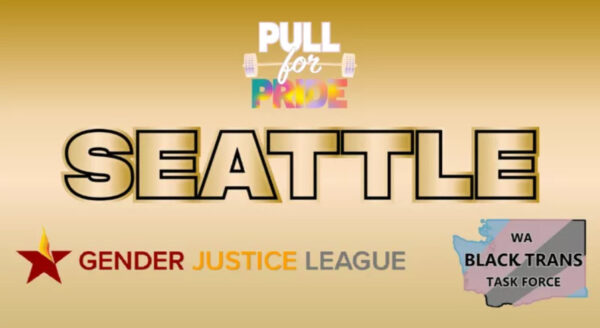 It's too late to sign up to actually LIFT for PULL FOR PRIDE at Rain City Fit on Capitol Hill and I assume you have to be a member (?) but you can still donate to the charity event which happens Saturday, June 18th.
Since we obviously know NOTHING about power lifting (other than a bag of burgers from Dick's Drive-In) we'll allow the info from the GoFundMe page to better explain what it's all about, though, in a nutshell, it sounds like weight lifters are going to be lifting rather large amounts of barbells to raise money for two terrific local non-profits, Gender Justice League and WA Black Trans Task Force. You can generously donate money here: https://www.gofundme.com/f/pull-for-pride-seattle
All the info you need below!
Rain City Fit is bringing Pull for Pride back to Seattle!
Pull for Pride is a series of deadlift-only fundraisers created in response to the lack of spaces for LGBTQIA2+ people to safely engage in sport and fitness. Rooted in a celebration of TGNC participation, Pull for Pride has always drawn a sharp contrast with the norm in strength sport competitions, which commonly discriminate against TGNC athletes.

All Pull for Pride events benefit an LGBTQIA2+ organization local to the city's town in which it's being hosted. This model has raised hundreds of thousands of dollars since it began.

Pull For Pride is a program of Strength For All, a 501c3 nonprofit organization.
Who is Seattle's Pull For Pride benefiting?
Gender Justice League: A Washington State gender and sexuality civil and human rights organization based in Seattle, Washington.Their focus is on elevating civil and human rights for trans and gender diverse people through advocacy efforts, creating community, and shared leadership development.
WA Black Trans Task Force: The Black Trans Task Force (WA-BTTF) is an intersectional, multi-generational project of community building, research, and political action addressing the crisis of violence against Black Trans people. They provide resources for Seattle-Tacoma Black trans people in collaboration with community partners in order to broaden safety nets and increase avenues for justice that are typically available for white trans people. lavenderrightsproject.org


When: JUNE 18, 2022 | LIFTING @ 12PM
Where: RAIN CITY FIT + QUEER BAR | 1516 11TH AVE SEATTLE, WA 98122
For more information about this event, please visit PullforPride.com/Seattle !
(Visited 105 times, 1 visits today)