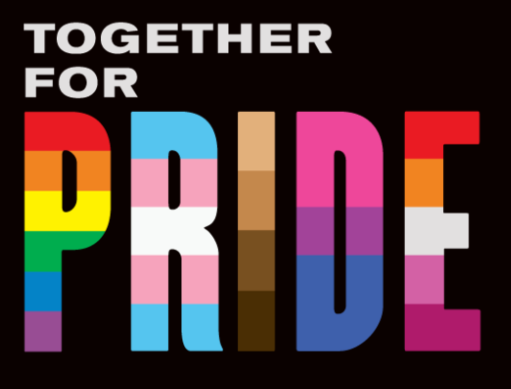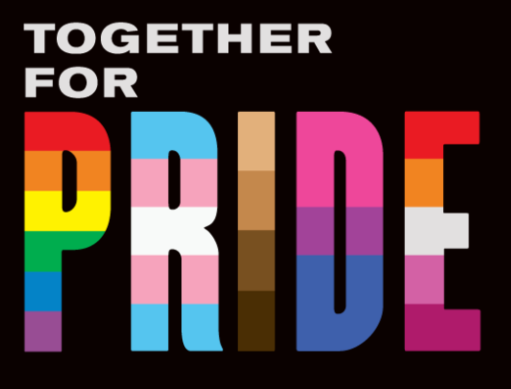 The theme is #TogetherForPride for LGBTQ Seattle Pride celebrations for 2020 as area groups team up to present digital/virtual events due to the ongoing Covid-19 pandemic that has made public gatherings a health hazard.
Seattle's three principal organizations for producing Pride events: Seattle Out & Pride aka "The people who put on the Parade" and Seattle PrideFest (the festival events on Capitol Hill and Seattle Center) and Gender Justice League (producers of Seattle Trans Pride) are working in harmony this year to present events online for the community to enjoy.
No…it's not the same as getting together in person (far from it) but it's a way to keep the spirit of Stonewall alive in this, the 50th anniversary of the first Gay Pride Marches that began occurring the year after the original riot/rebellion at Stonewall.
The complete schedule for events for this weekend and information on them is below:
Organizers of this upcoming weekend's three-day virtual LGBTQIA+ Pride (June 26-28) today announced the full program schedule – a diverse array of speakers, performers, activities and activism – and have opened the free registration at www.TogetherForPride.org.

From musical headliners including Mary Lambert (from Macklemore's "Same Love" and her Billboard charting single "Secrets"), radical indigenous queer feminist Black Belt Eagle Scout, and star of the HBO Max series Legendary Mother Eyricka; to nationally recognized speakers including black/trans/queer poet, author and educator J Mase III, actress/writer/trans activist and motivational speaker Blossom Brown, to LGBTQ immigrant and communities of color organizer Monserrat Padilla – as well as a virtual dance party, Seattle Pride karaoke and lots of family friendly fare.

For each of the three days, one host organization is presenting the day's program content – Gender Justice League (Trans Pride) will curate Friday, 5-10 p.m.; PrideFest, Saturday, noon-midnight; and Seattle Pride, Sunday, noon – 6 p.m.

In solidarity with the racial equity and social justice protesters – as well as with other regional LGBTQIA+ organizations, the organizers have centered much of the weekend's content on activism and on Black, Indigenous and People of Color voices and artists.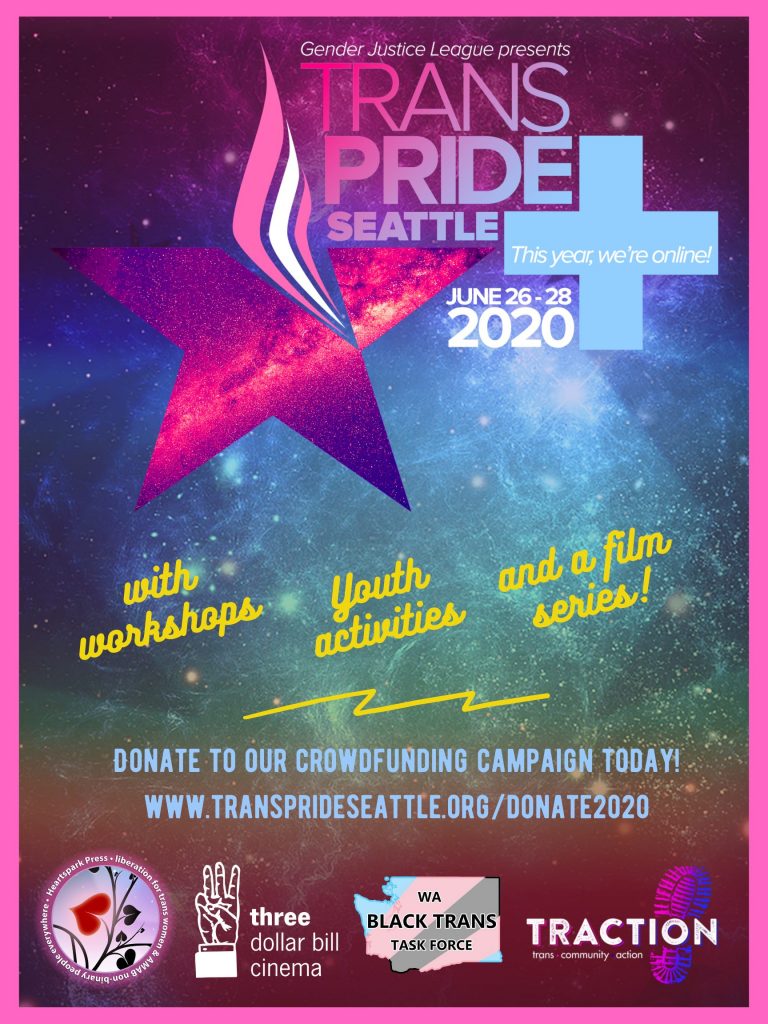 Day #1: 5-10pm, Friday, June 26th – programmed by Gender Justice League (producer of Trans Pride)
Gender Justice League will kick-off a robust three days of festivities with Trans Pride's Friday Stage Show featuring a variety of local and national talent, workshops addressing a wide range of topics appealing to all ages, as well as youth activities and a series of trans-themed short films – in partnership with Three Dollar Bill Cinema and media partner 107.7 The End.
In addition to Mother Eyricka, J Masse II and Blossom Brown, program highlights include storytelling and spoken word exploring the trials and joys of living in a queer disabled body presented by Gina Stella dell'Assunta; and a showing of The Most Dangerous Year, an award-winning 2018 feature documentary film about parents fighting for their transgender children's rights.
View the complete Friday program schedule (attached) at TransPrideSeattle.org.
Day #2: Noon-Midnight, Saturday, June 27th – programmed by PrideFest (producer of PrideFest at Seattle Center)
For the second day of Seattle Virtual Pride, PrideFest will be doing a 12-hour live-cast including a family hour, queer youth Pride hour, a "preparing for Pride" hour, six hours of PrideFest mainstage programming, including hosts, artists, community features, and non-profit profiles, followed by a three- hour dance party from Uniting Souls. In addition to Mary Lambert, performers include local treasures the BeautyBoiz, Adra Boo, Xander Corbett, a 'Beyond Pride' collective curated by Eric Blu, and a Latinx showcase curated by LatinRose and Ruth Soto. PrideFest's programs are made possible with support from Delta Air Lines.
View the complete Saturday program schedule (attached) at SeattlePridefest.org.
Day #3: Noon-6pm, Sunday, June 28th – programmed by Seattle Pride (producer of Seattle Pride Parade & Seattle Pride in the Park)
Seattle Pride's programming will culminate the three days with four program tracks supporting its Many Faces, One Pride focus. The programming will be a mix of live and recorded 20- and 40-minute sessions including a one-hour opening session dedicated to the Black queer community featuring a thought-provoking interpretive dance performance with a timely message from Simone Pin, as well as performances by Dion Dior Black and Danny Denial.
Other highlights include a presentation by OutRight International's Katie Hultquist ("The Impact of COVID-19 on LGBTQIA+ Communities") and an interview with local historian Bruce Haulman on "Vashon Island's Little-Known LGBTQIA+ History" which inspired Vashon Heritage Museum's IN AND OUT: Being LGBTQ on Vashon Island exhibit.
The jam-packed day of LGBTQIA+ fun also showcases virtual performances by the musical acts originally slated for Seattle Pride in the Park. Joining Black Belt Eagle Scout will be local favorites CarLarans, Chong the Nomad, Fly Moon Royalty, LatinRose, Sera Cahoone, and Stephanie Anne Johnson & The Hidogs. The musical performances will be hosted by KEXP's Marco Collins and popular Seattle drag queens Londyn Bradshaw, Donnatella Howe and Betty Wetter.
Later that evening attendees are invited to relive the pageantry of Seattle Pride Parades with a special retrospective of past parade highlights on-air and online at 11:30 p.m. hosted by Seattle Pride's Official TV Partner KIRO 7. Seattle Pride's other media partners include iheartradio stations, KNKX and MOViN 92.5.
Seattle Pride's day is made possible with support from presenting partners Alaska Airlines and T-Mobile, platinum partner Salesforce, among many other community partners.
View the complete Sunday program schedule (attached) at SeattlePride.org.
The weekend also includes several family friendly program offerings, including:
Saturday
Family Hour w/Drag Queen Storytime featuring Aleksa Manila and Imagination Band (Noon)
Queer Sex Ed for Teens (12:15 p.m.)
Gay Youth Pride hosted by Gay City (1 p.m.)
Queer Sex Ed for Youth (3:15 p.m.)
Sunday
"Art Together at Home with Seattle Sounders FC and RAVE Foundation" with participation from Brad Evans, Bheem Goyal and kids from Renton Community Center (2 p.m.)
Storytime hosted by the Tooth Fairy (3 p.m.)
MoPOP Youth Book Chat: Book discussion focused about Red, White & Royal Blue, and the representation of LGBTQIA+ youth in literature (3:20 p.m.)
The Power of Youth Activism: A discussion moderated by KIRO 7 Morning Anchor Tracey Leong with the student protesters from Kennedy Catholic High School (5 p.m.)
Radio Sing-Along & Pride Karaoke hosted by KUBE 93.3 FM Radio Personality Bennett Koffa (5:20 p.m.)
The three-day online event will also feature a Virtual Vendor Village – as well as a Virtual Nonprofit Expo on Sunday – which allows attendees to visit a wide variety of vendor "booths" in a first of its kind virtual version of Seattle Pride in the Park. The virtual village and virtual hall will each host more than 20 Seattle Pride partners with useful information, product sales and creative content ranging from curling (presented by the Granite Curling Club of Seattle) to cooking with cannabis classes (presented by Weedmaps) to do-it-yourself fairy wing decorating with the Tooth Fairy presented by Delta Dental of Washington. Also participating are U.S. Congressional representatives Suzan Delbene, Kim Schrier and Adam Smith.
For more information and the latest updates to the list of featured speakers, performers and more, visit www.TogetherForPride.org. Also be sure to follow Gender Justice League, PrideFest and Seattle Pride on social media for ongoing updates and other information.
(Visited 5 times, 1 visits today)