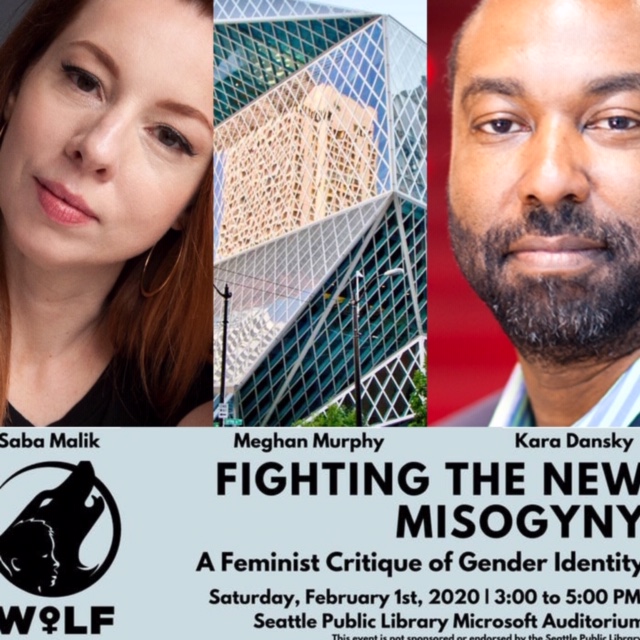 Well, the proverbial poo is hitting the fan right now with the Seattle transgender community and its allies angered by a planned feminist community forum scheduled to be held on February 1, 2020 at the downtown Central Seattle Library on 4th Avenue. "Fighting the New Misogyny: A Feminist Critique of Gender Identity" is being planned by the national radical feminist advocacy group Women's Liberation Front which fights for…well, the liberation of women but they have some issues with the inclusion of transgender women within their definition of "women"
Labeled as "TERFS", (short for "trans-exclusionary radical feminist"), they have, not surprisingly, come under fire by transgender people and their allies for promoting bigotry and intolerance towards transgender women who are especially alarmed by the specific topics of the February meeting. From the Women's Liberation Front's description of the event:
Over the last several years, transgender activism has made sweeping gains. From local school boards to the Democratic Party to legislatures around the world, proponents of this ideology have succeeded in positioning "gender identity" as the social justice issue of our day.

But are the claims made by these activists actually true, or even coherent? What does it mean to say that people can be "born in the wrong body"? Does the concept of "gender identity" break down stereotypes about the nature of men and women, or does it reinforce them? And what about the rights of women and girls?

Women's Liberation Front is proud to announce an event that will tackle these issues head on.

On February 1, 2020, Meghan Murphy, Saba Malik, and Kara Dansky will give a critical analysis of gender identity and make powerful arguments for sex-based women's rights. The event will take place at the beautiful Seattle Central Library in downtown Seattle, Washington.

Writer Meghan Murphy will speak on the philosophical and political problems in the claims made by proponents of gender identity. Feminist and environmentalist Saba Malik will address the way gender identity advocates compare transphobia with racism and why this is both inaccurate and offensive. Lawyer Kara Dansky will explain the significance of female erasure in the law and how feminists are fighting back. A Q and A session moderated by writer and activist Lierre Keith will follow.
Once word of the event became public, outraged community members began spreading the word via social media to protest the forum with many pointing out that Meghan Murphy has been banned from Twitter due to allegations of "hate speech". Seattle's own transgender group, the Gender Justice League issued this statement:
We recently found out that an anti-trans organization has booked an event at the Seattle Public Library with the express purpose of arguing to take away legal rights for trans people. The library has put out an immediate response and are continuing to look at their options for the situation. We will be talking with them and recognize that there are a number of complicated factors that they have to balance, but the end result of a hate group using the library as a venue to "critique" the existence of a minority group creates a hostile environment and is unacceptable.

The library, the city council, the mayor, and the city government as a whole needs to understand consequences if they sit back and allow discriminatory harassment to take place in their own spaces unchallenged.
The Seattle Public Library has been inundated with angry calls and emails demanding the cancellation of the event which is not associated with the Library but strictly a situation where the group rented the meeting space at the library. On Friday, December 6, 2019, Executive Director and Chief Librarian Marcellus Turner issued the following statement:
Dear patrons,

I wanted to share some information about a private event scheduled at the Central Library this February 1, 2020 that is already generating a lot of attention, questions and concern.

A nonprofit group called the Women's Liberation Front made a booking last month for space at the Central Library to hold a private event labeled as a women's rights talk and presentation. It appeared to be a very simple booking request that was processed like any other. Our Event Services staff followed Library protocol, as always. Per our Intellectual Freedom and Meeting Room Booking policies, any group can book meeting spaces; and any group that books a private event at the Central Library can charge for the event.

Library leadership became aware of this booking and its controversial nature just yesterday. Similar events held at two other public libraries this year have been met with significant community protest in relation to the group's views on transgender rights. We have been working to get up to speed on the implications of this event as they relate to our legal responsibilities, our role as a public institution, and our role as a safe, socially conscious space.

We have heard from patrons who believe we should not let this event happen in a Library space due to the group's views. We have heard from others who say that not allowing this event to happen will endanger the Library's founding principle of intellectual freedom. As a library valuing intellectual freedom, inclusivity, and community respect, our leadership is considering every option to ensure we respond to concerns about this event thoughtfully and in line with our values.

Controversial groups like these can test our limits as democratic centers of free speech and intellectual freedom, as well as our limits as a united community and organization. I hope you can recognize the difficult situation this has created for us. We are exploring every option we have in response to this moment, talking to other libraries who have been through it, scheduling discussions with our transgender staff and community, and consulting with the City of Seattle's legal department on our options.

I want to thank those of you who have reached out to us to share your opinions on this event. Your comments are being taken seriously. We will communicate again as soon as we can.

Thanks

Marcellus Turner, Executive Director and Chief Librarian
In a nutshell, the Seattle Library has been put into a difficult situation, where "Free Speech" is in conflict with "Hate Speech". If they allow the event to happen, that will create serious problems for the library; if they cancel it, they are very likely to be sued.
More as this story develops.
(Visited 7 times, 1 visits today)