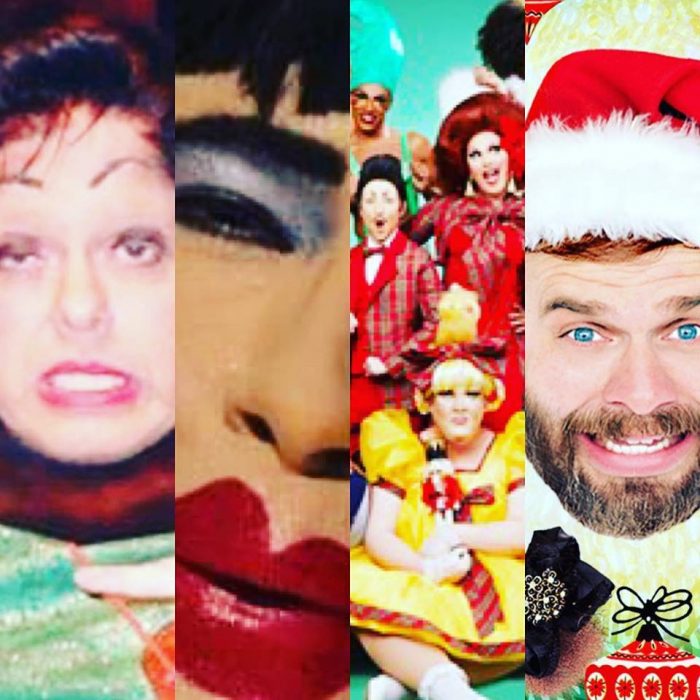 'Tis the Christmas/Winter Holiday Season…you can tell, because every local smart perfomer/producer in town is opening their annual holiday cash machines, er, "seasonal winter holiday shows" this weekend and next.
A large chunk of them are opening tonight, Friday, December 6th (or last night, the 5th) including such beloved favorites as Dina Martina's Christmas Show, now at the fahncy ACT after decades in the much smaller but more fun Rebar. The best part of the move is seeing the looks on the faces of regular ACT subscribers encountering our Dina for the first time…it's a sight to behold!
And, at Rebar there's the opening of the 2nd year of "Scott Shoemaker's War on Christmas" starring…well, Scott Shoemaker and bevy of friends all making war on a beloved holiday.
There's also the return of "Jingle All The Gay", the new version of an old favorite, "Homo for the Holidays" from producer/stars Kitten 'n' Lou along with Cherdonna and lots of other talented folk.
Cafe Nordo is also jumping on the draggy Xmas show bandwagon with their new "The Christmas Killings at Corgi Cliffs" which stars drag star Butch Alice as a British damsel in some kind of distress involving killings and….corgis!
Also back: "The Judy Garland Christmas Special" down at Theatre Off Jackson in the International District which (un)faithfully duplicates the ill-famed actual 1963 Christmas special starring our beloved Judy.
Already opened: "A Boob Job for the Holi-gays" at The Unicorn. And, set to open later this month, the return of "Buttcracker" (next weekend at the Erickson Theatre) and then the Jinkx Monsoon/BenDeLa show set for much later.
In case you're a scrooge who doesn't like Xmas themed shows, there's still a butt load of other events to check out today (down below) and in the future (see calendar HERE!)
If we're missing an event, let us know. If you need help marketing your event…ditto! Drop us a line at info@seattlegayscene.com !!!
Events for December 6, 2019
8:30 AM
December 6 @ 8:30 am – 10:00 amGSBA – Greater Seattle Business Association, 400 E Pine St, Ste 322
Seattle, 98122 United States + Google Map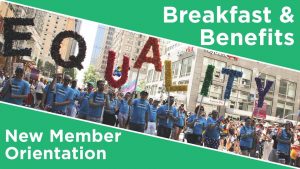 Breakfast & Benefits is our free crash-course on all things GSBA, engineered to give you everything you need to know about Washington's LGBTQ and allied chamber of commerce and what it can do for you and your business. From networking events to workshops, from public policy to cultural competency, Breakfast & Benefits is a great […]Find out more »
7:00 PM
December 6 @ 7:00 pm – 10:00 pm|Recurring Event (See all)Cuff Complex, 1533 13th Ave
Seattle, WA 98122 United States + Google Map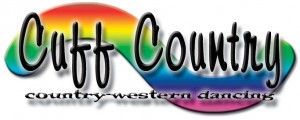 Rain Country Dance Association presents Country Dancing every Friday night at The Cuff. Lesson: 7:15pm to 8:15pm Open Dance: 7pm to 10pm 21+ The Rain Country Dance Association creates a friendly environment for GLBTQ people and friends to meet and dance in the Pacific Northwest. We support the Country-Western dance community by providing opportunities to […]Find out more »
December 6 @ 7:00 pm – 9:00 pm|Recurring Event (See all)Oddfellows West Hall Seattle, WA 98122 United States + Google Map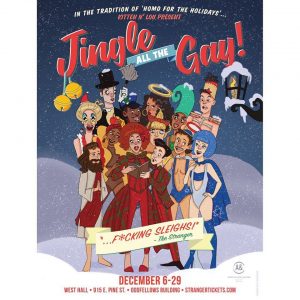 Kitten N' Lou present: JINGLE ALL THE GAY! December 6th – 29th (Showtimes vary) Location: West Hall, OddFellows Building 2nd Floor 915 E Pine Street, Capitol Hill Tickets: $35 in advance, $40 at the door (We are offering a reduced ticket price of $25 to the Dec. 11th performance, as a special holiday gift to […]Find out more »
December 6 @ 7:00 pm – 10:00 pmKremwerk, 1809 Minor Ave
Seattle, WA 98101 United States + Google Map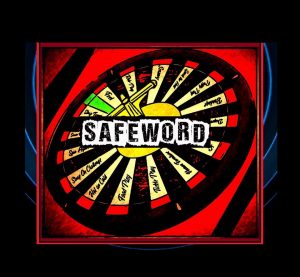 THIS SHOW IS "A good fu—ing time!" "A hoot and a NANNY!!" — SAFEWORD — 😂 TIX: http://bit.ly/SafewordDec2019 😂 Safeword is a fun, foxy, shame-free environment with a verbal contract with the audience incorporated into the show and & commitment to sexy consent and uproarious good time! From the deranged minds of Seattle's Queen of […]Find out more »
December 6 @ 7:00 pm – 10:00 pmTimbre Room, 1809 Minor Ave.
Seattle, 98101 United States + Google Map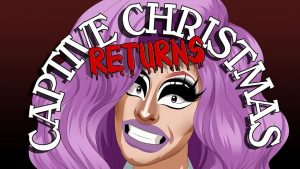 BUY TIX: bit.ly/CaptiveXmasReturns A Holiday Poem For You: 'Twas the night before Christmas, And all through Timbre Room, Not a creature was stirring, Not even my womb. When out on the lawn there arose such a splash, I sprang from my bed to see who was stealing my trash. "Now, Dolce, now Britt, VIctoria, and […]Find out more »
December 6 @ 7:00 pm – 10:00 pmCuff Complex, 1533 13th Ave
Seattle, WA 98122 United States + Google Map

For years and years (1987-2005), the Timberline Tavern (and after it, Timberline Spirits) was the home of GLBTQ country-western dancing in Seattle, and it was known throughout the country as the epitome of gay country bars for the size of its floor, it's "hunting lodge" decor, and the music and clientele. Join Rain Country for […]Find out more »
7:30 PM
December 6 @ 7:30 pm – 9:30 pm|Recurring Event (See all)ReBar, 1114 Howell St
Seattle, WA 98101 United States + Google Map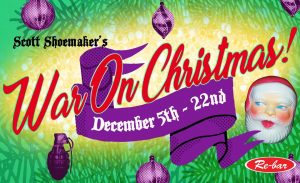 Shoes and Pants Productions Presents…Scott Shoemaker's War on Christmas! Thu, Dec 5 at 7:30pm – Sun, Dec 22 at 9:30pm at Re-Bar 21 + Shoes and Pants Productions Presents: "Scott Shoemaker's War on Christmas!" Back by popular demand, it's "Scott Shoemaker's War on Christmas!" Last year's innagural run of this all-star variety spectacular was such a […]Find out more »
December 6 @ 7:30 pm – 10:30 pm|Recurring Event (See all)Cafe Nordo, 109 S Main St
Seattle, 98104 United States + Google Map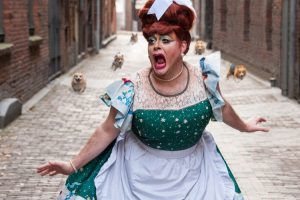 Nordo presents an all-new bawdy and blue holiday romp "The Christmas Killings at Corgi Cliffs" written by Scot Rigsby Augustson. Holiday feasting and merriment ensures December 6 – 29 at The Culinarium at Nordo. Recommended for adults 18+ Including a four course holiday feast in the ticket price, "The Christmas Killings at Corgi Cliffs" promises […]Find out more »
December 6 @ 7:30 pm – 10:30 pmCopious Love Productions, 2220 NW Market St
Seattle, WA 98107 United States + Google Map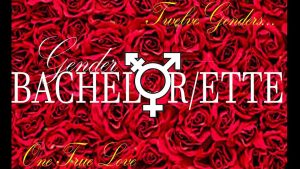 **A note about our location: The front door to Copious is on Market Street, between Bop Street Records and Pie Bar.** This season on Gender Bachelor/ette, it's Double Trouble! Our latest eligible hottie, Sam, has come out as Bigender, but has no idea what two genders they are! Luckily for them, we've got six bi-licious, […]Find out more »
8:00 PM
December 6 @ 8:00 pm – 2:00 am|Recurring Event (See all)The Lumber Yard Bar, 9619 16th Ave SW
Seattle, WA 98106 United States + Google Map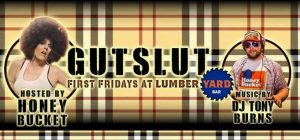 Come to the Lumber Yard bar every first Friday of the month for the Raunchy Rapping Mizz Honey Bucket with music by DJ Tony Burns. Wear plaid and get one dollar off Drafts, cocktails and wine.Find out more »
December 6 @ 8:00 pm – 9:30 pm|Recurring Event (See all)ACT Theatre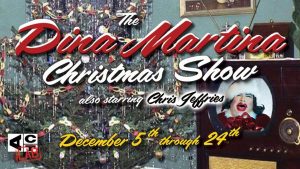 Dates: December 5–24, 2019 Run time: approximately 80 minutes Location: Falls Theatre The halls are decked, the stockings hung, and Dina Martina is coming to town! Miss Martina (a.k.a. "The Second Lady of Entertainment") is sure to put the happy in your holidays with her signature humor, questionable song, unnecessary dance, overburdened costumes, side-splitting video, […]Find out more »
December 6 @ 8:00 pm – 10:00 pm|Recurring Event (See all)Theatre Off Jackson, 409 7th Ave S
Seattle, 98104 United States + Google Map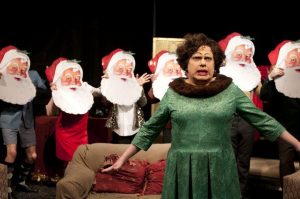 The Judy Garland Christmas Special Crabgrass Productions in association with Theatre Off Jackson are pleased to announce the return of the hilarious holiday disaster THE JUDY GARLAND CHRISTMAS SPECIAL, running December 6 thru December 22. The Christmas DISASTER is back! It's 1963 and the producers of Judy Garland's TV show have decided that what […]Find out more »
December 6 @ 8:00 pm – 2:00 amCc Attle's, 1701 E Olive Way
Seattle, 98102 United States + Google Map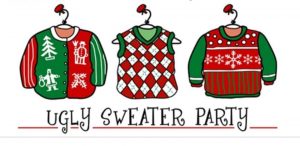 Seattle Sugar Pops and Seattle Sinners Present Ugly Sweater Contest CC Attle's Friday, December 6 8PM to Midnight The category is hideous! For the raffle we have the following: 1. $200 gift card for Capitol Grille 2. $25 gift card for Starbucks 3. A gravy boat and serving tray from Gibson Home 4. Parini cast […]Find out more »
December 6 @ 8:00 pm – 11:00 pmPalace Theatre & Art Bar, 5813 Airport Way South
Seattle, WA 98108 United States + Google Map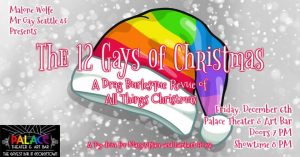 From Malone Wolfe Mr Gay Seattle 43 Producing the first of hopefully many drag king shows. The 12 Gays of Christmas A Toy Drive for Mary's Place and Lambert House $15.00 with a toy $25.00 without a toy. List of performers to be announced soon!Find out more »
December 6 @ 8:00 pm – 12:00 amCuff Complex, 1533 13th Ave
Seattle, WA 98122 United States + Google Map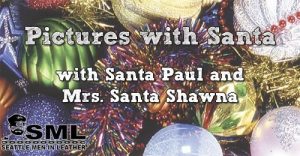 Sit on leather Santa Paul or Mrs. Santa Shawna's lap and let them know what you really want for Christmas. Pics are $10, benefiting SML's charity for the year, Entre Hermanos. Pictures with Santa is in conjunction with SML's 1st Friday Leather Social. Leather fun overload!Find out more »
9:00 PM
December 6 @ 9:00 pm – 11:00 pm|Recurring Event (See all)"Le Faux" at Julia's on Broadway, 300 Broadway Ave E
Seattle, 98102 United States + Google Map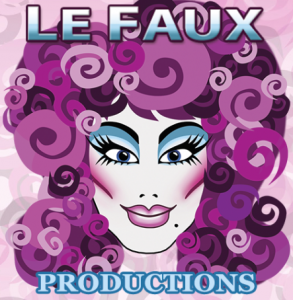 Le Faux at Julia's on Broadway A celebrity impersonation show featuring a full cast of professional impersonators, choreographed dancers and completely outrageous acts. You and your friends will have the time of your lives seeing our Las Vegas style productions of Britney, Cher, Pink, Taylor Swift, Adele, Nikki Minaj and many more concert-like performances that […]Find out more »
December 6 @ 9:00 pm – 2:00 am|Recurring Event (See all)Pony, 1221 E Madison St
Seattle, WA 98122 United States + Google Map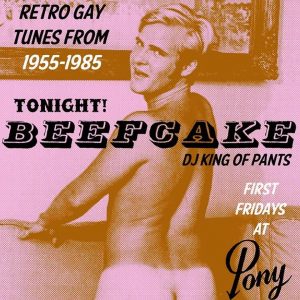 With "retro gay underground tunes" spun by longtime DJ's Dee Jay Jack and the King of Pants. First Friday 21+ Event Website Pony 1221 E Madison St, Seattle, WA 98122 206-324-2854 Hours: Mon-Thurs 5 pm-2 am, Fri-Sun 3 pm-2 am http://www.ponyseattle.com/Find out more »
December 6 @ 9:00 pm – December 7 @ 4:00 am|Recurring Event (See all)Neighbours Nightclub & Lounge, 1509 Broadway
Seattle, WA 98122 United States + Google Map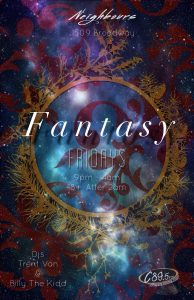 Weekly dance party at Seattle's oldest LGBTQ nightclub Entry is in alley. 21+ until 2am 18+ 2am to 4am DJs Billy the Kid Cover: usually $10Find out more »
December 6 @ 9:00 pm – 12:00 am|Recurring Event (See all)Cuff Complex, 1533 13th Ave
Seattle, WA 98122 United States + Google Map

Join Seattle Men in Leather for a weekend leather night, every month on the 1st Friday on the Cuff patio. You requested a weekend night, we supplied. Leather and gear encouraged, but not required. Please feel free to share this invite with anyone in the leather community who should know about and attend this event.Find out more »
December 6 @ 9:00 pm – 1:30 am|Recurring Event (See all)Queer Bar, 1518 11th Ave
Seattle, 98122 United States + Google Map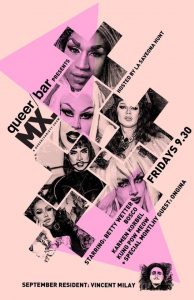 MX. is the hottest weekly drag show in the northwest! Showcasing the most exciting drag-talent in Seattle, MX takes place every Friday at 9pm, on the stage inside queer/bar! Hosted by legendary Seattle queen, La Saveona Hunt, MX stars: Betty Wetter, Kung Pow Meow, Bosco, and Karmen Korbel! Catch these queens slaying the stage together, […]Find out more »
December 6 @ 9:00 pm – 2:00 amSwallow Bar, 9608 16TH Ave SW
White Center, WA 96108 United States + Google Map

KISS + X-MAS + OLD WITCH + MISS TEXAS 1988 = FIRE!!! 9PM NO COVER SHOUT IT OUT LOUD!!Find out more »
9:30 PM
December 6 @ 9:30 pm – 2:00 am|Recurring Event (See all)RPlace, 619 E Pine St
Seattle, WA 98122 United States + Google Map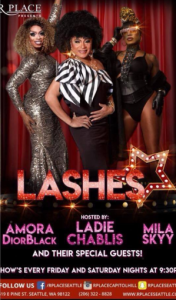 Seattle's looooooooong running weekly drag show every Saturday night at RPlace, with hosts Amora DiorBlack & Ladie Chablis & Mila Skyy plus a slew of special guests. 9:30pm to 2am 21+ w/ID Cover is usually $10/May be higher for nights with out of town guests/special events Followed by Transcendance with DJ E and Go Gos. […]Find out more »
10:00 PM
December 6 @ 10:00 pm – 3:00 am|Recurring Event (See all)Cuff Complex, 1533 13th Ave
Seattle, WA 98122 United States + Google Map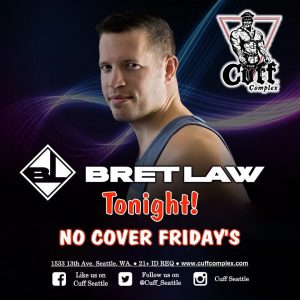 Cuff Complex opens the Dance Floor every Friday night. Country Dancing from 7pm to 10pm Resident DJ spins dance hits/EDM from 10pm to 3am Resident DJs include Dana Dub, Stacey Cooks, Bret Law, and others. Go Gos! 21+ w/ID No cover most nights! (Note: some special events might require a cover)Find out more »
December 6 @ 10:00 pm – 2:00 amTimbre Room, 1809 Minor Ave.
Seattle, 98101 United States + Google Map

We starting off the holiday right with an ugly sweater party. Best SWEATER WILL GET $100. Come ready to compete to win this $100. Music will be Hip Hop/ Top 40, and R&B. Ugly sweater is not required but recommended especially if you want to win the prize. With that being said tell a friend […]Find out more »
December 6 @ 10:00 pm – 3:00 amKremwerk, 1809 Minor Ave
Seattle, WA 98101 United States + Google Map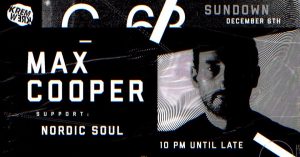 The launch of Sundown.Seattle with.. Max Cooper www.maxcooper.net www.instagram.com/maxcoopermax www.youtube.com/user/maxbcooper support from… Nordic Soul https://soundcloud.com/nordic_soul Tickets: bit.ly/SundownMaxCooper Kremwerk 1809 Minor Ave. Seattle, WA http://kremwerk.com/ 21+Find out more »
December 6 @ 10:00 pm – 2:00 amThe Seattle Eagle, 314 E Pike St.
Seattle, 98122 United States + Google Map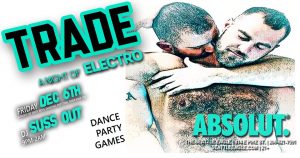 Trade // DJ SUSS OUT ELECTRO EDM DANCE PARTY FETISH ENCOURAGED FRIDAY DECEMBER 6TH at THE SEATTLE EAGLE ………………………………………………………………………………. RESIDENT DJ "SUSS OUT" IS FULL ON ELECTRO EDM TRADE IS GREAT WAY TO DANCE MINGLE AND TANGLE FETISH ENCOURAGED FIRST FRIDAY EACH MONTH WITH RESIDENT Dj SUSS OUT COME JOCKEY YOURSELF A SPACE FUN FROLIC […]Find out more »
(Visited 1 times, 1 visits today)